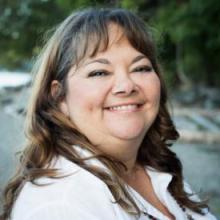 Monique Gray Smith mistikwaskihkos
Lieutenant Governor in Council appointee
Board of Governors
Monique Gray Smith mistikwaskihkos is an award-winning and best-selling author and a leader in Indigenous relations and truth and reconciliation.
Gray Smith, who is Cree, Lakota and Scottish, was the recipient of the 2014 Canadian Burt Award for First Nation, Métis and Inuit Literature for her first published novel Tilly: A Story of Hope and Resilience.
Gray Smith has published six more works including Speaking our Truth: A Journey of Reconciliation, for which she was named a finalist for the TD Canadian Children's Literature Award, and her latest novel Tilly and the Crazy Eights.
Gray Smith, a psychiatric nurse by training, has worked extensively in in truth and reconciliation and in schools, businesses and government, building a deeper understanding of Canada's history and the resilience of Indigenous people. For this work, she was named the 2019 recipient of the Victoria Leadership Award for Extending Reconciliation.
She believes in the importance of making decisions that are both intellectual and heart-based and that "love is medicine".