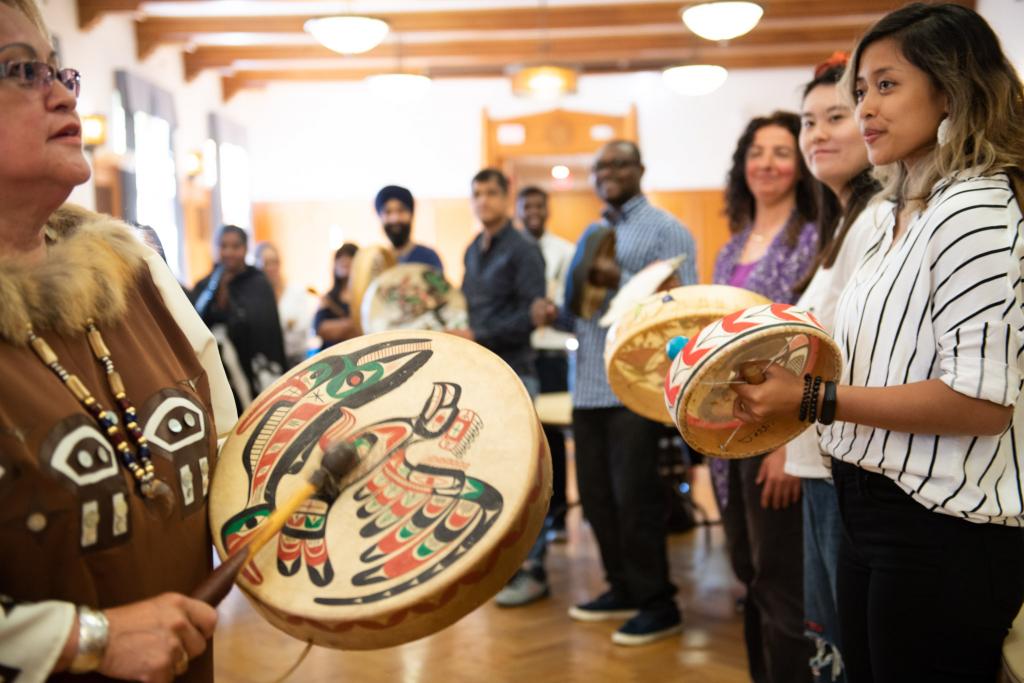 We acknowledge the campus is located on the traditional Lands of the Lekwungen-speaking Peoples, the Songhees and Esquimalt First Nations.
We're honoured that you're considering studying at Royal Roads.
If your ancestors are Indigenous Peoples of the Lands we now call Canada or you're Indigenous to other regions of the world, your student experience will be shaped by our commitment to Indigenous Peoples.
The Indigenous student community at Royal Roads is diverse. We have First Nations, Inuit and Métis students as well as students who identify as Indigenous. Royal Roads recognizes and celebrates this diversity of cultures.
What to expect
As a student at Royal Roads you can receive cultural, academic and financial guidance and support through Indigenous student services.
In addition, you can expect the following:
faculty and staff who are committed to understanding and supporting your experience — We're working to educate all members of our university community about the persistent legacy of colonialism. And we are dedicated to ensuring that the university community learns about the histories, cultures and integral role of Indigenous Peoples of Canada in these Lands.
increasing representation of Indigenous Knowledges in our curriculum — Our action plan to review our curriculum is one way that we are addressing the Calls to Action related to post-secondary education.
opportunities to connect with members of the Heron People Circle, and other Indigenous Knowledge Keepers
spaces to engage with other Indigenous students, like Indigenous e'lun, our facilitated online Indigenous student community
culturally-informed protocol for conducting research with Indigenous Peoples and communities — This is integrated with our Research Ethics Policy. 
optional inclusion of Indigenous Knowledge Keepers as members of your thesis or doctoral committee to honour lived experience and knowledge through Indigenous worldviews
support for your development as an academic writer through our Four Feathers Writing Guide and Writing Centre resources and services
activities that celebrate Indigenous cultures, such as our annual National Indigenous Peoples Day event
a special recognition ceremony for Indigenous graduates before your convocation