Join Royal Roads University in making history – by helping build the future.
Three institutions – Royal Roads University, Camosun College and the University of Victoria – are collaborating with others to create a unique education and skills training hub for residents of the West Shore, one of the fastest growing populations in Canada.
The remarkable new West Shore campus in downtown Langford will be a vibrant, accessible place of learning that embraces the curiosity, collaboration and creativity necessary to fuel BC's brightest future.
Among other innovative features, the five-storey mass timber building will include flexible learning spaces and classrooms, student support space, a learning commons, an innovation studio and space for Indigenous gatherings.
As posted on BC Bid, Durwest Construction Management Inc., on behalf of Royal Roads University, invites tender submissions for the West Shore Campus project. Learn more about the West Shore campus.
Note: There are no tenders open at this time.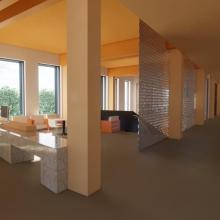 Inquiries
Please direct all inquiries to Matt English, project coordinator at Durwest Construction Management Inc.