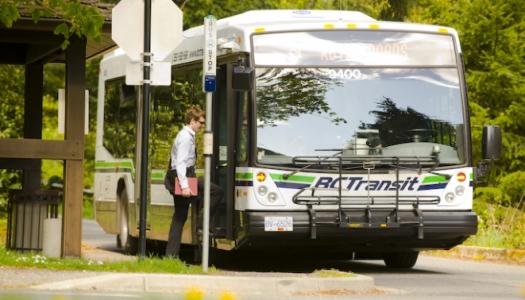 Whether you live in Victoria or are visiting campus for residency, transit options are available to help you get around.
Transit system
Buses run 365 days a year in Greater Victoria.  
The following buses stop at Royal Roads:
The #39 and #51 run on weekdays to and from the University of Victoria. The #39 stops outside of the Grant Building, and the #51 stops at the entrance to campus on Sooke Road.
The #52 covers Langford and Colwood and stops at the bus shelter across from Parking Lot 4.
The #50 runs every 10 to 15 minutes daily from downtown Victoria to Langford. It stops at the Western Exchange, a 15-minute walk from campus.
Find information about the Victoria Regional Transit System, including schedules and maps. You can also use Google Maps to get transit information for specific times of the day. Using the "Directions" feature, you can enter your starting point and destination, select the transit icon and get transit options.
Transit fares can be paid in cash, through the Umo mobile app or a reloadable Umo card. Many Royal Roads students are registered in the U-Pass Program, which provides unlimited access to Victoria's transit system. Students who are not eligible for the U-Pass can purchase Adult Monthly Passes at a discounted rate from the Campus Welcome Desk.
U-Pass
U-Pass gives you unlimited access to Victoria's transit system. This program is provided through a partnership between the Royal Roads University Student Association, Royal Roads University, and BC Transit. The service includes buses and the accessible handyDART service. 
If you are studying in a program that is delivered fulltime on campus, then you will be automatically enrolled into the U-Pass program. Fees are mandatory.
If you are studying in a fulltime online or blended program and live in Victoria, you can opt-into the U-Pass program and pay associated fees. 
Starting September 2023, you'll need to use the new Umo mobile app or a reloadable Umo card to show proof of payment on all busses in the Victoria Regional Transit System.
For up-to-date information on the program (including exemption criteria), please see the U-Pass pages on the student association website.  Email RRUSA if you have questions about the U-Pass program.
Sustainability in action
Carpooling, biking, taking public transit and U-Pass initiatives are aimed to reduce the percentage of single occupancy vehicles, which currently account for 90 per cent of commuters to campus.
Public transit helps to lower greenhouse gas emissions, and reduces the need for more parking as Royal Roads University grows. Transit use on U-Pass campuses typically grows by more than 50 per cent.
Find out about transit and other campus initiatives in our sustainability plan.