The global tourism industry needs people who can lead organizations and communities to be resilient and sustainable and to adapt to change. Develop and practice skills to advance your tourism career.
Program intakes
Filter to view upcoming intakes
December 04, 2023
Domestic tuition
$ 27,970 CAD *
International tuition
$ 36,481 CAD *
Related Schedules
(*) Tuition estimates shown are for the entire program. All rates are subject to annual increase.
April 08, 2024
Domestic tuition
$ 27,970 CAD *
International tuition
$ 36,481 CAD *
Related Schedules
(*) Tuition estimates shown are for the entire program. All rates are subject to annual increase.
Program description
The Master of Arts in Tourism Management program is for people with a background in tourism who want to inspire and lead change in the global tourism industry. Bring your passion, experience and ideas to your studies. And apply what you learn, while you work.
This program will empower you to tackle some of the current economic, cultural and environmental challenges faced by the tourism industry.
Customize your education and align it with your desired career path through electives and several degree completion options. You can also choose from the following three specializations:
social entrepreneurship
disaster and emergency management
sustainability
Your studies will focus on three central themes: leadership, sustainable community development, and a global understanding of travel and culture. You'll be learning alongside experts and students, who also work in the tourism industry.
You can build to here
If you've started with a graduate certificate, you can continue your education. Apply credits from the Graduate Certificate in Tourism Management toward the Master of Arts in Tourism Management.
---
Program outcomes
Once you have completed this program, you'll be able to do the following:
contribute to a sustainable and resilient tourism industry by leveraging your insights into global climate change and ethical tourism planning
make marketing decisions that effectively connect tourism products, destinations and evolving customer expectations
use organizational leadership skills to help others navigate change in complex environments
You'll be prepared for careers in the following areas:
policy and planning in destination marketing organizations or local and provincial governments
tourism businesses
the hospitality sector
research and post-secondary institutions
consulting
Program delivery
The Master of Arts in Tourism Management is a 36-credit program offered in April, August, and December that includes the following:
six required courses and a range of electives
field study
opportunities to study abroad
an optional internship
three-degree completion options
On campus and online learning
In this full-time program, you'll complete your core courses in your first year on campus. Studying on campus brings you together with your class colleagues and instructors. In your second year, you'll take online elective courses and focus on your research interests. The blend of on-campus and online courses offers a dynamic learning environment that allows you flexibility and choice in your studies. 
Your learning is enriched as you will: 
Explore local tourism destinations in your classes
Contribute to tourism business and community projects
Choose to complete a career development internship
Participate in an optional field study experience
Additional fees are associated with field trips depending on their location.
International Field study
You'll have the option to participate in a field study at a world-renowned tourism destination. In the field study, you'll focus on examining and addressing responsible tourism management while connecting with local agencies and experiencing the destination from a tourist's perspective. This field study includes both group activities and individual time to explore on your own. 
In the past, we've travelled to Germany, Austria, the UK and France. In 2023, we will be taking our students to Amsterdam, the Netherlands!
For the field study, you'll need to pay the course fee and a field trip fee, in addition to costs for airfare, meals, insurance and personal expenses. The field trip fee covers costs associated with accommodation, local transportation and attraction fees on the field study. The fee for previous trips has been $2,000 CAD. Fees for international field studies are subject to change. 
Optional internship
 You'll develop valuable industry connections and get real-world work experience during a  420-hour internship over a minimum of 12 weeks.
With the support of Career Learning and Development staff and faculty, you will purposefully explore a specific career path - either in Canada or abroad. 
Courses
MATM Program Structure
The MATM program consists of the following course components:
Core courses
Completion options
Elective courses
Specializations
Completion Options
You can choose your own path to completing the MATM program from one of the three pathways below:
Thesis 
Major Research Project 
Course based with a capstone
Specializations
If you are interested in delving deeper into specific thematic areas your MATM, you can select from one of three specialization. If you select any one of the options below, you will be required to complete two specialization courses and either a MRP or Thesis
Social Entrepreneurship
Sustainability
Disaster and Emergency Management
Standard admission
Four-year (or comparable) undergraduate degree, preferably in a related field, from a recognized post-secondary institution, normally with a minimum admissions GPA of 'B' (3.00/4.33).
At least two years of full-time work experience within the tourism or hospitality industry; or,
A satisfactory or pass grade for industry-related internship or co-op experiences comprising of a total of at least 840 hours over a total of at least 24 weeks.
Flexible admission
Under flexible admission, the combination of work experience, education, and professional development is assessed. Applicants must show evidence of having sufficient knowledge, skills and abilities to complete a demanding academic course of study at a graduate level and have significant industry-related experience.
As a general guideline:
Applicants with no post-secondary education would normally require a minimum of seven years of progressive work experience, three years of which would be in a leadership role.
Applicants who have completed some post-secondary education (but who do not meet our 4-year degree requirement) will be adjudicated on a case-by-case basis with greater emphasis placed on the quality and years of work experience.
English language proficiency
Additional recommendation(s)
Academic writing skills are required for success in this program and an English composition course focused on academic writing is therefore recommended. The Academic Writing and Critical Thinking course offered through Continuing Studies at Royal Roads University meets this recommendation.
All applications to this program require submission of the following information and supporting documents before your file can be assessed for admission:
Application form
In order to apply online, you will be required to create a log-in account using your email address. You will be required to list all credit courses and/or programs you have completed or are currently enrolled in. An application fee will be required. If your application fees are being paid by a third party, review sponsored student information. Once submitted, you may check the status of your application at any time.
Official transcripts
Applicants are responsible for arranging for the submission of official transcripts from ALL post-secondary (higher education) institutions currently or previously attended, for all credit courses and/or programs. Transcripts are not required for non-credit programs or courses, though some programs may require proof of professional certifications or designations.
Transcripts are considered official only if submitted directly by the Registrar or other recognized authority of the providing institution in the institution's original, sealed envelope. If the envelope has been opened, the transcripts are no longer official and new (official) transcripts will be required to complete your application.
All international transcripts or credentials are subject to an international transcript and/or credential evaluation.
Personal statement
Your personal statement should consist of (but is not limited to) a two to three page essay, addressing the following guiding questions:
Why do you wish to enroll in this program?
What sector do you currently work in or wish to work in? 
Where do you see yourself in five years' time?
What leadership/management positions have you held or what paid or volunteer experiences have you had that required you to exercise leadership?
What experience do you have working collaboratively in a team?
What unique skills do you bring to the program?
If there is any other information that you feel might be of interest or relevance to your application, please include it in your personal statement.
Detailed résumé
Your detailed résumé should include the following:
Education: List all post-secondary education, degrees, diplomas, and certificates you have achieved.
Work experience: Please include name of organization, length of service and a brief description of duties.
Voluntary/unpaid work experience: List and describe any voluntary/unpaid post-secondary employment and/or community service experience. Please include the name of the organization, length of service, and a brief description of duties. List positions you have held in this service.
Information technology training and experience: Briefly describe your level of training and experience in the use of information technology including computers, software and telecommunications networks as tools for business, education, teaching and personal use.
Professional memberships/affiliations: List memberships and positions you hold/have held in professional associations, service clubs, community/volunteer sector.
Other relevant information: Provide any other information which you believe is relevant to your application and will be of assistance to the review committee.
Letters of reference
Typically, applicants will provide one professional letter and one academic or personal character reference letter. 
Academic reference: To be relevant, the education should have been completed within the past five years or you are still in regular contact with the professor. This letter should attest to your performance in the context of your current or previous studies. The letter can address such areas as academic achievement, study skills, teamwork, leadership potential, human relations, flexibility, communication, and technical skills.
Professional reference: This letter should attest to your current or previous performance in your professional life. The letter can address areas such as communication skills, interpersonal and leadership skills, management potential, work ethic, etc.
Personal character reference: Your personal character reference should consist of a letter from someone who has known you for several years outside of the context of your work. Please ask the writer to indicate the length of time and context in which they have known you, and to consider the following attributes in their letter about you: integrity, responsibility, adaptability, concern and respect for others, sense of self-esteem and confidence, communication skills and work ethic.
If applicable:
Applicants declaring permanent resident or Convention Refugee status in Canada, must submit a copy of their Permanent Resident Card (PR card) along with their application.
Transcript evaluation fee or credential evaluation report, if submitting international transcripts.
An official English Language Proficiency score report or other evidence of proficiency if English is not your primary language.
Other information or documents as may be requested to determine your eligibility
For information on how and where to send your supporting documents, please refer to the document submission guidelines.
Program completion options
You can choose from the following three options to complete this program:
course-based
major research project
thesis
Both the major research project and thesis options are recommended, if you are considering pursuing a doctorate degree in the future.
Course-based
The course-based option includes six required tourism management courses and five electives. You'll finish with a capstone course, which consolidates your program learning in a final paper.
This option allows you to focus on your areas of interest in the tourism and hospitality industry or to expand your consulting and entrepreneurial skills.
Major research project
This option includes six required courses and three electives. You'll also complete a major research project integrating theory and applied research.
You'll receive guidance from an advisor. And you'll produce a written paper or article, or create a non-traditional deliverable, such as a video, website, curriculum, white paper or policy document with your advisor's agreement.
This path is ideal if you want to apply your research in your current workplace or get some applied project experience.
Thesis
This option includes six required courses and two electives. You'll also develop a thesis.
A thesis is a comprehensive research paper of about 15,000 words. It includes both primary and secondary research about a topic of interest. You'll work with your thesis supervisor to identify your topic, methodology, theoretical framework, and appropriate literature and other secondary sources. You'll be expected to defend your thesis before an academic committee.
The thesis option requires approval from the program head to ensure that you can finish it within the duration of your program. You are required to have a minimum A- average to apply for the thesis option.
Specializations
Add an optional specialization to your Master of Arts in Tourism Management to customize your degree. Choose from these three specialization options:
Social Entrepreneurship
Disaster and Emergency Management
Sustainability
Requirements include taking 15 to 18 credits of course work and two specific elective courses in your area of specialization, which are offered by different schools.
Your specialization will be recognized on your transcript when you graduate.
Social Entrepreneurship
Social entrepreneurs strive to advance social and environmental change through innovative business practices.
This specialization will give you a social and sustainable entrepreneurial focus. With this, you'll be empowered to create businesses that align with local needs, values and carrying capacity.
For this specialization, in addition to your major research project or thesis, you're required to take these two courses:
Disaster and Emergency Management
Tourism organizations are often on the frontline of disasters — from wildfires in the United States and the Interior of BC, to COVID-19 or situations, such as water shortages or floods.
This is the first program in Canada that links disaster and emergency management with tourism.
If you're working in tourism management, this specialization will help you to respond quickly and effectively to disasters. Learn how to plan, prepare and manage your organization to not only handle emergencies, but also to mitigate future impacts.
For this specialization, in addition to your major research project or thesis, you're required to take these two courses:
Sustainability
Sustainability is an integral part of tourism management from business operations to culture-based experiences to government and community policy-making.
This specialization is an opportunity to develop an interdisciplinary and critical understanding of the relationships between tourism and sustainable development. Taking a holistic and integrative approach, you'll develop your knowledge base, and critical perspectives on tourism and sustainability theory and practice.
Through this option, you'll explore new understanding and insights both in the field of sustainable tourism, and also in the wider environmental sciences and social sciences.
For this specialization, in addition to your major research project or thesis, you're required to take any two out of these three courses:
Royal Roads University's applied research mirrors its interdisciplinary curriculum and is based on being solution-oriented and real-world focused. The research featured here aims to inspire and celebrate the relevant work students perform in their programs and in their fields. The following students have been nominated as examples of research in action and student research excellence.
Jordon Ozero
Title: El Camino de Santiago: A Catalyst for Transformative Tourism in the Secular Space
This thesis explores the phenomenon of secular transformative tourism on the Camino de Santiago, identifying catalysts that facilitate the experience. As primary motivations for walking the Camino have shifted from religious and spiritual towards secular, this research corroborates that many modern pilgrims seek transformation rather than transcendence. Four main themes of catalysts were observed: communitas, liminality, physical elements, and Spanish elements. The catalysts identified allow individuals to address explicit issues in their lives and tap into unrealized potential for transformation. As the world emerges from the COVID-19 pandemic, individuals need to re-establish their physical, mental, and emotional health. For tourism organizations looking to enhance transformative experiences, the elements of motivation, catalyst, and transformation within this study may be incorporated into activities and events. Based on a sample of 15 Canadian participants, this study identified 25 catalysts that link motivations to walk the Camino with the transformations experienced by participants. Overall, this study offers a way forward for the emerging field of transformative tourism by providing insights into the importance catalysts have in facilitating transformative experiences for individuals seeking transformation and for tourism organizations wishing to create an environment that is conducive to transformation for their guests.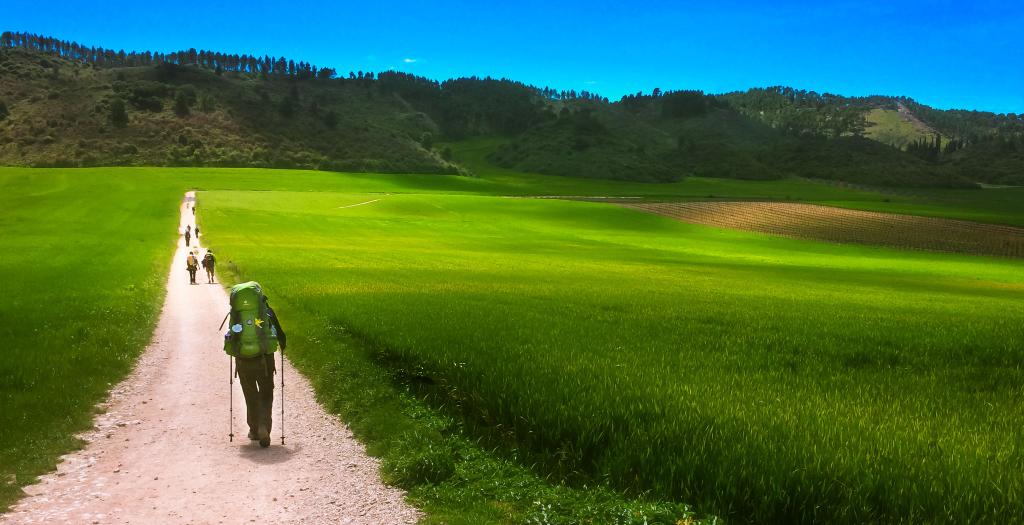 Los Arcos
Shariq Khan
Title: The Lens of Wildlife Conservation
The research paper examined how photographing wildlife increases the possibility that a wildlife photographer will take action to protect biodiversity or the environment or it is harming it in some or the other way. The research was useful to learn about the potential long-term effects of photographing or observing wildlife and how it was and is helping in Tiger conservation in India.
The four themes identified in the research indicated that photographing wildlife increases emotional engagement with biodiversity, in terms of emotional attachment and help in wildlife conservation, economic generator for conservation and reduces human-wildlife conflicts through promoting tourism and involvement of local communities. In-depth interviews with nature photographers, conservationists, were a useful method for exploring this topic qualitatively. Also, surveys with open-ended questions with the use of photo-elicitation were also a great way to collect qualitative data.
The insight gained from this process undoubtedly provided direction for future investigation as research projects are often dynamic and sometimes the end of one project leads to the beginning of another. The findings of this study suggest that the implications of this research should be further explored with the aim that they are applied to nature conservation or educational practices in the future.
Deepa Sudame
Title: Cruising Past the Tourism Smiles but Leaving Scarring Footprints Behind
Cruise ships are often known to operate in and around pristine coastal waters and sensitive marine ecosystems. On the west coast of Canada, the Georgia Strait and Inside Passage's pristine waters offer cruisers the experience of a stunning route along the west coast of British Columbia (BC). While the very character of these ships (commonly referred to as floating hotels) attracts tourism interest, they can also leave behind adverse environmental cruising 'waste-prints.'
According to the U.S. Environmental Protection Agency (EPA, 2008) report, an average cruise ship generates 21,000 gallons of sewage, 170,000 gallons of wastewater and one ton of garbage in a single day. Have we considered the implications if one of those waste streams accidentally or maybe intentionally gets discharged into the ocean without being treated? We've all heard the news of such oil spills, deliberate dumping of waste into the ocean, ship strikes and other coral reef damages. One such blemishing memory still lingers for many- the image of 'a dead whale carried/dragged on the bow of a cruise ship into an Alaskan port in 2017'.
While cruise companies are keenly aware of the importance of a greener environment image and to minimize waste, their increasing popularity continues to put their waste management practices under the limelight with many added sustainability concerns.
This research opens the discussion on cruise ship sustainability. The findings reveal drawbacks and weaknesses around the social and environmental aspects of cruise tourism management in BC.
Paula Kent
Title: Beyond the Book & Film. Conceptualizing the Literary Tourist Experience
The aim of this research is to explore the literary tourist experience, and the relationship between tourism, place and story.  The research purpose of the exploration is to contribute to literary tourism knowledge by reconceptualizing immersive experiences as an individually constructed experience, one that is distinct from other tourism experiences. This field study informed by grounded theory examines the experiences of literary tourists as they participate in mediated tourist experiences at literary locations. The fieldwork encompassed a diversity of sites, from the traditional such as Anne of Green Gables Heritage Place to a Fan Expo held in Toronto Ontario.
I situated myself in the reflexive role of researcher-as-participant. The field sites were purposefully chosen to ensure a diversity of genre: from Anne of Green Gables (Montgomery, 1908) sites in Prince Edward Island, to the comic book, gaming and pop culture event, Fan Expo a convention in Toronto Ontario.
In addition, a sample population of literary tourists, selected from book clubs was also included in the research to garner an array of responses from literary travel experiences. Organized into focus groups, the book club participants were led through an adaption of the Center for Creative Leadership's Visual Explorer guided conversation method, resulting in their hand-drawn depictions of their immersive experiences.
The central conclusion is that recognition, in addition to the conventional definition as the internal feeling of familiarity, is reconceptualized as a critical sustaining factor of the immersive literary experience. Recognition integrates the internal response and intensifies the individual's personally constructed meaning. The resulting Literary Tourism Recognition Integration model reconceptualizes literature-based immersive experiences, demonstrating the manner in which immersion is realized.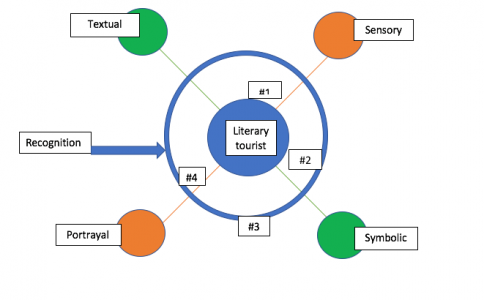 Recognition Integration Model