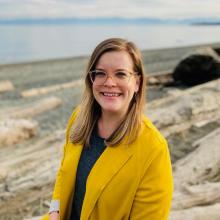 Ann-Kathrin McLean's research evaluates the relationship between collective memory, Holocaust remembrance and a site of trauma. Understanding this relationship is important as we see a revival in fascist populism worldwide.
McLean is interested in how vectors (or forces) of memory inform and reshape a new form of transitional memory of the Holocaust. In the 21st century, history mediation assists to learn, understand, analyze and develop memory into remembrance; bearing in mind that stories originally shared by first-hand narratives will become embedded in commemorative activities and tours at memorial sites.
Of specific focus is how Millennials interpret sites of Nazi war heritage and construct individual meaning. In order to help mitigate the memory loss across generations, McLean investigates how visiting a site of memory impacts a more embodied form of remembrance and influences a reflexive self.
Experience
McLean has more than 10 years of experience in a number of tourism sectors that include accommodation, food and beverage, events, festivals and live theatre.
She has been the production manager for international performing arts productions at the largest theatre festival in Europe and obtained hotel industry experience in the Middle East. She taught at Capilano University in Vancouver, in the School of Tourism. At Royal Roads University she has teaching experience at both the undergraduate and graduate level and is the grateful recipient of the Kelly Outstanding Teaching Award - category new teacher.
Currently the co-president of the European Community Studies Association Canada – Young Researchers Network and doctoral candidate in the Doctor of Social Sciences program at Royal Roads University.
Education
2012
Bachelor of Tourism Management
Thompson Rivers University
2016
Master of Arts in Tourism Management
Royal Roads University
2013
Post-Baccalaureate Certificate in Business Administration
Thompson Rivers University
2010
Events and Conventions Management Diploma
Thompson Rivers University