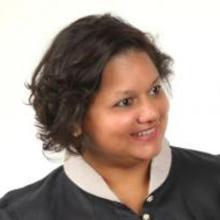 Nooreen Shah-Preusser
Manager, Team Coaching
Student Services
Nooreen (pronunciation) is the manager of Team Coaching at Royal Roads.
She has a multidisciplinary academic background and more than 30 years of professional experience, which includes education, research, theatre and designing/delivering experiential learning experiences.
Nooreen brings this rich diversity to her coaching sessions and facilitated programs.
Nooreen joined RRU as an associate faculty member in March 2016 and became a team coach in September 2016. She holds bachelor's degrees in chemistry from Carleton University and theatre from the University of Guelph. She also has a master's in international health & society from Charite - Universitätsmedizin Berlin, Germany.
Having benefited from immersion in several different cultures, Nooreen has a unique lived experience of intercultural understanding that allows her to effectively communicate with and relate to diverse groups. This supports her ongoing commitment to enhance students' personal development, leadership and teamwork skills.
Contact