Build your passion for science and the environment with basics of environmental management, economics, law, communications and sustainable development. Apply skills to a practical research project.
Program intakes
Filter to view upcoming intakes
September 07, 2021
Program variation
Degree completion - 3rd and 4th years
International tuition
$ 43260
Related Schedules
April 19, 2022
Program variation
Degree completion - 3rd and 4th years
International tuition
$ 43260
Related Schedules
Program description
You want to learn about the world around you, to help it change for the better. You are passionate about science and the environment, and want to put that energy to work.
The Bachelor of Science in Environmental Science program lets you build on your existing knowledge of environmental science. This team-based degree-completion program brings together theory and practical laboratory and fieldwork skills.
You'll learn about environmental management, economics, law, communications, and sustainable development.
You'll also spend time in our on-campus, state-of-the-art laboratories, giving you experience in laboratory practice and procedures as well as the foundations of environmental science with chemistry, hydrology, ecotoxicology and ecology.
Besides the environmental science learning, you'll cross-train with other disciplines, like social sciences and humanities. This helps you become better able to analyze and solve problems around complex environmental issues.
You'll also learn to to identify the gaps in your knowledge and skills, and to fill those gaps in a way that lets you use your existing knowledge and skills to address the problem at hand.
With environmental and scientific knowledge applied to team-based practice, you'll be well-prepared for leadership in industry, government and environmental consulting.
Hands-on research
If you're enrolled in the 12-month on-campus option, you will work on a hands-on environmental consulting project over 11 months of your program. You'll collaborate with sponsor organizations to design, budget, conduct and report on your research, giving you a suite of practical and in-demand skills.
These projects are the perfect opportunity for students entering the environmental field to graduate with relevant work experience and a project to highlight their abilities to potential employers.
---
Program outcomes
Once you have completed this program, you'll have a broad range of technical, communication, analytical and interpersonal skills, together with a firm grounding in environmental science.
These skills set you up for success in environmental consulting, environmental management for industry, business, non-governmental organizations and municipal governments, as an environmental policy advisor, mediator for stakeholder groups, or in environmental monitoring or regulatory compliance.
Program delivery
You can choose to complete this program in one of two ways:
through a blend of online courses and on-campus residencies
entirely on campus
The courses are similar in both, letting you choose the option that fits best with your life and goals.
Online learning
Online courses consist of assigned readings, synchronous or asynchronous lectures, interactive discussions, and individual and team assignments.
You're expected to meet deadlines and contribute meaningfully to your class. Your contributions are a big part of everyone's learning.
In this program, you'll typically take one online course at a time, each for a period of approximately nine weeks. Each online course requires approximately 30 hours of work per week.
You'll start your program with a non-credit, but required, course about academic integrity.
Blended two-year option
You can finish the third and fourth years of your Bachelor of Science in Environmental Science studies online, in a two-year program that includes three three-week on-campus residencies for a total of 60 credits. The blended program contains two additional management/policy courses that are not included in the on-campus option.
Note that this is the version of the program you'll want if you are working full time, or if work or family obligations mean that coming to Victoria for a year of full-time study isn't an option for you.
Students in the blended option need a strong ability to manage their time to ensure homework can be completed, as this is not a self-directed or self-paced option. This option combines online learning with short (three-week) on campus study periods.
Residencies
Residencies are intensive and immersive. Many students say this time together is the highlight of their program.
In this program, each residency is three weeks long and begins in late April or early May annually, ending on the May long weekend.
The on-campus study periods or residencies are a critical part of the program. During your residency sessions, you'll complete the laboratory and field work parts of your courses, which are not possible at a distance. Each residency concludes with two to three days of examinations or final presentations.
You can also expect to:
attend classes full time (e.g., Monday to Friday from 8:30 a.m. to 5:30 p.m.)
take two or three courses at a time
go on field trips
have laboratory and field instruction
do some online work for some classes
do team meetings, homework and readings in the evenings or on the weekends
interact with faculty, staff and your colleagues to build a network that will sustain you through your distance learning
On-campus 12-month option
You can complete the third and fourth year of your Bachelor of Science in Environmental Science in a 12-month full-time on-campus program. This intensive program is ideal if you want to immerse yourself in your studies and the local environment.
You'll attend classes five days a week, from 8:30 a.m. to 4:30 p.m. over four terms. Each term concludes with an examination week, followed by a break week.
The on-campus program contains the major project course, which is a feature that distinguishes it from the blended program.
On-campus learning
On-campus learning is ideally suited to those who learn best when they can be face-to-face with other students and their instructors. The on-campus program features:
a cohort-based learning environment that fosters and supports successful learning through social interactions
team-based learning, and coaching to improve team skills
participation in an integrated social and natural science inquiry
engagement in an innovative project, open space technology and fieldwork
hands-on laboratory exercises and field exercises
a student research project
Research project
This program capstone is a student-led, team-based environmental consulting project that takes place over 11 months of the 12-month program. You'll work with sponsor organizations on applied research projects, with responsibility for the research design, budgeting, ethical approval, conducting and reporting.
Standard admission
Our requirements for standard admission are:
Completion of an approved transfer program with a minimum GPA of B (3.00/4.33), or completion of an arts or science diploma (or 60 credits) from a recognized post-secondary institution. Must include a minimum of 24 second-year credits, with a minimum GPA of B (3.00/4.33) throughout.
You may also meet the requirements if you have completed at least 12 undergraduate credits, plus 24 second-year credits, plus all of the following prerequisite college/university courses with a minimum B (3.00/4.33) grade in each:
6 credits (two courses) in chemistry with a laboratory component in at least one course
6 credits (two courses) in biology
6 credits (two courses) in physics or math (may include up to 3 credits of statistics, and at least one course in linear algebra or calculus)
6 credits (two courses) in writing or communications
Flexible admission
If you don't meet the standard admission requirements, you can be considered for flexible admission to this program if you have all of the following:
12 undergraduate credits
24 second-year credits
completion of prerequisite courses with a minimum B (3.00/4.33) grade in each.
significant, relevant experience
English language proficiency
If English is not your primary language, review our English language requirements.
Additional recommendations
The requirements listed above are the minimum requirements for the program. Before entering the program, you'll be better prepared if you have familiarity with, and fluency in, technical terms used in the environmental science field. You should also have some courses completed in:
inorganic and organic chemistry
ecology and microbiology
calculus and linear algebra
Application process
To apply to this program, you need to submit the following information and documents.
Application form
To apply online you need to:
Create an account using your email address.
List all credit courses and programs you have completed or are currently enrolled in.
Pay an application fee.
If your application fee(s) are being paid by a third party, review sponsored student information.
You can check the status of your application at any time after it's submitted.
Official transcripts
Applicants are responsible for submitting official transcripts from current and previous post-secondary institutions. The transcripts should cover credit courses and programs.
Transcripts are considered official only if they are submitted to us in the following way:
sent to Royal Roads directly by the registrar or recognized authority of the providing institution
sealed in the institution's original, unopened envelope
(If the envelope has been opened, the transcript is no longer official. We'll require a new official transcript to complete your application.)
Transcripts are not required for non-credit programs or courses, though some programs may require proof of professional certifications or designations.
International transcripts and credentials will be evaluated to determine their Canadian equivalency. 
Additional requirements for flexible admission
If you are applying under the flexible admission process, you'll also need to submit the following:
Personal statement
Your personal statement explains why you believe this program will change your life. In no less than one page, tell us:
your personal goals
your career goals
how the program will help you reach your goals
your strengths and how they will help you contribute to the program
You may also use this statement as a place to tell us about any extenuating circumstances that may have impacted your previous academic performance (e.g. illness, accident, caregiving responsibilities, etc.).
Reference letters
Provide two reference letters:
one work-related reference
one reference related to academic performance if you have graduated from a program within the last five years
one reference related to academic or community service if you have graduated longer than five years ago.
In some cases, two work-related references may be accepted.
The format and length of the reference letter can vary. Referees should indicate:
the context in which they know you
their reasons why they feel that you are a suitable candidate for the Bachelor of Science in Environmental Science program
their belief that you will succeed in the program
how they feel the program will benefit you
any other information that demonstrates that you are a good fit for this program
Résumé
Your résumé can be any length and should include the following:
Education
List all post-secondary education, degrees, diplomas and certificates you have achieved.
Training and professional development
List career-related training and professional development programs completed in the past five years. Include the source of training, the duration and year completed. List other training and personal development programs not already identified.
Work experience
Include the organization, position, length of service (month and year) and a brief description of duties.
Volunteer or unpaid work experience
List and describe any volunteer or unpaid post-secondary employment or community service experience. Include the position, name of organization, length of service and a brief description of duties.
Information technology training and experience
Describe level of training and experience using information technology including computers, software and telecommunications networks, as tools for business, education, teaching and personal use.
Professional memberships and affiliations
List current or past memberships and positions held in professional associations, service clubs, or community organizations.
Other relevant information
Provide any other information which you believe is relevant to your application and will help the review committee make a decision. For example, provide explanations for any gaps in your resume.
If applicable
Applicants declaring permanent resident or Convention Refugee status in Canada, must submit a copy of their Permanent Resident Card (PR card) along with their application.
If you are a current or past member of the Canadian Armed Forces, include a copy of your training record.
You may also need to submit:
For information on how and where to send your supporting documents, refer to the document submission guidelines.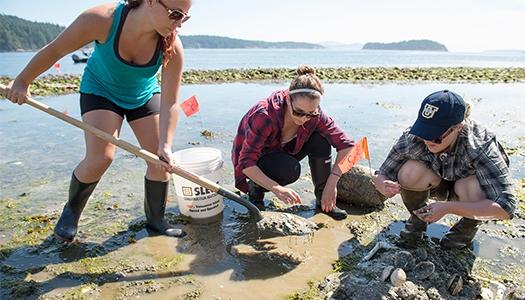 Get involved and start making a difference with real-word experience.
As part of the on-campus program, you are required to complete a major research project that is developed in collaboration with local institutions and organizations to research and solve regional environmental challenges. By engaging in practical undertakings, you'll develop a comprehensive understanding of what may be expected of you upon graduation.
You will work with sponsor organizations on applied research projects and be responsible for research design, budgeting, ethical approval, conducting and reporting on the research. The skills, tools and knowledge that you will cultivate through the process will be invaluable. These projects offer the perfect opportunity to graduate with relevant work experience and highlight your abilities to organizations within the environmental field; they also provide the chance to network with peers and potential future employers.
Following are some examples of past major projects completed by the Bachelor of Science in Environmental Science students. 
Healing city soils in Greater Victoria
Working with the Compost Education Centre on Healing City Soils, students from Royal Roads assessed local soil for toxic contamination to evaluate whether communities and urban gardeners could safely use it to grow their own food. More than 400 soil sites have been tested for heavy metals over the past couple of years. Soil test results from the first two phases of the project are now uploaded onto the Victoria Soil Quality interactive online map, providing community members with a picture of soil health throughout the city. Read more.
Re-establishing Indigenous shellfish at the Coburg Peninsula
A team of students worked with the City of Colwood to re-establish a clam garden in the region. After multiple visits to the Coburg Peninsula, students analyzed the area's sediments for metal contamination at the university's Sherman Jen Building science labs. The objective of the project was to obtain an understanding of the health of the sediments at the Peninsula and re-establish a healthy clam garden in collaboration with the local First Nations community. Read more.
Bear-Safe waste management for the District of Sooke
In conjunction with Wild Wise Sooke, a local non-profit organization, students of the BScES program researched the feasibility, costs, and effectiveness of bear-resistant waste management in the local residential areas. The aim of this major research project was to reduce the impact garbage had on the behavior and habits of the local black bear population. By improving the bear-safe measures taken by area residents, students reduced black bear euthanasia in the region and created a more harmonious relationship with the local wildlife. Read more.