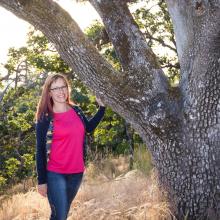 Summary
Alina Fisher is an ecologist, freelance science writer and science communications (SciComm) researcher. Fisher's scientific research has spanned fascinating population ecology processes including pollination, mutualism, invasive species and re-introduction of endangered species, and she has the scratches and scars to prove it. She is a regular writer and editor on Science Borealis and has written for the University of Victoria, BCcampus, Fireside Science and BC Nature. Her blog fusing issues of ecology and SciComm has been syndicated on Science Borealis. Fisher also conducts guest lectures and workshops to bring SciComm skills to other scientists and academics, and the wonder of biology into the hearts and minds of grade-schoolers in Victoria. She is a member of UVic's Speaker's Bureau and volunteers her time regularly as a guest lecturer, writer and conservation advocate.
Experience
Fisher is also research manager for the University of Victoria's School of Environmental Studies, consults as a SciComm specialist with multiple organizations and a freelance science writer. She has been a guest lecturer on ecology, biology and science communication for academic and public audiences, and holds workshops teaching SciComm skills to other scientists across Canada. Fisher has designed and taught labs for numerous courses in biology, plant science and zoology at the University of Alberta. She teaches Science Communication for Ecological Restoration at the University of Victoria.
Fisher has been named a MITACS 150 for 150 researcher and a Canadian Wildlife Federation Local Hero. She is also a certified project management professional (PMP) and master gardener.
Education
2017
Master of Arts in Professional Communication
Royal Roads University
n.d.
Bachelor of Science in Zoology
University of Alberta