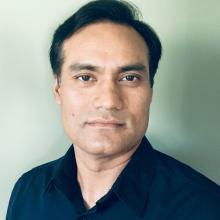 Rudra Shrestha is an atmospheric scientist, who holds a PhD degree in atmospheric science from the University of Manchester. Shrestha has experience in atmospheric research and his research interests are modeling of air quality and its interaction with meteorology; in particular, the impacts of black carbon aerosol on regional climate change. Shrestha has published several peer-reviewed papers on atmospheric sciences.
Experience
Shrestha has worked as a post-doctoral research scientist at Canadian Center for Climate Modeling and Analysis (CCCma), Environment and Climate Change Canada for five years. During this period his role was to investigate the impacts of black carbon shipping emissions on arctic climate using the CCCma Earth System Model. Furthermore, at CCCma, he was also involved in the simulations of competition between different vegetation types over range of temporal and spatial scales. During his PhD research, Shrestha carried out weather research and forecasting model simulations over the Himalayas to improve our understanding of aerosol-cloud interactions in the complex topography.
Education
2013
PhD in Atmospheric Sciences
University of Manchester
n.d.
Master of Environmental Science
UNESCO-IHE Institute for Water Education, the Netherlands
n.d.
Bachelor of Civil Engineering
Institute of Engineering, Tribhuvan University, Nepal
Publications
Shrestha, R. K., Arora, V. K., Melton, J. R., and Sushama, L. (2017): An assessment of geographical distribution of different plant functional types over North America simulated using the CLASS-CTEM modelling framework, Biogeosciences, 14, 4733-4753, doi: https:doi.org/10.5194/bg-14-4733-2017.
Shrestha, R. K., Connolly, P. J. and Gallagher, M. W. (2017): Sensitivity of WRF cloud microphysics to simulations of a convective storm over the Nepal Himalayas, The Open Atmospheric Science Journal, 11, 29-43, doi: 10.2174/1874282301711010029.
Shrestha, R. K., Gallagher, M. W. and Connolly, P. J. (2016): Seasonal and diurnal variations of meteorology and aerosol concentrations in the foothills of the Nepal Himalayas (Nagarkot:1,900 m asl), Asia-pac. J. Atmos. Sci., 52(1), 63-75.  
Shrestha, R. K., Arora, V. K., Melton, J. R., (2016): The sensitivity of simulated competition between different plant functional types to subgrid-scale representation of vegetation in a land surface model, J. Geophys. Res. Biogeosci., 121, doi: 10.1002/2015JG003234.
Melton, J. R., Shrestha, R. K., Arora, V. K. (2015): The influence of soils on heterotrophic respiration exerts a strong control on net ecosystem productivity in seasonally dry Amazonian forests, Biogeoscience, 12, 1151-1168, doi:10.5194/bg-12-1151-2015.