Discover the art and science of learning. The best ways to design, develop and implement contemporary learning environments that help people learn more effectively in all sectors.
Program intakes
Filter to view upcoming intakes
March 25, 2024
Domestic tuition
$ 27,364 CAD *
International tuition
$ 35,851 CAD *
Related Schedules
(*) Tuition estimates shown are for the entire program. All rates are subject to annual increase.
March 25, 2024
Domestic tuition
$ 27,364 CAD *
International tuition
$ 35,851 CAD *
Related Schedules
(*) Tuition estimates shown are for the entire program. All rates are subject to annual increase.
Program description
Learn how people learn. The best ways to design, implement and evaluate contemporary learning environments.
In the Master of Arts in Learning and Technology, you'll assess theories, issues and practices that inform learning in all sectors.
In this textbook-free program, you'll investigate the history, developments and debates in the field of learning and technology.
You'll examine the impact of learning networks and communities on society.
You'll gain practical experience designing and facilitating digital learning experiences.
You'll learn leadership skills to guide the implementation and evaluation of digital learning environments in the workplace.
And you'll choose a program completion option in which you'll pull together the knowledge, skills, research and theory you've acquired into a creative piece with the potential to transform learning in your field.
As a graduate, you'll have the expertise to develop effective technology-mediated learning environments, as well as take on leadership roles at your place of work and beyond.
Program features
Open education
One of this program's principles is openness and open educational practices. To promote the "open first" approach, the program content of the Master of Arts in Learning and Technology is publicly available through the program's website, which can be accessed by anyone interested in learning about this field.
The program website is a great source of information for you to explore courses, activities, assignments and outcomes. You'll also be able to read the blogs of current students in the program. Every student creates a digital presence that fosters meaningful collaboration and contributes to broader conversations about digital learning.
Virtual symposium
Every April, you'll participate in a virtual symposium. In this week-long series, you'll listen to speakers and engage in conversations and discussions that explore digital learning.
In your first year, you'll take your first course (LRNT 521) during the symposium.
In second year, you'll present and share knowledge with this field's professional community.
The virtual symposium is open to everyone. Join in live or listen to recordings of sessions, which feature leaders in the field as well as Royal Roads students and alumni. Watching the recordings will give you an idea of what you'll study in the Master of Arts in Learning and Technology and Graduate Diploma in Learning and Technology. You can also invite your colleagues or staff members to join; the symposium is a great professional development opportunity.
Program completion options
You'll choose one of three options to complete this program:
thesis
applied research project
digital learning research consulting project
International Baccalaureate certification
Students in the Master of Arts in Learning and Technology program can tailor their studies to be eligible for an International Baccalaureate Organization certificate. If you're interested in this certification, you will need to indicate so in your application form and complete IB-specific work throughout the program.
Program certification
Teacher Qualification Service
The Master of Arts in Learning and Technology program is approved by the Teacher Qualification Service.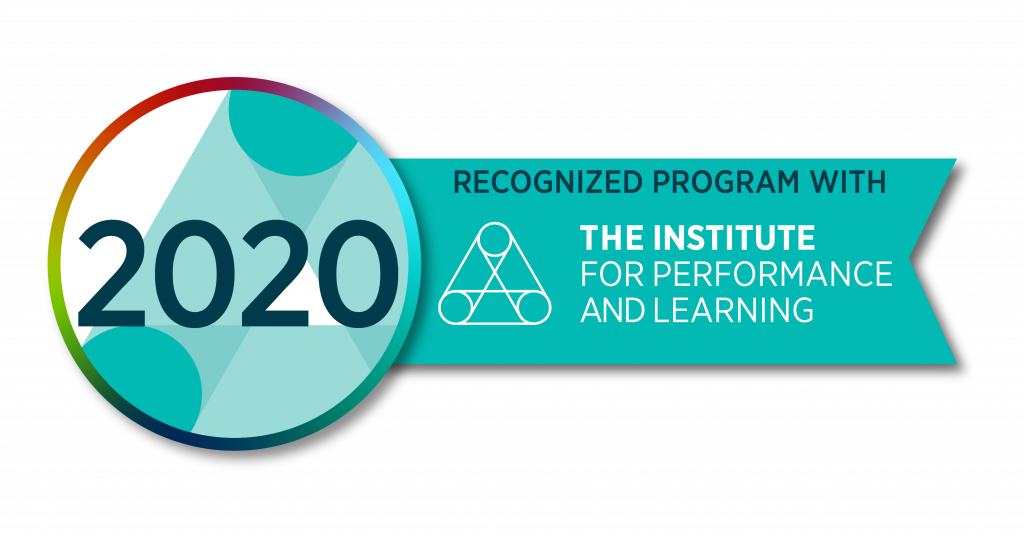 Institute for Performance and Learning
The Master of Arts in Learning and Technology program is recognized by the Institute for Performance and Learning. Graduates of the program receive credits that can be applied to the work experience requirements of the Certified Training and Development Professional certification.
Who it's for
This program is designed for individuals who wish to incorporate learning innovations into their educational environments.
It meets the growing need for management-level individuals who have the knowledge and skills to assume leadership roles that plan, design, develop, implement and evaluate contemporary learning environments.
Many of our students are mid-career professionals looking to advance their careers with a research-based master's degree.
People who could benefit from the program include training and development professionals and leaders; facilitators, trainers or instructors; educators; and those tasked with creating learning opportunities in their organizations.
The program attracts students from multiple sectors including government, business, healthcare, not-for-profit, K to 12 and higher education.
Build up to your MA
Credits from the Graduate Diploma in Learning and Technology can be applied to this master's program. You can start with the graduate diploma and move into the graduate program.
---
Program outcomes
Graduates will be able to:
apply the principles of openness, networked learning and digital mindset as they create and evaluate digital learning environments
use effective collaboration and communication approaches to analyze and design support strategies required to meet the needs of stakeholders in digital learning environments
critically evaluate how learning occurs in a variety of contexts and use this knowledge as they design and create research-informed digital learning environments
contribute meaningfully to digital learning networks and communities
Graduates may find themselves working as:
training and development coordinator or manager
instructional developer
learning analyst, leader, coordinator or manager
education and development manager
educational program lead
training advisor, coordinator or manager
learning designer, manager or director
faculty member or instructor
K–12 educator or administrator
Program delivery
You can choose to complete this program in one of two ways:
entirely online
through a blend of online learning and an on-campus residency
Online learning
Online courses consist of assigned readings, synchronous or asynchronous sessions, interactive discussions, and individual and team assignments.
You're expected to meet deadlines and contribute meaningfully to your class. Your contributions are a big part of everyone's learning. Because of the program design principles, much of the online learning uses open educational practices.
Each 3-credit online course requires approximately 100 hours of work.
You'll start your program with a non-credit, but required, course focused on building community with your fellow classmates and learning about academic integrity.
Blended
This program's blended program option has one two-week residency.
Blended programs include online courses and on-campus residencies.
Residencies are intensive and immersive. Many students say this time together is the highlight of their program.
During your residency, you can expect to:
attend classes full time (e.g., Monday to Friday from 8 a.m. to 5 p.m.)
complete homework and individual and team assignments outside of class hours
take part in extracurricular activities
Transfer agreements
Sorry, there are no results that match your search. Search suggestions: -Check your spelling -Try more general words -Try using the available filters
Standard admission 
Four-year (or comparable) undergraduate degree from a recognized post-secondary institution.
At least three years of professional experience in a leadership or management* position that is directly related to the MALAT program learning outcomes.
Flexible admission
To be considered for flexible admission, applicants would normally require:
A minimum of seven years of work experience, with a minimum of two years of professional experience in a leadership or management* position, that is directly related to the learning outcomes of the MALAT program.
*Leadership experience could include one or more of the following:
Roles in which you consult, negotiate with, or manage diverse interest groups through relationship, in a complex environment.
Roles in which you lead others toward shared goals and outcomes.
Roles in which you influence, organize, and coordinate groups of people.
Leadership roles in volunteer organizations.
Formal organizational leadership roles in which you directly supervise staff or complete performance-oriented work with individuals, groups, or teams.
Overcoming a challenging life experience (for self or others), which involved navigating complex systems and resulted in positive community change beyond the individual. 
English language proficiency
Additional recommendation(s)
Applications are assessed based on an integrated and consolidated examination of academic credentials, work experience, and personal experience. Applicants should be educational professionals. Experience in a technology-mediated learning environment is an asset.
Please ensure that you demonstrate your leadership experience in your detailed resume, and clearly indicate how your years of experience meet the standard or flexible admission requirements.
All applications to this program require submission of the following information and supporting documents before your file can be assessed for admission:
Application form
In order to apply online, you will be required to create a log-in account using your email address. You will be required to list all credit courses and/or programs you have completed or are currently enrolled in. An application fee will be required. If your application fees are being paid by a third party, review sponsored student information. Once submitted, you may check the status of your application at any time.
Official transcripts
Applicants are responsible for arranging for the submission of official transcripts from ALL post-secondary (higher education) institutions currently or previously attended, for all credit courses and/or programs. Transcripts are not required for non-credit programs or courses, though some programs may require proof of professional certifications or designations.
Transcripts are considered official only if submitted directly by the Registrar or other recognized authority of the providing institution in the institution's original, sealed envelope. If the envelope has been opened, the transcripts are no longer official and new (official) transcripts will be required to complete your application.
All international transcripts or credentials are subject to an international transcript and/or credential evaluation.
Personal statement 
A personal statement should consist of, but is not limited to, a two to three page letter of intent that outlines educational experience, technology experience, personal and career goals and discusses alignment between those and the goal of the MALAT program.
Reference letters
Your application requires two letters of reference that speak to your ability to research, critically analyze, synthesize and problem solve in ill-structured domains. One reference letter should be based on work experience and the other based on academic performance. Reference letters must be completed by individuals that have worked closely with the applicant such as a supervisor or manager. Knowledge of the applicant's ability must be within the last two years. 
Detailed résumé
Your detailed résumé should include the following:
Education: List all post secondary education, degrees, diplomas, and certificates you have achieved.
Work experience: Please include name of organization, length of service (month & year), and a brief description of duties.
Training and professional development: List career related training and professional development programs completed within the past five years. Include the source of training, and the duration and year completed. List other training and personal development programs not already identified.
Voluntary/unpaid work experience: List and describe any voluntary/unpaid post-secondary employment and/or community service experience. Please include name of the organization, length of service and a brief description of your duties.
Leadership/change agent/trainer experience: Briefly describe any specific training and/or experience you have had as a group/project leader, coordinator of change initiatives, or trainer.
Information technology training and experience: Briefly describe your level of training and experience in the use of information technology including computers, software and telecommunications networks as tools for business, education, teaching and personal use.
Innovative learning methods: Briefly describe any training and/or experience you have had in the use of innovative learning methods including distance learning, community and team-based learning, mentoring, etc. Include both your experience as a 'learner' and as an 'educator/trainer'.
Professional memberships/affiliations: List memberships and positions you hold/have held in professional associations, service clubs, the community/volunteer sector.
Other relevant information: Provide any other information which you believe is relevant to your application and will be of assistance to the review committee. For example, electronic or digital copies (disk or flash drive) of business papers/documents/business plans, etc., might be useful. In certain cases we may require such documentation for individual candidates.
 If applicable:
Applicants declaring permanent resident or Convention Refugee status in Canada, must submit a copy of their Permanent Resident Card (PR card) along with their application.
Transcript evaluation fee or credential evaluation report, if submitting international transcripts.
An official English language proficiency score report or other evidence of proficiency if English is not your primary language.
Other information or documents as may be requested to determine your eligibility.
For information on how and where to send your supporting documents, please refer to the document submission guidelines.
Students in the Master of Arts in Learning and Technology program take the same six foundation courses.
In addition, you'll select one of three program completion options:
Option 1: Thesis
In the thesis option, you'll identify an area of focus and work with your thesis supervisor on primary research. View recent student research titles.
Students who choose the thesis stream are required to apply for approval. If your application is not successful, you have the option of completing the program through one of the tracks below.
Option 2: Applied research project
In this option, you'll complete three additional courses. In your applied research project you'll perform a deep investigation on a specific research question using secondary data and informational interviews with up to five individuals. View recent student projects.
Option 3: Digital learning research consulting project
In this option, you'll complete three additional courses. In your digital learning research consulting project, you'll apply what you've learned in a practical experience. You'll provide a rationale for the design decisions you made, and you'll conduct informational interviews with up to ten individuals. View recent student projects.
Students who meet the requirements can tailor their studies to be eligible for an International Baccalaureate Organization certificate: the advanced certificate in teaching and learning research.
IB community
IB certificates are recognized around the world and show you are well-versed in opportunities and issues that face IB schools.
How to apply
When you complete the personal statement in your application form, include information about why you are interested in this certification and its relevance to your career.
Program requirements
If you're pursuing the IB advanced certificate in leadership research, you'll focus your master's coursework on the IBO context and draw on IBO readings. The workload will be equivalent to the students in your program who have opted not to pursue IB certification.
You'll complete IB-specific readings and assignments.
You'll study IB-related research topics.
Visit the IB website for more information.
The Master of Arts in Learning and Technology is founded on three principles:
1. Openness and open educational practices
We approach openness as a dynamic and negotiated space that encompasses "collaborative practices [including]... the creation, use and reuse of OER, as well as pedagogical practices employing participatory technologies and social networks for interaction, peer-learning, knowledge creation and empowerment of learners" (Cronin, 2017, ¶ 10).
This means we use an "open first" approach when selecting course readings and resources. With the exception of the exit pathway courses, all courses are openly licensed CC Attribution Share-Alike 4.0 International, and course materials are available publicly on the program site.
Students in the program are provided with a WordPress blog and many of the discussions happen on the blog sites. You're encouraged to share what you're learning on social networks too, to further create your personal learning environment.
The design and facilitation of the courses in the program incorporate open educational practices such as the use of student blogs, renewable assignments, co-created learning communities, design-thinking and inquiry-based approaches.
2. Networked learning
Human-to-human interaction mediated through the use of digital technologies is a key component of the MALAT program. You'll create, connect and grow your professional network in this field throughout the program through your student blog and course activities.
3. Development of a digital mindset
A digital mindset refers to how you choose to be in the digital space. Developing a digital mindset is a common theme you'll explore in this program's courses, activities and your own student blog as you critically examine the intersection of learning and technology.
You'll explore aspects of digital identity and digital presence, and examine the changing literacies required in digital learning environments.
The School of Education and Technology works with a program learning outcomes framework that informs the course learning outcomes. Program learning outcomes identify what you will know and be able to do by the end of the program. They are the essential and enduring knowledge, capabilities (attributes) and attitudes (values, dispositions) that constitute the integrated learning by a graduate of the Master of Arts in Learning and Technology program.
As a graduate you will be able to apply the principles of openness, networked learning, and digital mindset as you work in the creation and evaluation of digital learning environments. You will apply theoretical and practical knowledge to critically analyze learning innovations and assess their impact on organizations and society. Graduates of the program will have the knowledge, skills and ability to:
Communicate and synthesize information and arguments at the graduate level.
Critically evaluate how learning occurs in a variety of contexts.
Design and create research-informed digital learning environments.
Demonstrate effective collaboration skills.
Develop and analyze support strategies to meet the needs of stakeholders in digital learning environments.
Select appropriate assessment and evaluation strategies for digital learning environments.
Contribute meaningfully to digital learning network(s) and communities.
Explain the interrelationship between innovation, change and digital learning environments and their impact on organizations and society.
Apply reflective processes to improve professional practice.
Critically evaluate and/or produce research.
This program is textbook-free. Assigned readings are available at no cost through open educational resources, ebooks, journals and online sources.
These types of courses are known as Zero Textbook Cost and aim to improve access to education and enhance student outcomes.
Royal Roads University's applied research mirrors its interdisciplinary curriculum and is based on being solution-oriented and real-world focused. The research featured here aims to inspire and celebrate the relevant work students perform in their programs and in their fields. The following students have been nominated as examples of research in action and student research excellence.
Lisa Gedak
Title: Strengths and Superpowers: Revolutionary Experiences of School District Sixty-Four During the COVID-19 Pivot
In the spring of 2020, the COVID-19 pandemic resulted in sudden school closures in Kindergarten to grade twelve (K-12) contexts worldwide. Teachers, students, parents, administrators, and staff were thrust into suddenly teaching and learning at a distance. This qualitative case study examined the personal experiences of stakeholders from a distinct islands K-12 school district in the Salish Sea of British Columbia, Canada, that experienced learning remotely during the pandemic. An Appreciative Inquiry (AI) approach was used to examine the voices of all stakeholders in this unique district with the hope of positively impacting future district decisions. Data was collected through an online research survey, one-on-one interviews, and a mini focus group session. Thematic analysis resulted in the identification of three central themes: (1) reciprocal learning, (2) the adoption of technology, and (3) re-imagining the curriculum. The results of this study include recommendations, strategies, and actions for decision-makers to consider for the future of education delivery in K-12 districts worldwide.  
Christy Boyce
Title: An Online Pre-briefing for a Blended Learning Neonatal Resuscitation Program Simulation Training Course – Learner Perception and Experience
This research is a qualitative case study on the use of an online pre-briefing module in an established healthcare simulation Neonatal Resuscitation Program (NRP) in a Canadian health authority. In-person pre-briefing of learners before they begin simulation training has been shown to improve the learners' engagement and increase learner psychological safety in healthcare simulation training. Although there is evolving research supporting simulation prebriefing practices and frameworks, the benefits of online learning environments for pre-briefings are not understood. Using the Technology Acceptance Model (TAM) as a theoretical framework, my research provided an online pre-briefing for NRP learners, seeking to understand their perception of the applied eLearning design and their sense of psychological safety in the subsequent in-person training day. Recognizing limited sample size, findings reveal numerous potential benefits of an online pre-briefing on learner engagement and preparation for simulation. Recommendations include the further examination of this online simulation teaching practice.
Yvonne Armstrong
Police officers often respond to calls involving persons in crisis (PIC) and at times the outcome of those interactions is not positive. Industry and government reports identify a need for improved training for police officers when interacting with PIC. Guided by two theoretical frameworks: experiential learning theory (ELT) and cognitive load theory (CLT) this research sought to answer the following question: In what ways might the use of simulation training influence police interactions with persons in crisis (PIC)?
The use of simulation to effectively educate adults requires a sound understanding of both ELT and CLT. Instructors need to consider the trainee, their experiences, and their environments. Using a qualitative meta-synthesis, the literature indicates that simulation is a useful tool to train police officers in managing interactions with PIC. Specifically, reducing the load on working memory leads to changes in long term memory which is beneficial when learning new skills.
With the advice of Dr. Terry Coleman, an expert in this field, Yvonne is currently in the process of submitting her research to published journals for publication. 
Lori Kemp
Title: Competency-Based Education for Student Development in Vocational Education and Training
Through her experience as an instructor in a skills-based diploma program, Lori recognizes that students acquire competencies at different rates, through different experiences, and to varying degrees of proficiency. This dilemma inspired Lori to explore personalized competency-based education (CBE) as a potential means to enable continual student development in vocational education and training (VET) programs. 
The research findings revealed principles of curricular design aimed at promoting a comprehensive perspective of competency development as the integration of knowledge, skills, and attitudes needed to perform in specific vocational domains. As a result, Lori developed a comprehensive competency development model to illustrate the learning process in this context, and to guide educators and program planners in the design of CBE for VET.  
Faculty and staff at Olds College have shown interest in Lori's research and in particular in the CBE learning model. Conducting CBE for VET research has also lead to the opportunity for Lori to work with instructors in Kenya on a Kenya Education for Employment Program (KEFEP) project in partnership with Colleges and Institutes Canada (CICan).
Lori continues to facilitate learning in the Apparel Technology program at Olds College. She is excited to also be leading a curriculum planning project for the college. "I have always enjoyed working with curriculum and having completed the MA In Learning and Technology program allows me to approach that work with a more holistic perspective."
Andrew Prince
Title: Gadgets and Grades: Perceived Influences of Computing Devices on Achievement in Online Distance Learning
The relationship between humans and technology is ever-changing. From acquiring purpose-built technologies for our everyday needs to improvising solutions that address unique interests, many of us rely on a suite of technologies to help us achieve goals, go about our daily tasks, and for pleasure. Given the growing interest in technology from postsecondary institutions, and its essential place in online learning environments, Andrew wanted to examine the usage, utility, and perceptions of the devices learners use throughout their education in order to enrich our understanding of how, when, and for why people chose to learn with them.
In Andrew's research, he surveyed actively enrolled master's-level learners in partially and fully online programs at a Canadian university to help establish the value of particular computing devices throughout the learning process. In his analysis, Andrew observed trends in the popularity of specific computing devices, determined the types of operating systems learners favoured and the apps they relied upon in their studies. He also investigated learners' perceptions of their technology and the influence it had on their academic success.