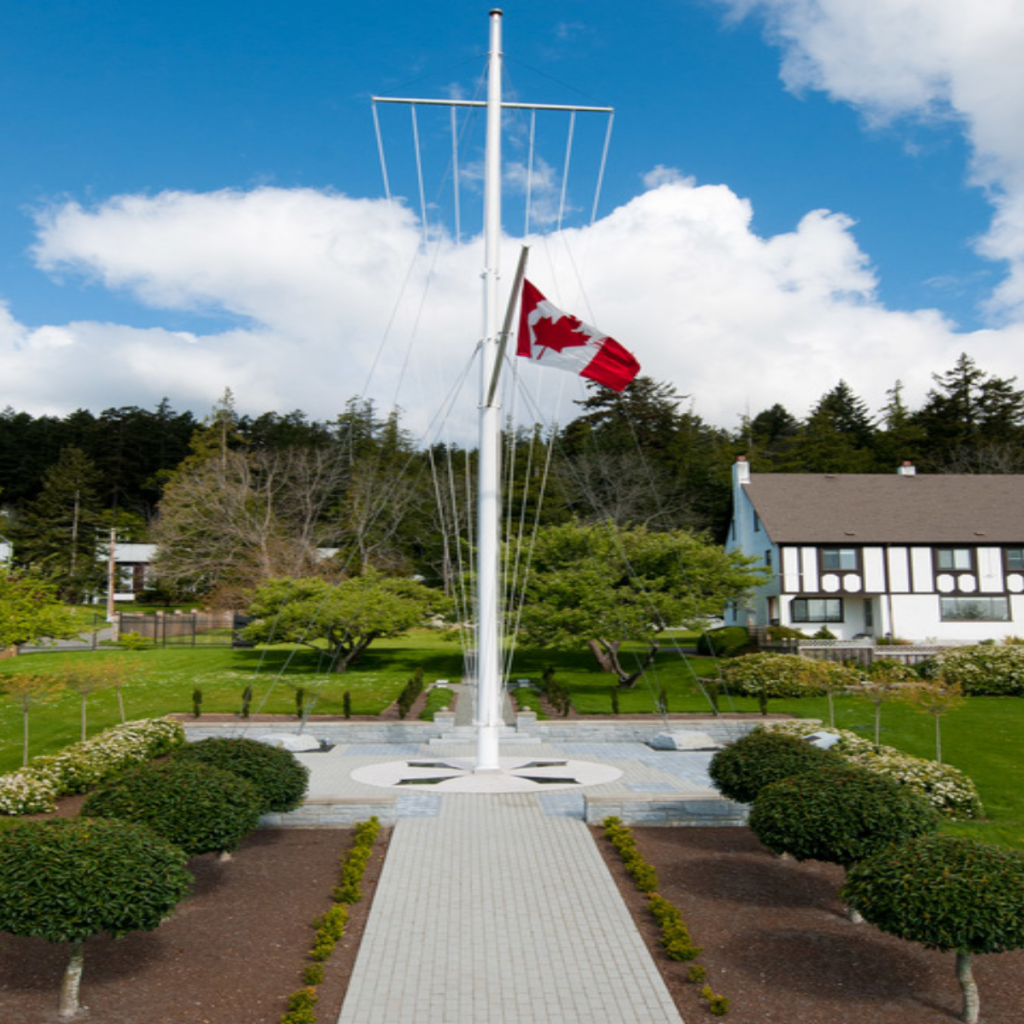 The tall white mast at the centre of Royal Roads' Memorial Plaza stands as a symbol of our naval and military history.
Made of yellow cedar, the mast is 30 metres tall. It was first raised in front of the castle in 1942 to celebrate the opening of the Royal Canadian Naval College.
Even though it was a land-based facility, HMCS Royal Roads ran as a ship. The mast was central to its daily routine.
Colours
Every morning and evening, cadets performed the "colours"military ceremony. At the sound of a bosun's whistle or a bugler, cadets stood at attention while the flag was raised or lowered on the mast.
The flag began with the the naval ensign, but then ensigns of the navy, army, and air force joined the mast. They were all lowered on February 15, 1965, replaced by the contemporary Canadian flag in a public full-dress ceremony.
The original three ensigns were hung ceremoniously in the castle foyer. When RRMC closed in 1995 they were laid up in the Christ Church Cathedral in Victoria, in an emotional ceremony.
Mast restoration
In 2008, craftspeople from the Fleet Maintenance Facility at CFB Esquimalt restored the mast. They added seven coats of glossy white paint and reinstalled it in the Memorial Plaza, which has also been restored with masonry stone walls, dedication plaques, interpretive signage and landscaping.
Hundreds of Royal Roads ex-cadets, alumni and staff attended the re-dedication ceremony.
The mast restoration project is part of an initiative to preserve and document the military history of Royal Roads. Read more in the Goldstream News Gazette.
Location
You can see the mast from a distance as you approach the Sherman Jen building, and will find the memorial plaza in the Walled Garden nearby. Refer to the campus map if you need additional direction.