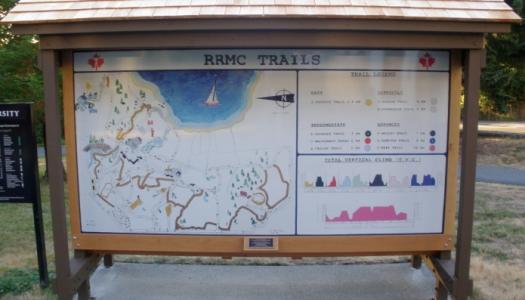 Original sign replicated to preserve history (completed: September 2012)
The RRMC trail sign lets you walk in the footsteps of countless Royal Roads Military College cadets and the many students who came after them.
The original sign, drawn by S. Tourigny in 1994, showed the trail network that cadets used to traverse the forested area of campus. It includes trail markers, painted illustrations of campus landmarks, distances and elevations.
The family of Henry Renton, a local resident who walked the trails daily, donated funds for the sign to be refurbished in his memory.
Restored to its original vibrant colours and detail, it was reinstalled in 2012.
The sign now acts as a helpful guide to the trails at Royal Roads.
Location
The trail sign can be found on College Drive outside the Recreation Centre. Refer to the campus map if you need additional direction.