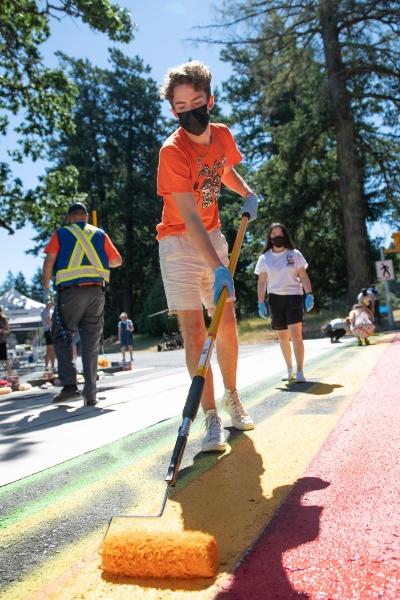 RRU Proud is a network of students, faculty and staff at Royal Roads University.
We come together to create a safe and inclusive community for Two-Spirit, Lesbian, Gay, Bisexual, Transgender, Queer & Questioning members of our community.
2SLGBTQQ+ individuals and allies connect and share resources with one another.
RRU Proud also provides educational information and outreach through activities and events, and coordinates RRU's Positive Space Network.
Voices from our community
The videos Voices from our Community, Parts 1 and 2 were developed at Royal Roads University as part of a campus-wide dialogue on the experiences of our community members who identify as Two-Spirit, Lesbian, Gay, Bisexual, Transgender, Queer & Questioning+.
These videos are a virtual showcase of the voices, stories, questions, research, ideas and issues related to sexual orientation and gender identity in the RRU Community
Positive Space Network Workshops
RRU Proud facilitates Positive Space Network Workshops as low-risk interactive workshops that engage participants in discussion around language, culture and assumptions.
Participants are introduced to skills and strategies that will help them contribute to the creation of safer and more inclusive environments for all members of the university community.
At the end of the workshop, participants are presented with the opportunity to join the Positive Space Network and become an RRU Proud Resource Person.
To register for an upcoming workshop, or to schedule a specific booking for your class or staff team, contact RRU Proud.
Resources
Get involved
If you would like to become more involved with RRU Proud, contact us!