Study professional communication strategy, theory, processes and methods. Become an effective, ethical and strategic communication expert. Influence societal, organizational and cultural change.
Program intakes
Filter to view upcoming intakes
May 06, 2024
Domestic tuition
International tuition
September 23, 2024
Domestic tuition
International tuition
Related Schedules
Program description
"Content is king." "The medium is the message." "A picture is worth a thousand words."
These adages spark your curiosity because you're fascinated by how humans send and receive information.
You know communication influences every facet of our modern lives — culture, politics, society, digital media, commerce, arts.
In the Master of Arts in Professional Communication, you'll study strategy and theory underpinning the expansive field of communications.
You'll examine all the ways people encounter messages and how these messages influence behaviours, beliefs and outcomes. You'll sharpen your skills and tactics to lead — and achieve — your organization's strategic communication goals.
Advance your career
You can continue working while you take this blended learning graduate program.
Unique to programs of this kind in Canada, Royal Roads' Master of Arts in Professional Communication allows you to apply what you're learning immediately through practical projects and your own place of work.
As a graduate of the Master of Arts in Professional Communication, you'll have the education — and credential — you need for professional advancement. You'll be well positioned to seize new career opportunities and move ahead in your organization.
What you'll learn
You'll take a set of core communication courses that cover:
theory, strategy, processes and methods of communication
culture, media and technology
ways to align communication with organizational objectives
You'll also select elective courses within the program, allowing you to the flexibility to shape your studies to fit your interests. The number of electives you take depends on what program completion option you choose.
Program completion options
You'll choose one of three options to complete this program:
thesis
research paper
course-based
Each of these options gives you the opportunity to focus your studies on an area that will most benefit your interests and work.
Program feature
A highlight of the Master of Arts in Professional Communication is the Live Case Challenge, which takes place during one of this program's residencies.
Client organizations present a communication challenge to teams of students. The teams research and analyze the issue then devise a communications plan with recommendations. Teams will deliver a formal presentation to their peers and the client.
Graduates of the program find so much value in the Live Case Challenge that they frequently return to Royal Roads to participate as clients. Their organizations benefit from the strategy, creativity and enthusiasm of current students.
Who it's for
This blended learning program is a good fit for working professionals who wish to take a strategic approach to communications.
You might be a communications professional looking to move your career forward. You'll sharpen your skills and knowledge and have credentials behind your name to advise executives — and become one yourself.
Or, you might be in another industry like web design, film, athletics, health or technology. You've seen how communications impacts your work and has broad influence. You want to learn more about how meaning gets transmitted to open new opportunities for yourself.
Our students are fascinated by our communication-charged society and are eager to learn how communication works.
Your peers
Our students come from a variety of fields. They work in corporations, government, small businesses and non-profits. They are leaders, entrepreneurs and innovators in the workplace.
Many have been doing tactical communications work — media releases, social media, copywriting — and now want to study communications theory and strategy in depth.
You'll study in a cohort of professionals who are like you — juggling work, family and life events. You're in this together. In this collegial program, your classroom colleagues and faculty members will engage with you in interesting conversations about communication and its influence in the world today.
Personal and professional diversity enriches the learning environment. It leads to deeper conversations and analysis of how course materials apply issues in society. Your peers will become a key part of your professional network for years to come.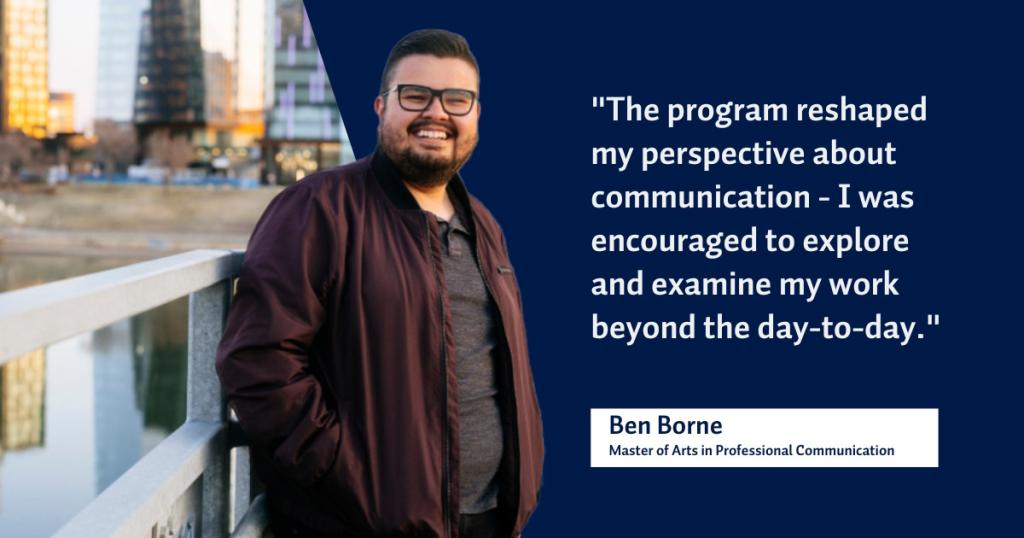 Title
The program reshaped my perspective about communication - I was encouraged to explore and examine my work beyond the day-to-day.
Program delivery
You can complete this program in one of two ways:
a blend of online learning and two on-campus residencies
fully online
Online learning
Online courses consist of assigned readings, synchronous or asynchronous lectures, interactive discussions, and individual and team assignments.
You're expected to meet deadlines and contribute meaningfully to your class. Your contributions are a big part of everyone's learning.
You'll take one online course at a time for a period of nine weeks each. Each online course requires approximately 22 hours of work per week.
You'll start your program with a non-credit, but required, course about academic integrity.
Residencies
This two-year fully online program includes online courses and virtual residencies. This program has two two-week residencies.
Residencies are intensive and immersive. Many students say this time together is the highlight of their program.
During your residency, you can expect to:
attend classes full-time (e.g., Monday to Friday from 9 a.m. to 5 p.m.)
complete homework and individual and team assignments outside of class hours
take part in extracurricular activities
The Live Case Challenge, in which you'll research an organization's communication challenge and develop a plan, takes place over one of the residencies.
Standard admission
Completion of a four-year (or comparable) undergraduate degree in a relevant field, from a recognized post-secondary institution.
Evidence of having sufficient knowledge, skills and abilities to complete a demanding academic course of study at a master's level
Normally, at least two years of work or volunteer experience, preferably in a leadership capacity.
Flexible admission
Applicants who do not meet the standard admission requirements will be considered for flexible admission and assessed as follows:
Applicants without an undergraduate degree, but more than three years (90 credits) of relevant post-secondary education, should have at least three years of relevant work experience, preferably in a leadership capacity.
Applicants with 2-3 years (60-90 credits) of relevant post-secondary education should have at least five years of relevant work experience in a leadership capacity.
Applicants with less than two years of relevant post-secondary education should have at least ten years of high-level, professional communication experience in a leadership capacity.
English language proficiency
Additional recommendations
Academic writing skills are required for success in this program and an English composition course, at a recognized post-secondary institution, focused on academic writing is therefore recommended. The Academic Writing and Critical Thinking course offered through Continuing Studies at Royal Roads University meets this recommendation.
If your application is assessed under flexible admission, you may be asked to submit a digital portfolio (disk or flash drive) of your previous work, learning and accomplishments (e.g. written work, project management, consulting work, etc.) in the field of communication.
All applications to this program require submission of the following information and supporting documents before your file can be assessed for admission:
Application form
In order to apply online, you will be required to create a log-in account using your email address. You will be required to list all credit courses and/or programs you have completed or are currently enrolled in. An application fee will be required. If your application fees are being paid by a third party, review sponsored student information. Once submitted, you may check the status of your application at any time.
Official transcripts
Applicants are responsible for arranging for the submission of official transcripts from ALL post-secondary (higher education) institutions currently or previously attended, for all credit courses and/or programs. Transcripts are not required for non-credit programs or courses, although some programs may require proof of professional certifications or designations.
Transcripts are considered official only if submitted directly by the Registrar or other recognized authority of the providing institution in the institution's original, sealed envelope. If the envelope has been opened, the transcripts are no longer official and new (official) transcripts will be required to complete your application.
All international transcripts or credentials are subject to an international transcript and/or credential evaluation.
Personal Statement
Your personal statement should be at least a three-page letter indicating your motivation for seeking entrance to the program. Your statement should comment upon your personal and career goals, the expectations you have for the program in relation to the achievement of your goals, and the strengths you feel you can bring to the program. If you are seeking equivalency for some part of the required years of university/college study, please expand upon why you think your life and work experience and/or related formal education and courses merit adjudication under the flexible admission process.
Letters of reference
Your application requires two letters of reference. Ideally, these letters speak to your academic potential, your professional expertise and your personal attributes. The preferred letters of reference are academic references and professional references. 
Academic reference: Academic letters of reference should attest to your academic achievement, study skills, teamwork, leadership potential, human relations, flexibility, communication and technical skills. 
Professional reference: Professional letters of reference assess your current or previous performance in your career. The letter can address areas such as communication skills, interpersonal and leadership skills, management potential, and work ethic. 
Structured résumé
Your structured résumé should include the following:
Education: List all post-secondary education, degrees, diplomas, and certificates you have achieved.
Work experience: Please include name of organization, length of service (month & year), and a brief description of duties.
Training and professional development: List career-related training and professional development programs completed with the past five years. Include the source of training, and the duration and year completed. List other training and personal development programs not already identified
Voluntary/unpaid work experience: List and describe any voluntary/unpaid post-secondary employment and/or community service experience. Please include the name of the organization, length of service, and a brief description of duties. List positions you have held in these.
Information technology training and experience: Briefly describe your level of training and experience in the use of information technology including computers, software and telecommunications networks as tools for business, education, teaching and personal use.
English language skills: List English (and related) courses completed, which will also appear on your official transcript(s). Include any other experience of written or spoken English (e.g. published writing, prizes and awards, debating club membership, etc.) that may assist us in adjudicating your application for admission.
Professional memberships/affiliations: List memberships and positions you hold or have held in professional associations, service clubs, community and volunteer sector.
Other relevant information: Provide any other information which you believe is relevant to your application and will be of assistance to the review committee.
Portfolio (upon request)
Your portfolio should include digital samples (disk or flash drive) of completed work such as projects you have managed, reports, published writing, syllabus outlines of courses you have taught, etc. A portfolio is especially useful for those applicants who have career experience but lack the formal requirements for admission and wish to apply through our Flexible Admission process.
If applicable:
Applicants declaring permanent resident or Convention Refugee status in Canada, must submit a copy of their Permanent Resident Card (PR card) along with their application.
Transcript evaluation fee or credential evaluation report, if submitting international transcripts.
An official English language proficiency score report or other evidence of proficiency if English is not your primary language.
Other information or documents as may be requested to determine your eligibility.
For information on how and where to send your supporting documents, please refer to the document submission guidelines.
Program completion options
We offer three options to complete the Master of Arts in Professional Communication.
You can choose the option that works best for your goals.
Option 1: Thesis
Includes core courses, one elective, thesis
Option 2: Research paper
Includes core courses, two electives, PCOM660 and paper
Option 3: Course-based
Includes core courses, electives and two graduate-level courses in the School of Interdisciplinary Studies
You can tailor your course-based master's to your area of interest through your interdisciplinary electives. Choose from a wide-range of courses, including leadership, disaster and emergency management, sustainable development, Indigenous ways of knowing, management consulting and much more.
Students wishing to take the course-based completion option should consult with the program head to approve their course selections.