Warm welcome to campus for Royal Roads' Fall 2022 Convocation
Topics
Share online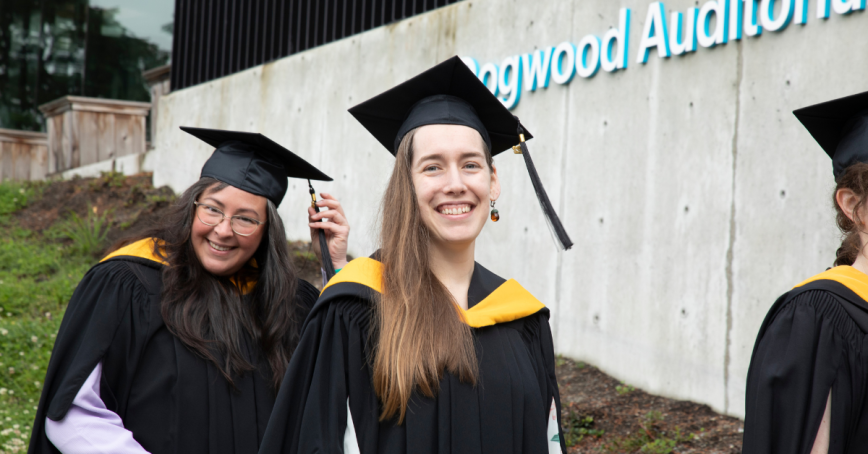 More than 400 students will come back to campus at Royal Roads University on Friday, Nov. 18 for the 51st Convocation ceremonies, held in the Dogwood Auditorium. Graduates are joined in their celebration by alumni, family members and honoured guests.
The university is hosting three ceremonies to confer degrees, certificates and diplomas in the Faculty of Management, the Faculty of Social and Applied Sciences and the College of Interdisciplinary Studies. Indigenous graduates also gathered on campus Nov. 17 to celebrate their achievements in a private ceremony with family, friends, Elders and Old Ones.
The 815 graduates from Fall 2022 are from Canada and 32 other countries. These graduates will join the network of Royal Roads alumni worldwide, bringing their number to 32,944.
"Convocation is truly one of the best days on campus," says President and Vice-Chancellor Philip Steenkamp. "Being here to greet students as they cross the stage and achieve this milestone in their educational journey and take the next step toward making their mark on the world is a privilege and a delight."
At the 11:30 a.m. convocation proceedings on Friday, Nov. 18, Royal Roads will confer an honorary Doctor of Laws degree on Elder THE-LA-ME-YÉ Shirley Alphonse. Her gentle and generous guidance as a member of the Royal Roads Heron Peoples Circle and her trusted roles with government and community have made an impact on countless leaders and young people.
"Elder Shirley is always willing to share her wisdom and counsel," says Royal Roads Chancellor Nelson Chan. "We are fortunate to receive her gifts of time and effort to Royal Roads, including working with faculty to create important learning resources that have been shared beyond our university. It is my honour to celebrate her in this way."
Read more about Elder THE-LA-ME-YÉ Shirley Alphonse.
Recognizing student award winners' extraordinary achievements
Graduating students will receive a total of 102 awards, 85 of which are distinguished. Among the graduates receiving awards are Lawrence Jarikre, a graduate of the Master of Global Management program who receives the Governor General's Gold Medal. His high academic achievement is also recognized with the Royal Roads Founders' Award, presented to a student in each graduating cohort of a degree program in recognition of exemplifying the qualities of leadership, sustainability and personal development. Bachelor of Arts in Interdisciplinary Studies student Taylar Bouwmeester is receiving the Lieutenant Governor's Medal for Inclusion, Democracy and Reconciliation. Eighteen graduates are receiving the Chancellor's Award for the highest academic performance in their program.
Bachelor of Commerce in Entrepreneurial Management grad and Founders' Award recipient Dan Morris, has been working toward his degree for 30 years. Morris says he could not have done it without support from family and friends, and every stop along the way was the right path to lead him to today.
See the complete list of all award winners and watch the three ceremonies online.