Walking each other home: Shirley Alphonse receives honorary degree
Topics
Share online
"Relationships are very important because you need to work together. No one can do it alone," says Elder THE-LA-ME-YÉ Shirley Alphonse.
She reflects on the work she has done in her community which is being recognized with an honorary degree at Royal Roads University. She is Hul'q'umi'num and was raised in the Lands of the Cowichan Tribes. She has lived on the Lands of the T'Sou-ke territory for 40 years.
A spiritual leader, she is led by a value of community care.
"Relationships are very important because you need to work together. No one can do it alone."
"The first thing I saw was that people needed healing. I saw the need there and figured out a way to help," she explains.
She performs funerals and has her own prayers to comfort those who would prefer not to have religion as part of their services.
"Sometimes I find it very, very hard, especially when they are young people, but you have to do it. You get the strength and energy to do it. I'm glad I'm able to offer what I do, because it is a comfort to them and helps them with their closure."
She dreams of a world where her people feel accepted, something she says is still not happening, but something that she works toward in the way she educates people about effective relationships to build bridges between cultures. One such relationship added a new dimension to the way she conducts her circles.
Alphonse formed a friendship with a high priest from Japan that led to a cultural exchange where she travelled to his community, bringing comfort, ceremony and teachings to youth experiencing challenges in the area.
A conversation she had with him inspired her to gather water sources from all over the world to use as part of her ceremony. Since water connects us all, she encouraged youth to sprinkle the ocean with her collection in order to send prayers to children all over the world. One special place where she gathered water was Zambia.
She got to Zambia as part of her work with the Victoria International Development Education Association (VIDEA), where she is an Elder working with Indigenous youth in the "Walking Together" program. Participants are placed with organizations in Africa and also spend time in T'Sou-ke Nation. They learn about sustainable development, environmental stewardship and conservation, gender equality, and governance while integrating wisdom from other people from cultures and from Alphonse herself.
While she's been active in the world of learning abroad, she's also involved closer to home.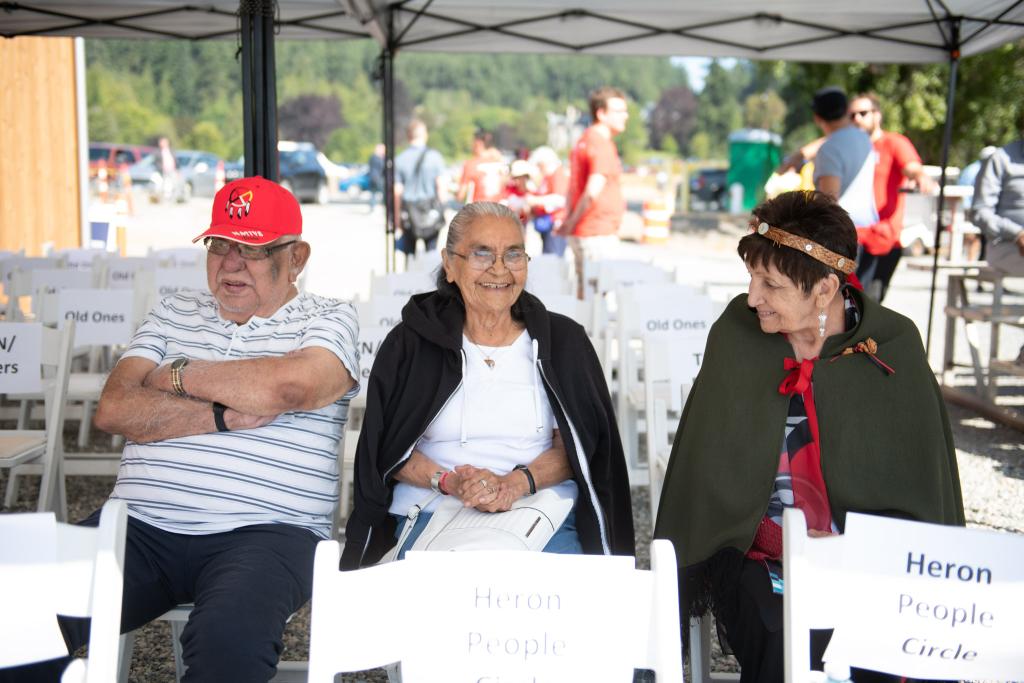 Alphonse has been engaging with the local school district and as a member of the Royal Roads Heron Peoples Circle since it was created in 2013. As part of her work with the university, she contributed her wisdom to the Four Feathers Writing Guide, with the late Nadine Charles and RRU Blended Learning Manager, Theresa Bell. The guide uses Coast Salish teachings to help students develop as academic writers and has been presented to other universities and at workshops and conferences.
Helping people understand each other is important to Alphonse, which is why she helped develop the "Walk with Me" program with the School of Leadership Studies. The program is designed to educate staff and faculty about the experience of Indigenous people. She co-authored an article about it for the International Leadership Association's online journal.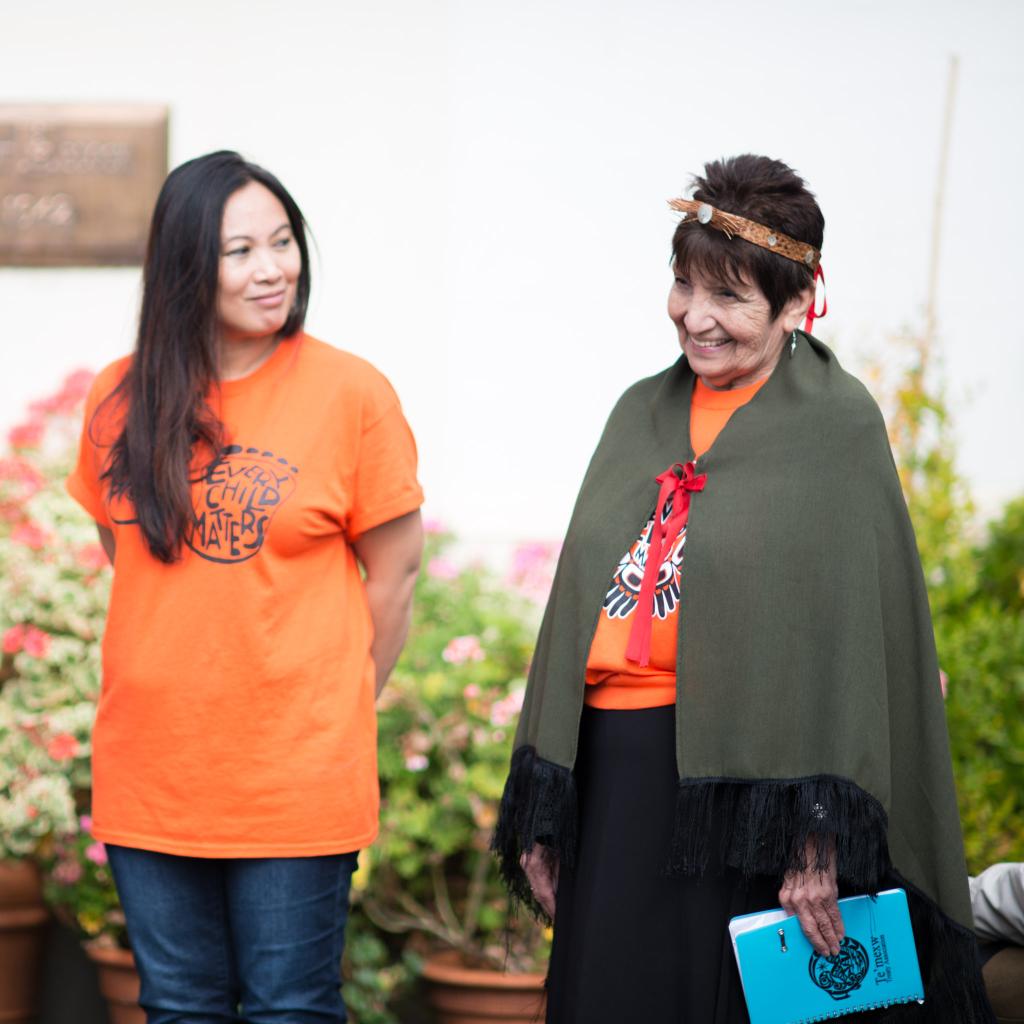 Inside and outside the university, Alphonse has educated others about the impacts of residential schools on Indigenous people and has been a supporter of Survivors. She gently guides learners so they can understand the social history of Indigenous people and focus on how we can all move forward together in a good way.
As a spiritual leader, Alphonse has also given counsel and comfort to political leaders. She was appointed as Elder to Premier John Horgan in 2017 and she shared words of hope on the first reading of Bill 41: Declaration on the Rights of Indigenous Peoples Act in October 2019 and participated in the Throne Speech in 2022. She led smudges for the premier, MLAs and legislature staff, bringing in her culture to the provincial capital.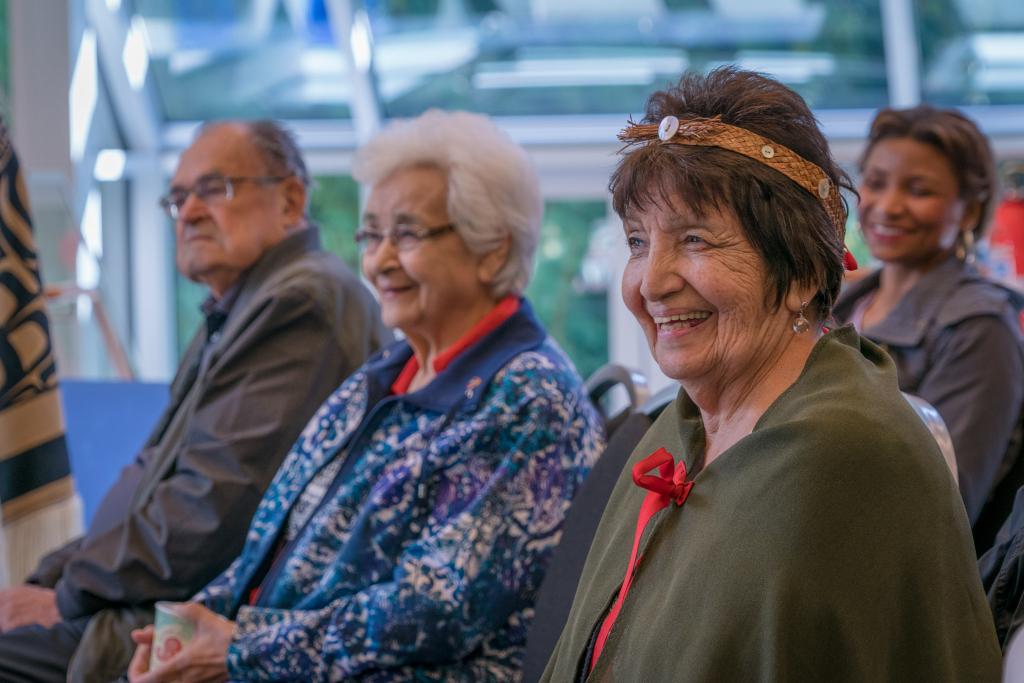 Her life has not been easy, but Alphonse says that being part of her community made her feel connected and helped her grow as a learner.
"There was always someone who cared, whether it was a family member, or someone outside of the family, someone who cared. That was huge, especially in a society where you weren't accepted, where you were treated as non-existent."
In her late teens, Alphonse spent a lot of time with the Elders in her community, listening and learning from them. They took her under their wing and guided her path forward. Now as an Elder herself, she passes on what she knows to those who want to learn. One of the ways she does that is by working with youth on climate action, something she believes in strongly and also does through VIDEA.
 "We can't live without Mother Earth and we need to look after her. We can't survive without her."
In helping take care of the world from an environmental perspective, and sharing her caring, creative, and courageous spirit with Royal Roads University, her community and beyond, she's helping take care of the world from a spiritual, cultural and emotional perspective. She's been quoted before as saying that "we are all walking each other home," and having her lead the way makes a difference.
Like she says, no one can do it alone.