Inclusive tech for better health outcomes goal of award-winning grad
Topics
Featured
Share online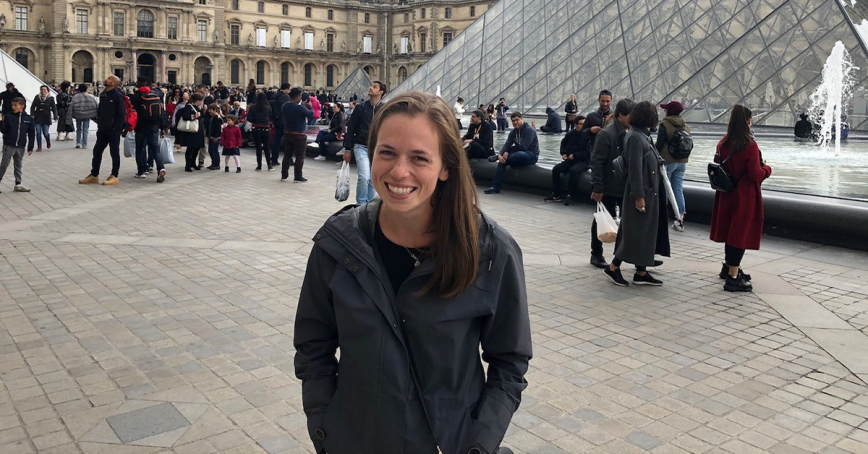 As a sign language interpreter for seven years, Taylar Bouwmeester acted as a go-between for deaf people who use American Sign Language and people who use spoken English.
As a digital accessibility specialist working for health technology company, her focus is on ensuring everyone can access websites and mobile apps to manage their health care, regardless of their abilities.
And as a recent grad of Royal Roads University's Bachelor of Arts in Interdisciplinary Studies (BAIS) program, her comfort with and passion for straddling different worlds both powered her schooling and informed her capstone project on inclusion at her place of work.
For her outstanding efforts at RRU, she was recently awarded the Lieutenant Governor's Medal for Inclusion, Democracy and Reconciliation.
The idea of making tech more inclusive for everyone, especially for populations that have been under-represented or marginalized by tech or health care or health tech, I'm super passionate about.
Taking a variety of courses as part of her BAIS — including professional communications, business management and leadership — Bouwmeester prepared a project plan and launched an Accessibility and Inclusion Champions Network (ACN) at her workplace.
To understand what an ACN is, it's helpful to first know what digital accessibility means.
Bouwmeester explains that the latter ensures that people with disabilities are able to access all features and information on a website or app; for example, if a person who's visually impaired uses a screen reader, a web page must be designed to ensure the utility can translate for its user everything a fully sighted viewer would be able to see or use.
Building an ACN in an organization, then, is aimed ingraining in corporate culture an understanding of and commitment to this and other types of accessibility.
"People want it to be baked in rather than bolted on," she says. A physical example of accessibility inclusion is the preference for the use of built-in curb cuts over added ramps on sidewalks for people with mobility issues.
Her capstone project looked at how the health tech company she works for could build an interdisciplinary team, bringing together people from different departments, upskilling them and using their varied expertise to ensure built-in solutions are the norm rather than maintaining a business-as-usual approach.
"People are really excited to learn about accessibility and inclusion and have the opportunity to be involved in that kind of initiative," Bouwmeester says. "This is something that's part of our life," she notes. "And the idea of making tech more inclusive for everyone, especially for populations that have been under-represented or marginalized by tech or health care or health tech, I'm super passionate about."
Shelley Jones, a professor and head of undergraduate programs in RRU's College of Interdisciplinary Studies, nominated Bouwmeester for the Lieutenant Governor's award and says her work at Royal Roads "exemplifies interdisciplinarity in action."
She calls her "a committed learner" who's "energetic, passionate and determined to bring about change."
"One of the things that really struck me about her work is that she's taking the knowledge she learned in the program and she's applying it directly as she's been learning," Jones says. "So her learning and her application of it in a very meaningful way are very much working in tandem with each other."
Bouwmeester's project supervisor at RRU, associate faculty Patrick O'Neill, says he was inspired by her leadership.
"Her final project demonstrates an excellent balance of scientific rigour and pragmatic application to advance an ambitious accessibility initiative that leverages her leadership strengths while honouring her core values and highest aspirations for social impact."
Bouwmeester credits two accessibility experts who are work colleagues and have been instrumental in not only her learning about accessibility and inclusion but also in driving the culture change throughout the organization. 
As for receiving the medal, the Ontario native who now lives in London, U.K., says she is honoured and can think of other Royal Roads students who have also made great contributions through their scholarly work to the award's theme of inclusion, democracy and reconciliation.
Find a complete list of the Fall 2022 graduate award winners.
---
We always want to hear stories about the people, programs and places that are the Royal Roads experience. Share yours via the RRU Story Exchange and it could be featured on our web site and social media.