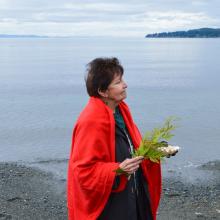 Elder THE-LA-ME-YÉ Shirley Alphonse
Honorary Degree
Fall 2022 Convocation
Elder THE-LA-ME-YÉ Shirley Alphonse is from Hul'q'umi'num People of Cowichan Nation. A respected Elder, cultural bridge-builder and truth speaker, she is a treasured educator who has has touched countless lives with her sage teachings and cultural practices.
Elder Shirley and her family were welcomed by the T'Sou-ke Nation when she moved to the region to begin her work with the Correctional Service of Canada. She became a spiritual leader for the T'Sou-ke Nation and for more than 30 years, she has provided spiritual support to all sections of the community from birth to the end of life.
She has shared her strong and gentle presence at countless community initiatives and events. She was invited by T'Sou-ke Nation Chief Gordon Planes to be an Indigenous language teacher at the Sum-SHA-thut school pre-kindergarten program. In addition, she has taught SENĆOŦEN at local elementary schools for the last 15 years.
Elder Shirley's leadership extends far beyond her Nations; she offers her gifts and knowledge generously and wholeheartedly to the community at large and to the faculty, students and staff of Royal Roads University. In 2017, BC Premier John Horgan appointed her as the Elder to the Premier and in 2019, she made history by conducting a smudging ceremony in the BC legislature.
While on a cultural exchange with a high priest in Japan, she provided comfort and teachings to youth facing challenges. There, she was inspired to gather water from across the globe to use in her circles, illustrating the whole world is connected by water. She later gathered water in Zambia, as an Elder working with the Victoria International Development Education Association. Their internship program "Walking Together", is a cultural exchange designed to give Indigenous youth an opportunity for a residency in T'Sou-ke Nation, followed by a visit to Zambia or Uganda.
Elder Shirley is often asked to provide an opening reflection or prayer at events due to her rich knowledge of Coast Salish Teachings and Lands. She has generously shared these reflections many times as a member of the Royal Roads University Heron Peoples Circle since it was created in 2013. Since then, Elder Shirley has offered her guidance and knowledge to support countless students, faculty and staff in this capacity.
She has been pivotal in many Royal Roads initiatives, including in the development of the "Walk with Me" program, which helps faculty and staff along their journey of understanding the experiences of Indigenous Peoples of the Lands we now call Canada. She also shared inspiration, guidance and Traditional Knowledge for the Four Feathers Writing Guide. Elder Shirley is also an important leader involved in Royal Roads' annual observance of the National Day for Truth and Reconciliation.
As a Residential School Survivor, Elder Shirley courageously shares her truth as part of her personal commitment to healing the deep wounds of the Residential School era. She travelled as an envoy to participate in ceremony with members of the Tk'emlúps te Secwépemc First Nation as both a Survivor of the Kamloops Indian Residential School and supporter of the communities there.
Deeply committed to taking care of the world from a spiritual, cultural and emotional perspective, Elder Shirley is led by an unwavering belief in togetherness.
"Relationships are very important because you need to work together. No one can do it alone."