Royal Roads University's 49th convocation ceremonies
Topics
Share online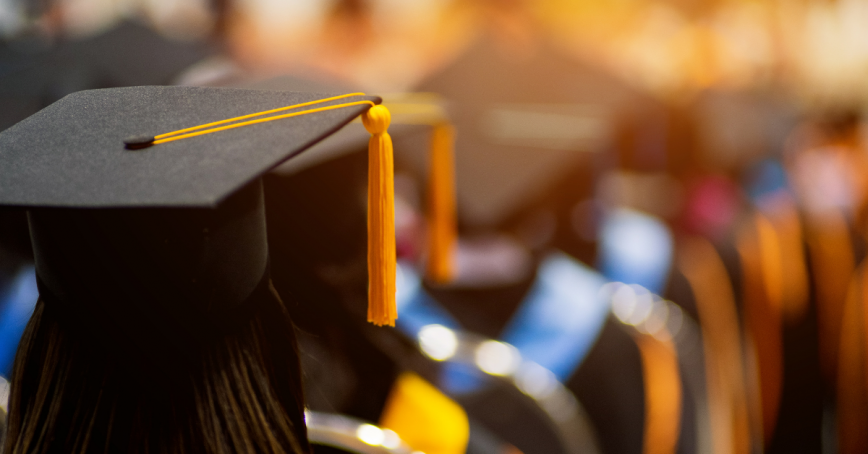 Royal Roads University is honouring 886 new graduates from around the globe at Fall 2021 Virtual Convocation today at 2 p.m. PST.
The university's 49th convocation will confer degrees, certificates and diplomas on students from across Canada and more than two dozen countries worldwide, with achievements in the Faculty of Management, the Faculty of Social and Applied Sciences and the College of Interdisciplinary Studies. While Royal Roads students are well versed in the virtual learning environment, the university recognizes the shared and often challenging experience.
"For each student, their Royal Roads experience is a personal journey," says President and Vice-Chancellor Philip Steenkamp. "The expectation is that each student will be challenged, and these 2021 fall grads proved just how well they have managed and risen above those challenges.
"Students have shown us in so many ways how skilled they are at breaking through barriers and making it very clear they are taking their learning and their courage to lead real change in the world."
Of those graduating, 141 are international students. There are 45 self-declared Indigenous students among the graduates celebrating today and these students were also invited to join in a private Indigenous graduation ceremony held virtually Nov. 18.
Honorary degrees take stage with two key leaders with close ties to Royal Roads
Royal Roads will present an honorary Doctor of Laws degree to Clarence Yux'way'lupton "Butch" Dick, for his countless contributions throughout his career, notably the 25 years he taught Indigenous art in Victoria-area public schools.
"Butch Dick holds a special place in the hearts of so many throughout the region and is so deserving of this honorary degree," says Royal Roads University Chancellor Nelson Chan. "He shares his creative spirit so freely. Here at Royal Roads, we are honoured to have his art, knowledge and wisdom guide us on a deliberate path towards reconciliation."
The university will also recognize the honorary Doctor of Laws degree awarded to Master of Arts in Environmental Education alum Lillian Howard, for her life of service as a powerful advocate for Indigenous people, social issues and the environment. Lillian Howard passed away Oct. 30, and a special tribute to her life and contributions will be part of the convocation ceremony.
"It is with deep sorrow that we acknowledge the loss of Lillian Howard and our sincerest condolences go to Lillian's family, friends, and Nuu-chah-nulth and Mowachaht/Muchalaht communities," says President Steenkamp. "Lillian's fire burned so brightly, and she embodied both the courage and spirit of a lifelong learner and leader, acting throughout her life to advance the interests of Indigenous rights, the land and justice."
Read more about Butch Dick and Lillian Howard.
Recognizing the extraordinary achievements of the Fall 2021 Grad Medal Award Winners
Among the graduates receiving awards are Master of Arts in Disaster and Emergency Management graduate Maia Foster-Sanchez, who receives the Governor General's Gold Medal, and Bachelor of Science in Environmental Practice graduate Brynna Kagawa-Visentin, who receives the Governor General's Silver Medal, Chancellor's and the President's Scholar Award and Bachelor of Arts in Justice Studies graduate Katelynne Herchak, who receives the Lieutenant Governor's Medal for Inclusion, Democracy and Reconciliation. Read more about the 2021 Chancellor's and President's Scholar award recipients.
The ceremony streams live Nov. 19 on the Royal Roads website and on YouTube and Facebook, starting at 2 p.m. PST.