Fall 2021 Virtual Convocation Ceremony
Friday November 19, 2021
Formal Ceremony at 2:00 p.m. PST Livestreamed
Watch Parties by your faculty and Virtual Graduate Processions to follow
While we had hoped to be in person, and had made every effort to do so; we are moving our Convocation online due to the delay in advancing to Step 4 in the BC Restart Plan.  For now, know we are so incredibly proud of you and we recognize and appreciate that this news is likely very disappointing. We appreciate all you have done to get here and please know, once it is safe to do so, we will have an opportunity for you to come to campus to celebrate in-person. You have accomplished an amazing climb and we don't want to hold off celebrating with you, so please join us Friday, November 19th.  Be sure to watch your email to learn how you can be a part of this momentous celebration.  
Congratulations, Royal Roads University Class of 2021!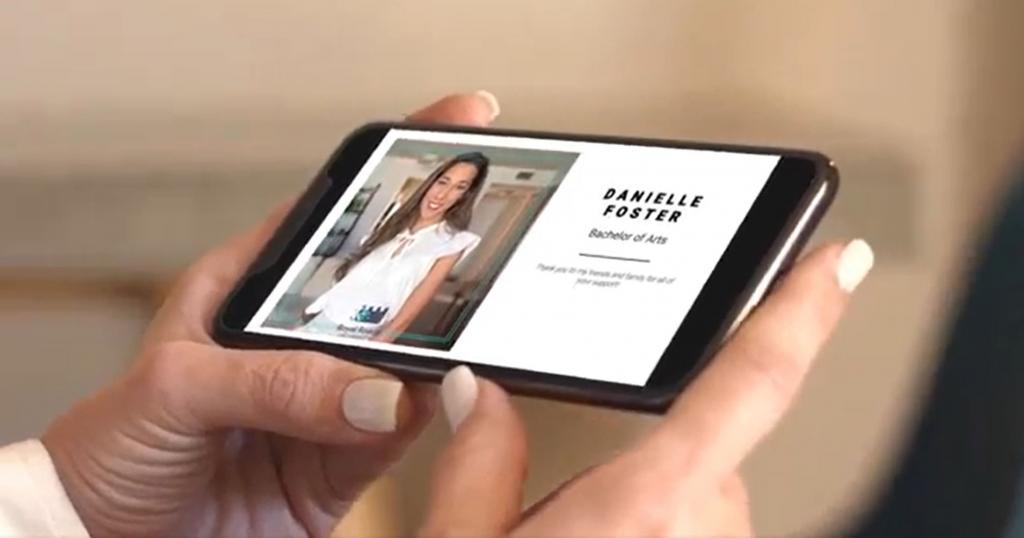 Submit Your Graduate Message
RRU has partnered with StageClip, which will create your custom, personalized individual recognition clip that you can share with your biggest champions. You will be asked to upload a photo, a written message, or a video message for your friends and family, which can be shared out via your social media channels.
You will be sent a personalized link for your submission 30 days prior to the convocation date. Do not share your link with others as it is unique to you.
Use our Royal Roads Instagram filters to customize your 10 second video, which will include virtual convocation regalia!

Review your content prior to submitting to ensure it presents the best audio and visual quality.

Visit StageClip FAQs for information and support on using this tool. 

Ensure you meet the submission deadline. We cannot accept late submissions.

On the day of convocation, your link will be available to share on social media with friends and family!
STAGECLIP OPENS FOR SUBMISSIONS: FRIDAY OCTOBER 15, 2021
DEADLINE FOR STAGECLIP SUBMISSIONS:  MIDNIGHT, SUNDAY NOVEMBER 14, 2021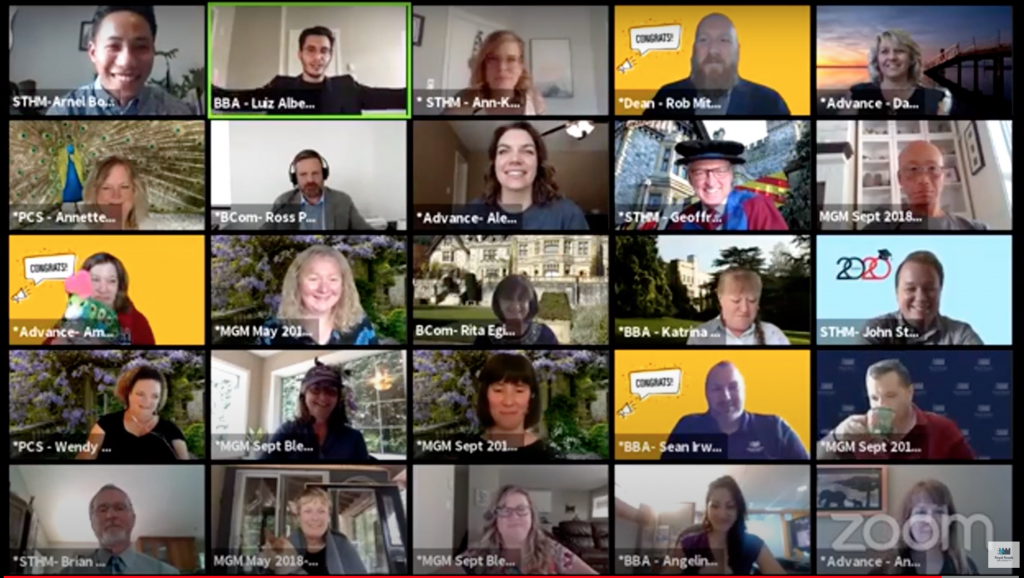 Virtual Watch Party
We will be hosting a Convocation Watch Party via Zoom for you, your friends and family, as well as faculty and staff on Friday November 19, 2021. This will provide a unique opportunity for all graduates and their supporters to come together to share and connect on your special day. RSVP YES on your registration form to reserve your seat! A link will be emailed just before the watch party for you to share with your loved ones and biggest supporters.
Having trouble registering?  Reach out to alumni.relations@royalroads.ca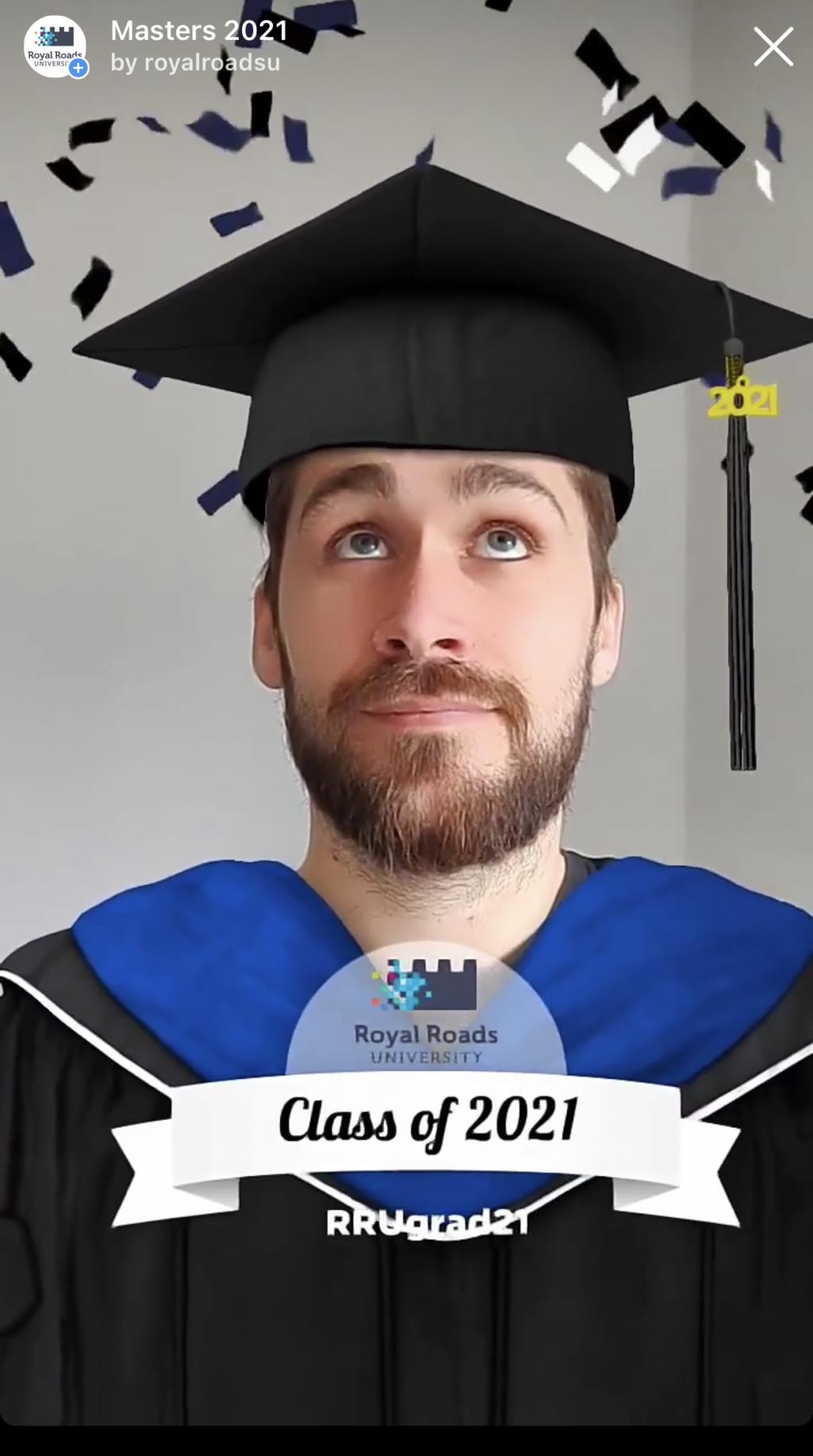 #RRUgrad21 on social media
Tag us in your photos using #RRUgrad21 on our LinkedIn, Facebook, Instagram and Twitter channels. We'd love to heart you, congratulate you, and share a few.
You can also put an RRU customized filter on your Instagram and Facebook profile photo.
Bachelors and Masters:
Doctorate:
Stay connected
If you're a new grad, you're encouraged to join Royal Roads Connect, our alumni network. Stay connected, share experiences and opportunities, learn about jobs and events, and grow your network! 
Graduate store and rentals
Find information about gown rentals, gifts and memorabilia.
Gown rental
Gowns are not required for the virtual Convocation, but you may choose to rent a gown directly from Gaspard for your own photos. 
Orders may be placed online and will be delivered directly to your home. All rental and shipping costs are at your own expense
Find more RRU gown rental information.
Diploma frames
Graduate rings
Rings can be purchased directly through Jostens.
Royal Roads alumni merchandise
You can order merchandise through the RRU Alumni Store. You must register for an account before you can add anything to your cart. 
Watch past convocation ceremonies
Watch recordings of past RRU convocation ceremonies.
Share your testimonial 
Watch past RRU Convocation ceremonies