Lekwungen Elder Butch Dick awarded Royal Roads' highest honour
Topics
Share online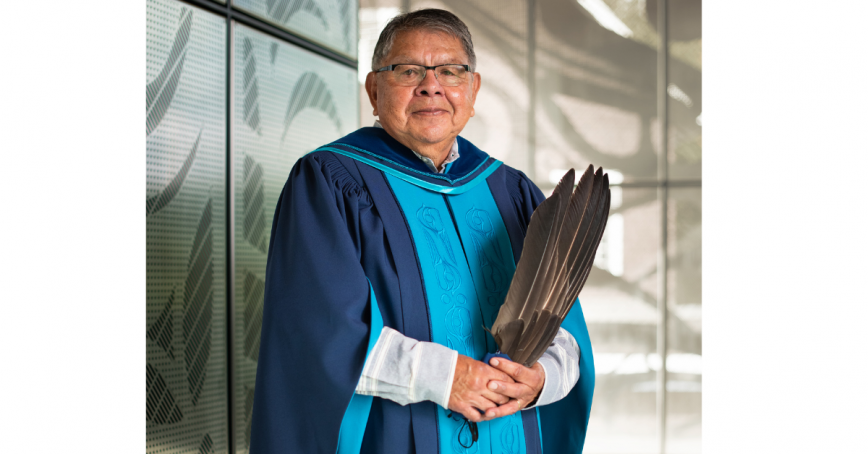 Royal Roads University is dedicated to bringing deep thinking and world-changing drive to its students. Yet place is at the heart of this learning. And that requires a guide who knows and draws connections to and from the rich history of the traditional lands of the Lekwungen and Xwsepsum ancestors and families, on which the university stands. Indeed, Royal Roads owes much to Yux'wey'lupton, a true visionary guide and knowledge-keeper, known widely by his English name, Clarence "Butch" Dick.
It is fitting to now honour Butch Dick for his many contributions as an artist and educator with an Honorary Doctor of Laws, awarded during the fall 2021 convocation.
Butch brings such positivity to all he does. And all that he does is a lot. His career reflects his multitude of skills, creativity and vision, as acclaimed master carver and educator. A quick look at his accomplishments and you'll see his 25 years teaching Indigenous art across Victoria-area public schools, his work as assistant university professor, as designer of Indigenous education curriculum, advisor to governments and institutions, and with special recognition to his time providing leadership to Royal Roads.
Butch is known for being a bridge-builder, making strong and lasting ties between Indigenous and non-Indigenous people within this community. Through his art, words and teachings, he is a peaceful creator of conciliatory action and inspires others every day. Butch holds a vital role as a founding member of the Heron Peoples Circle, the Elders and Old Ones, whose guidance supports Indigenous engagement within the Royal Roads community.
In fact, it was Butch's vision that led to the creation of the canoe challenge that is a feature of the university's annual National Indigenous Peoples Day event. He has also created designs found throughout the university, including the newly redesigned chancellor's and vice-chancellor's convocation regalia, the Heron People Circle logo, and the carving affixed to the exterior of the RRU boathouse.
Butch has made a lasting impression on this community and, for those efforts, was the recipient of the Lifetime Achievement Award from Leadership Victoria. He was a driving force in launching the Songhees Recreation and Wellness Centre and the Indigenous Youth Showcase and is known for his ability to translate Coast Salish heritage into powerful works of art.
Butch's work and influence are found throughout the region, from the Signs of Lekwungen — thousand-pound cast-bronze markers that depict spindle whorls Coast Salish women traditionally used to spin wool — to the honour poles and additional artworks at the Songhees Wellness Centre to the Brothers Poles at Victoria's Spirit Square, which were carved by his sons Clarence Dick, Jr. (who passed away earlier this year) and Bradley Dick.
And the lessons he taught his sons echoed the lessons he taught many young people from his Nation.
"I always tell young people, 'Your very first breath, you're a Lekwungen person.' And there's a responsibility attached to that to teach younger people. And this usually has to do with our younger people as First Nations people.
"But I took that a little further, to say, well, I have to create awareness in communities and these young minds that I'm working with, so they will learn to respect First Nations people, and the culture and the language and songs and drumming. When they grow up, they'll say, 'I remember that.'"
Indeed, Butch is a respected knowledge keeper and vocal advocate for his ancestors, relations and Nation. His wise ways advance the call for equality, justice and empathy in guiding not just the Royal Roads' university family, but the whole community to carry forward his teachings in each person who has shared time with him.
Read about leader and advocate Lillian Howard, also awarded an honorary degree during Fall 2021 Convocation.