These new graduates 'rock': Chancellor's Award Winners
Topics
Share online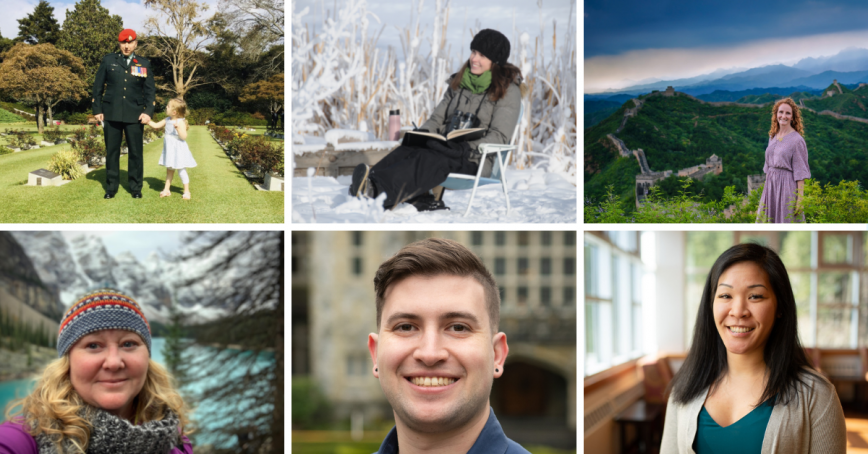 One loves rocks.
Another loves to rock out on guitar, but likes helping people — at home and abroad — even more.
Yet another wants to help teachers and kids to take their learning into the great outdoors.
They're all Royal Roads students who are being awarded the university's highest academic honour.
Royal Roads University Chancellor's Awards are presented at convocation to one graduating student in each degree program in recognition of having achieved the highest academic performance in that program.
"All of the honourees are exceptional students," says RRU Chancellor Nelson Chan. "More than that, they're outstanding individuals who are taking what they've learned at Royal Roads into their communities to make a difference.
"They truly exemplify Royal Roads' core values of courage, creativity and caring," Chan adds.
Chancellor's Award recipients
School of Tourism and Hospitality Management
School of Tourism and Hospitality Management graduate Melany Hysert is being given the Chancellor's Award for her academic achievements as a Master of Arts in Tourism Management student, with a unique tourism focus: rocks.
A Calgary resident, who grew up in Manitoba, she can trace her interest in rocks to a childhood trip to a planetarium. A school visit by a geologist when she was in Grade 9 taught her "this love of rocks can be a real career."
She pursued education and employment in hydrogeology and worked in the energy sector. But after taking several guided geology trips, she settled on tourism as her next chapter. Armed with her MATM from Royal Roads, where she's currently a teaching assistant for a research methods course, Hysert is setting up a geo-tourism consultancy in Calgary because Alberta is rich with geological sites.
"I call what I'm doing now knowledge sharing and inspiring," she says. "We have an unending opportunity for geology tourism, so I hope to raise up the entire industry… working with geotourism groups around the world."
School of Humanitarian Studies
In the School of Humanitarian Studies, Chancellor's Awards are going to Master of Arts in Conflict Analysis and Management graduate Barbara Horsefall, Master of Arts in Justice Studies graduate Tania Sarkar and Master of Arts in Human Security and Peacebuilding graduate Elton Adams.
A product of Roddickton, NL, Adams joined the military at 17 and spent 22 years in the Canadian Armed Forces with the 1st Regiment Royal Canadian Horse Artillery, later moving on to the military police. His service included postings in Bosnia, Japan and Afghanistan. He says the Royal Roads' master's program was perfect for him because so much of his military career involved human security and peacebuilding.
"This MA is saturated in human relations," he says, adding, "if the work includes helping people, then that's probably where I'm going to end up."
Indeed, his Royal Roads research into gender dynamics informs his current job (he retired from the military in 2021) as an Ottawa-based human rights policy analyst for the RCMP, focusing on workplace harassment, violence and discrimination.
(As well, Adams, whose middle name is John — yes, he's Elton John Adams, though he notes he was named for a preacher, not the superstar musician — and the singer/songwriter uses his music to raise awareness of soldiers with PTSD.)
School of Environment and Sustainability
In the School of Environment and Sustainability, one Chancellor's Award goes to Master of Arts/Science in Environment and Management graduate Melina Sorensen, and another to Stephanie Aleksiuk, who's graduating with a Master of Arts in Environmental Education and Communication.
Aleksiuk says she enrolled in the MAEEC program because she wanted to add a theoretical foundation to her experience doing school programs about waste and water for children and youth for Green Calgary, an urban environmental charity. The mother of four says kids are growing up in a world scarred by climate change and biodiversity loss, and at the same time, they don't experience the outdoors as much as previous generations did.
She asked herself, "How can we help kids get outside more?" The answer came in the form of two more questions: "Where are kids all the time? They're at school. So could school be a place where kids are brought outside for learning… to instill in them a deep love and connection to nature?"
Using her MA research, she has developed a set of resources for teachers to use — four full-day outdoor learning sessions — and has started Thimbleberry Learning, which provides programs and professional development.
School of Business
In the School of Business, Chancellor's Awards are going to Master of Business Administration graduate James Moreland, Master of Global Management graduate Nicole Martinetti and Bachelor of Business Administration graduate Glen Alexander.
Alexander left his hometown of Johannesburg, South Africa for Victoria to pursue his education and experience an adventure in which he'd be able to explore new cultures and engage with a different environment.
Although he'd previously earned a degree in financial accounting, it was the focus on environment and sustainability that attracted him to the Royal Roads BBA program.
"I've always been interested in sustainability and nature," he says, "and you can see where the world is going right now with climate change."
Building on the practical knowledge gained while earning his degree, Alexander says he's looking for work as a business consultant in the sustainability realm in BC.
School of Leadership
In the School of Leadership, Chancellor's Awards will go to Kim Ursu, a graduate in the Master of Arts in Global Leadership program, and Master of Arts in Leadership graduate Lauralee March.
March, who previously earned a Master of Business Administration at Royal Roads, said the leadership component of that program drew her to the MAL program. And as a lifeguard for more than 20 years who has had to pull people in distress out of pools, she saw in her thesis an opportunity to save lives. Its subject — advancing community safety in, on and around water — looks at the role of aquatic professionals, such as swimming teachers and lifeguards, in decreasing drownings.
Mother to a son, Kinden, who was born in March 2021, March says said she would work on her thesis — as well as coursework for her latest RRU program, the Doctor of Social Sciences — while the baby slept. "I could graduate because he was a good napper," she says.
Ursu had a different challenge. She was chief of staff to the Canadian ambassador to China when she did her first MAGL residency in January 2020. But despite the difficulties around the early days of the pandemic, she was energized by the program.
Hailing from the hamlet of Kayville, Sask. — population: 10 as of the 2016 census — who'd grown up on a grain farm and went on to Global Affairs Canada postings in Cuba, UAE and Venezuela, she says of her RRU education: "Having my beliefs tested, my eyes opened even wider than they had been during my career was really, for me, a huge boost to how I was able to represent Canada abroad."
Her capstone project was a look at how to increase equity, diversity and inclusion at Global Affairs Canada, examining ways to leverage the efforts of grassroots groups within the organization, to give voice to various communities in impactful ways.
"It was a really great project for me," Ursu says, "because it allowed me to bridge the [MAGL] program and my work, and to feel like I was bringing forward a lot of the value that I had gained through studies at RRU."
Last September, she brought that value with her to her latest posting: she's Canada's ambassador to Panama.