'Students are not just cogs to be processed to fit an economy'
Topics
Featured
Share online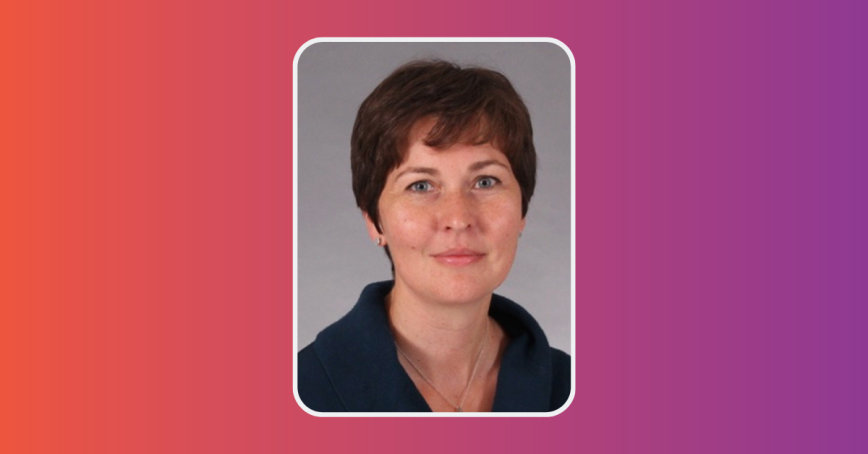 One in a series of articles on winners of the 2022 Dr. Gerry Kelly Outstanding Teaching Awards.
The three C's of Royal Roads University's core values are caring, creativity and courage. While exemplifying these in her work as a professor of Environment and Sustainability, Sarah Wolfe has added a fourth: commitment.
It's for all four — but especially her commitment to her students, who nominated her — that Wolfe was given the 2022 New Teacher Award as part of RRU's Dr. Gerry Kelly Outstanding Teaching Awards.
While the awards committee remarked on her "skillfully designed, insightful and engaging lessons" and her "ability to provide constructive and critical feedback while also reminding students of what they did well," it also lauded her "commitment to helping students to navigate their personal learning journeys to what they may become, in whatever directions that may lead."
Their journeys and hers are inextricably linked.
What brings meaning to my life is helping others meet their goals just as I was helped.
As the first member of her family to go to university, she says knew nothing about the culture or expectations of academia and remembers feeling intensely out of place. Because of that, she says, "I always make time to cover the basics for my students — terminology, processes, etc. — to demystify as much as I can the language, expectations and norms; and to make sure they know about different opportunities that are available to them, such as grad school, scholarships, internships, jobs, research and study abroad opportunities."
As someone who'd come from poverty, she worked multiple jobs during summers and even over winter vacation while going to university. "I wasn't able to do the unpaid internships that other students used to build their resumes," Wolfe recalls. "There was a lot of unspoken shame around not having the same resources that other students took for granted.
"I'm now constantly searching for ways to financially support my students — through paid research opportunities with me or my colleagues or outside of the university, scholarships to support their studies," she says, adding, "You never forget what poverty feels like."
Her students appreciate those efforts. Those who nominated her for the Kelly Award called her "a supportive advisor and mentor" who "continually shares learning and skill development resources and growth opportunities. They also noted, "Dr. Wolfe cares about her students beyond their academic and professional achievements, reflected by her focus on mental health… In the midst of a global pandemic, climate crisis, war and upheaval, we desperately need teachers — like Dr. Wolfe — with a holistic perspective of 'success' who help learners thrive using creative means."
One such creative approach was using the widely used workplace communication tool Slack to create a unique online learning community, students Avery Deboer-Smith, Wesley Gruber and Stephanie Shouldice wrote, saying, "This safe space allows her students to share resources, celebrate achievements, support one-another, have fun, and work towards academic and professional goals together."
In remarking on her courage, the students noted that "Like Dr. Kelly, Dr. Wolfe believes universities should be built around the learner. She is steadfast in her mission to be a champion for her students and will push boundaries as necessary to drive transformational change for their benefit."
Indeed, Dr. Kelly, the awards' namesake and RRU's first installed president, serving from 1996 to 2002, says, "The university exists for the learners" and adds that it "wants teachers who can share their knowledge with all of the capabilities that are in the classroom."
Teachers, Wolfe says, must have a "willingness to see students' unique qualities strengths, preferences and, dare I say it, their dreams. Students are not just cogs to be processed or formed to fit an economy."
She credits some of her own exceptional teachers throughout her academic journey, from a high school history teacher, Hal Babcock, "who saw me as more than just a poor kid from the wrong side of town" to a University of Waterloo professor, Dr. Rob de Loë, "who taught me what kindness looks like in academia."
Her experience with them and her life both inside and outside academia have formed her approach to her work and her students: "I love my job," she explains, "but at the eventual end of my life, a CV full of scholarly baubles — publications, impact factors, awards — won't be very meaningful. Instead, what brings meaning to my life is helping others meet their goals just as I was helped."
Read stories about all the 2022 Dr. Gerry Kelly Outstanding Teaching Award winners:
The Dr. Gerry Kelly Outstanding Teaching Awards are open to all RRU faculty members who are actively engaged in teaching for-credit or non-credit courses. They were created in recognition of Dr. Gerald O. Kelly, the first installed president of Royal Roads University, through an endowment fund. Dr. Kelly, a teacher by trade, believed universities should be built around the learner. With students top of mind, he encouraged Royal Roads instructors to strive for excellence in teaching. Learn more about the awards.
---
We always want to hear stories about the people, programs and places that are the Royal Roads experience. Share yours via the RRU Story Exchange and it could be featured on our web site and social media.