Topics
Featured
Share online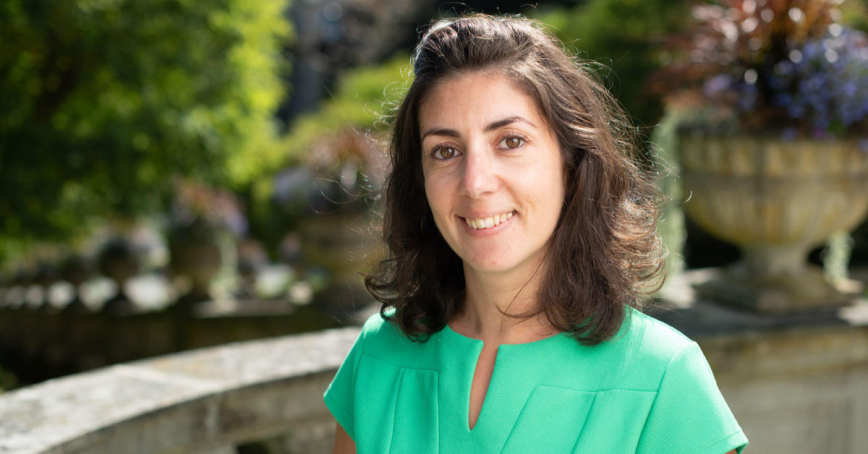 One in a series of articles on winners of the 2022 Dr. Gerry Kelly Outstanding Teaching Awards.
Two words are at the heart of everything Stéphanie Vieille does, both inside and outside of the classroom: justice and empathy.
As a researcher, she has, for instance, looked at a green energy transition that ensures environmental sustainability and supports creation of housing opportunities.
An associate faculty member in humanitarian studies at Royal Roads University, she leads classes where the goal is to open eyes and foster learning, encouraging mutual understanding among students.
The winner of RRU's 2022 Dr. Gerry Kelly Outstanding Teaching Award for Outstanding Teaching is remarkable, according to the awards committee, as a "kind, driven, empathetic, and culturally fluent teacher" who has the ability to empower classes, and to encourage students to incorporate their experiences into their education.
I think a concern for justice is always present — it's not always in the heading of the courses I teach, but it's really in everything I do.
"You cannot have a just society without empathy, without understanding, because justice requires that we are together and try to understand one another," Vieille says. "Maybe we can never fully understand one another but we can at least try to appreciate that there are different perspectives.
"I think a concern for justice is always present — it's not always in the heading of the courses I teach, but it's really in everything I do," she says.
"How do we communicate in a way that doesn't marginalize a certain group? How do we make sure we're reflecting different viewpoints in policies and institutions and how communicating in a way that's accessible to everyone?"
Just as important for learning is being willing to have differing opinions and learn together, she says.
"We need to be OK with disagreeing," she explains. "I want my students to feel comfortable saying, 'I don't agree with this.' It's only then that we can actually sit down and explore how we move forward."
As much as she makes space for disagreement and promotes empathy as crucial to learning, Vieille also encourages among students something else based on her own academic journey: failure.
Although she earned a PhD in Political Science from Western University, a Master of Arts in Political Science from SFU, a Bachelor of Arts (Hons.) in Politics and International Relations from the University of Kent at Canterbury, she says: "My gosh, did I fail — so many times.
"It's OK to fail, it's part of the process," she adds. "And I wouldn't even call it failing, it's just learning. It's part of the journey."
She also uses her experiences as a student to inform her approach to teaching, saying, "When I look back on my learning, the most significant pieces were when people were sharing personal stories. I try to do that too — being vulnerable, being me."
Sharing stories among students and teachers ensures the information in textbooks isn't disconnected from lived experience, she says.
Asked what advice she'd give other teachers, Vieille, says: "It's a community. Talk to your learners: What do they want? What do they expect? Check in often. Does that work for them? Can you do something better? Give them a role in this as well. They're your partners in the learning."
Indeed, Dr. Kelly, the awards' namesake and RRU's first installed president (1996 to 2002), says of the student-first approach of Vieille and other members of the Royal Roads faculty: "The university exists for the learners. They want teachers who can share their knowledge with all of the capabilities that are in the classroom."
Read stories about all the 2022 Dr. Gerry Kelly Outstanding Teaching Award winners:
The Dr. Gerry Kelly Outstanding Teaching Awards are open to all RRU faculty members who are actively engaged in teaching for-credit or non-credit courses. They were created in recognition of Dr. Gerald O. Kelly, the first installed president of Royal Roads University, through an endowment fund. Dr. Kelly, a teacher by trade, believed universities should be built around the learner. With students top of mind, he encouraged Royal Roads instructors to strive for excellence in teaching. Learn more about the awards.
---
We always want to hear stories about the people, programs and places that are the Royal Roads experience. Share yours via the RRU Story Exchange and it could be featured on our web site and social media.