International Ed Talks 2021
Topics
Featured
Share online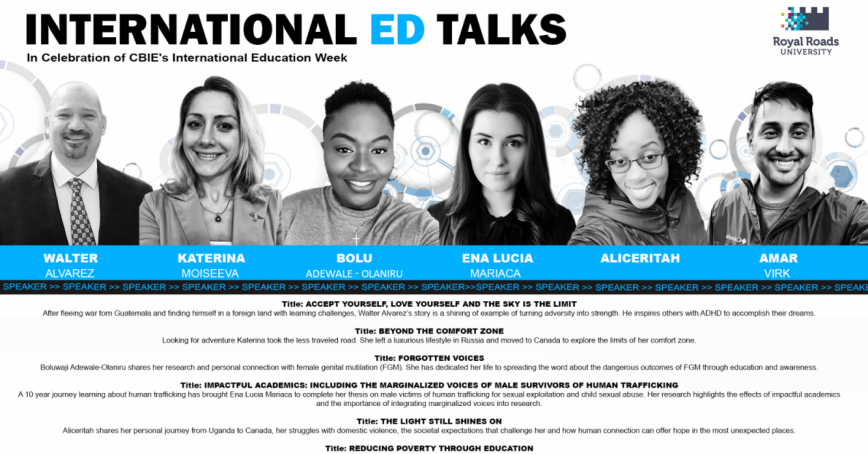 In celebration of International Education Week 2021 (November 15-19) Royal Roads students sparked conversations about the power of international education in six thought-provoking presentations.
With topics ranging from speaking up against human rights abuses, to poverty eradication through education to powerful personal reflections about self-love, our annual International ED Talks speakers reflected on what international education meant to them. Here's what they said.
Aliceritah

: The light still shines on
She was taught to stay silent. But she wanted more for herself and more for her son.
Master of Arts in Leadership-Health student Aliceritah shares her story of breaking free from an abusive marriage and finding the strength to speak up and ask for help.
"Where I come from, a woman is expected to be loyal to her husband by not talking about the discomfort or hard times one is going through," she says. "You're supposed to paint a perfect picture of your marriage regardless."
Boluwaji Adewale Olaniru: Forgotten voices
She moved to Canada at two years old, leaving both her home country of Nigeria, and the threat of female genital mutilation (FGM), behind.
Now, Doctor of Social Sciences candidate Boluwaji Adawale Olaniru, is using her voice to speak up for those who can't.
"I want to use my platform to educate, to inform, to sensitize and to spread awareness about the harmful effects of FGM."
Walter Alvarez: Accept yourself, love yourself and the sky is the limit
After leaving war-torn Guatemala for Canada, Doctor of Social Sciences candidate Walter Alvarez battled hunger, homelessness and a learning disability.
"Because of my ADHD, I had to make an extra effort just to operate at the same level as everybody else," he says. "After I got diagnosed, the beautiful magical moment that happened in me is somehow, I came out not only to the world, but to myself. I felt this moment of epiphany of self-acceptance and love."