Ghana rainwater project expands as student lead returns to RRU
Topics
Featured
Share online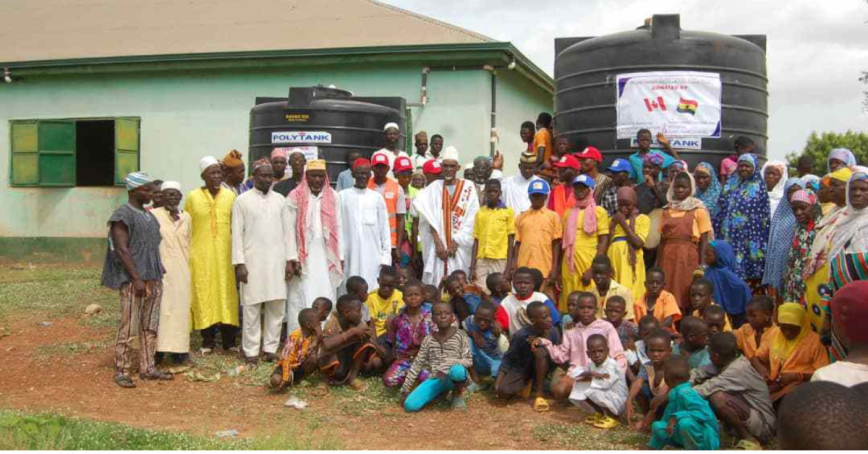 If you live on a tiny island in a massive ocean, you might take water for granted.
Michael Redmond doesn't.
A resident of Prince Edward Island (PEI), the former university soccer coach helped build rainwater collection systems in northern Ghana as part of his Master of Arts in Global Leadership (MAGL) at Royal Roads University.
Now, just as he has been accepted into RRU's Doctor of Social Sciences (DSocSci) program, Redmond has plans to expand his efforts in Ghana by raising money and gathering teams that can build and operate additional rainwater systems in other communities.
Redmond originally travelled to Ghana to coach soccer for a university team, work in the community on issues around the sport and gender, and with young people who have mental or physical disabilities. While there, he was inspired by a rainstorm, telling his wife, Aleida Tweten, "This place gets so much rain, but it comes down all at once. We have to be able to look at sustainably harvesting rainwater."
Redmond led a team that built a prototype system in Taampie Kukuo, a community in north-central Ghana, that could collect, filter and hold approximately 120,000 litres of roof runoff. The second system, which was his MAGL capstone project, was built in the community of Gbalahi with funding from the Rotary Club of Montague and Eastern PEI.
At that time, poverty and political conflict in the region were the biggest hurdles. Now, the main challenges are finding buildings or facilities with large enough roof surface area to collect rainwater, which usually means a school or mosque, and dealing with inflation for supplies and building sustainability. Still, he and a team in Ghana are preparing to build another rainwater collection system in Wovu-Gumani, a town of almost 300 people also in the northern part of the country, again with Rotary's help.
Back home in Canada, he and Tweten run Saoirse Farms, tending to meat chickens and laying hens along with rabbits, pigs, horses and gardens. He also works with the Native Council of PEI. A Path Forward coordinator under the auspices of Health Canada, Redmond has a mandate to work with off-reserve Indigenous people living with mental health and addiction issues, who are leaving corrections, many of whom are also unhoused. His goal is to help them reconnect to their communities and cultures.
When he begins in RRU's DSocSci program in January 2023, he'll continue his work on "the justice system in Canada — I always call it the legal system because there's no justice in it — and Indigenous people because there's such an over-population. There's so many young Indigenous women and men in the prison system, it's alarming."
And based on his experience working with people coming out of prison, he says he would like to launch a healing centre that incorporates learning involving farming and trades work, and a return to the land.
"There's so much to learn about the natural ways of farming and things like restorative justice," he says. "Being able to provide a platform from which these young men and women can be proud of their culture and their heritage."
In a previous article, he said, "I think Royal Roads allows you the opportunity to take your dream and make it a reality. If you have the imagination and you can see it, then you can see it to fruition."
Now, asked how he feels about heading back to RRU to pursue a doctorate, Redmond says he's "thrilled."
"And it's funny for me to say that," he adds. "I was not a great student growing up… but I really started to like research and it gets to a point where you really love to learn. And you become passionate about issues of social justice and reconciliation."
We always want to hear stories about the people, programs and places that are the Royal Roads experience. Share yours via the RRU Story Exchange  and it could be featured on our web site and social media.