Featured
Share online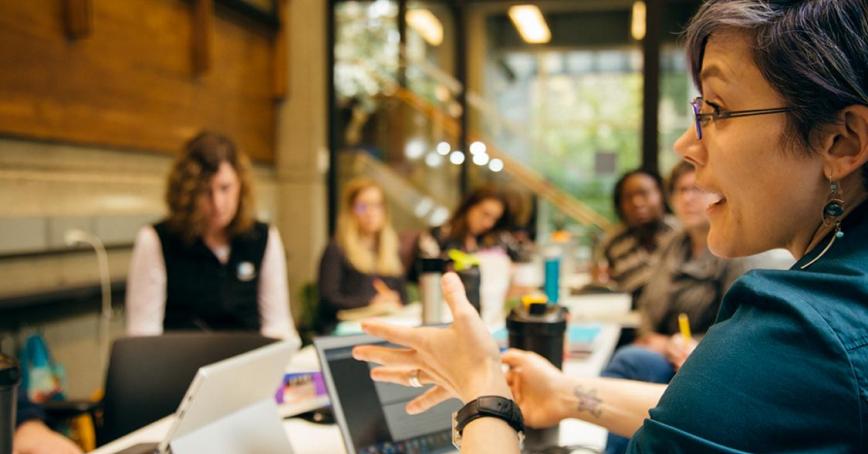 -
Timezone: PDT
Webinar
Online
Doctor of Social Sciences students are in high demand, nationally and internationally, as scholar-practitioners who can provide intellectual leadership in the workplace, and help build sustainable organizations, communities, and societies. These students seek to solve complex real-world problems through their interdisciplinary, applied research.
Join us on June 29 for a webinar to learn more about the program, application requirements and RRU student experience. You will also hear the first-hand experience of two of our DSocSci students, Elizabeth Sparling and Sarah Abbott, and have the opportunity to ask your questions. Your session will be hosted by program head, Dr. Mary Bernard.
Meet our DSocSci graduates
Sarah Abbott is an associate professor in the Department of Film at the University of Regina. She defended her Doctorate of Social Sciences research on the sentient relationality of trees at the College of Interdisciplinary Studies, Royal Roads University in March 2021, transitioning and expanding her research area and focus. Her intertwined interests include issues and rights of being for trees and plants, nonhumans and humans, community, Indigenous ways of knowing, decolonization, environmental health, and the climate crisis. She has been making films for over 20 years across documentary, fiction, experimental, and dance genres. Sarah is a recipient of a Vanier Canada Graduate Scholarship (2014-2017), the Saskatchewan Lieutenant Governors Arts Award for Arts and Learning (2012), and the City of Regina's Mayor's Arts and Business Award for Innovation in the Arts (2009).
Elizabeth Sparling graduated with a Doctor of Social Science degree in April 2020. With over twenty-five years in the field, Elizabeth Sparling is the owner and Clinical Director of FIVE Behaviour & Education Services, an agency that serves approximately 330 families of children with developmental disabilities on Southern Vancouver Island. Disheartened by the legacy of the medical model and its impact on individuals with disability in our province, Elizabeth focused her doctoral work on finding ways to improve the goal setting associated with the transition to adult services for youth with developmental disabilities in British Columbia.
We encourage you to register even if you are unable to attend. Everyone who registers will receive a link to the webinar recording.
Register