World Food Program Leaders' Perspectives
Featured
Share online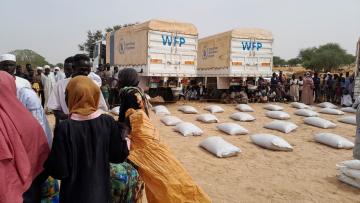 Image credits: World Economic Forum (https://www.weforum.org/agenda/2023/05/sudan-fighting-plunge-millions-into-hunger-wfp-food-security/)
Today, at least 345 million people across 82 countries are facing acute food insecurity, and 50 million people are on the brink of starvation. Over 35 million children under the age of five years old are suffering from wasting, that being the most visible and life-threatening form of malnutrition (Plan International, 2023).
Starvation is a critical challenge we face in 2023 related to food insecurity, among many. Join us Wednesday, September 6 for an open conversation among World Food Programme leaders discussing the challenges facing global food systems. Food insecurity is a systems challenge, meaning we will not only continue to see impacts in known ways and predictable areas but in others as the acute and critical food security challenge exacerbates further vulnerabilities and intersects with current global issues.
Among the various approaches, the World Food Programme's crisis response has included resilience, climate change adaptation, capacity strengthening and logistic services (WFP Report, 2022). However, ensuring food security is linked to how we plan for and navigate outcomes of current events and developing and overlapping crises in context. As such, in addressing current and future challenges we will need to support the planet's wellbeing through deeper understanding of the global leadership required, in view of a myriad of interlinking strategies, and strengthened community collaborations.
Offered both online and in-person, this event delves into current global issues impacting communities and the planet's wellbeing. Engage with global leaders, academics, activists, and more to enhance understanding and collaboration towards solutions for complex food system challenges. Country cases will be covered to provide examples of how the global crisis impacts regions and vice versa.
It's free and open to the public. The panelists include:
Dr. George Fedha, World Food Programme Country Director of Namibia and associate faculty in the Global Leadership program at Royal Roads University
Ms. Elly Vandenberg, Director, Global Office Canada, World Food Programme
Ms. Wanja Kaaria, World Food Programme Country Director and Representative to Cameroon
Dr. Philip Steenkamp, Royal Roads University President and Vice-Chancellor will facilitate this event in person. Additional WFP directors and leaders will join in the conversation online during the Dialogue portion of the event.
The schedule for the evening is as follows:
6:30 p.m. – 7:00 p.m.: Virtual space open with videos offered by WFP
7:00 p.m.: Opening, Territorial Acknowledgement, and welcome remarks
7:10 p.m. – 7:40 p.m.: Moderated panel
7:40 p.m. – 8:10 p.m.: Dialogue
8:10 p.m. – 8:40 p.m.: Q&A
8:40 p.m. – 9:00 p.m.: Closing remarks and networking
Register to attend the in-person event at Royal Roads University.
Register to attend the event online.
This event will be live-streamed on Vimeo. Please click on the link in the registration confirmation email to ensure you can access it without restrictions. If you can't see the event page on Vimeo, contact leadership.admin@royalroads.ca for an alternate link.
Sources:
Plan International. 2023. Global Hunger Crisis. https://plan-international.org/emergencies/global-food-crisis/
World Food Programme. 2022. Ecuador: Annual Country Report. https://docs.wfp.org/api/documents/WFP-0000147948/download/