Featured
Share online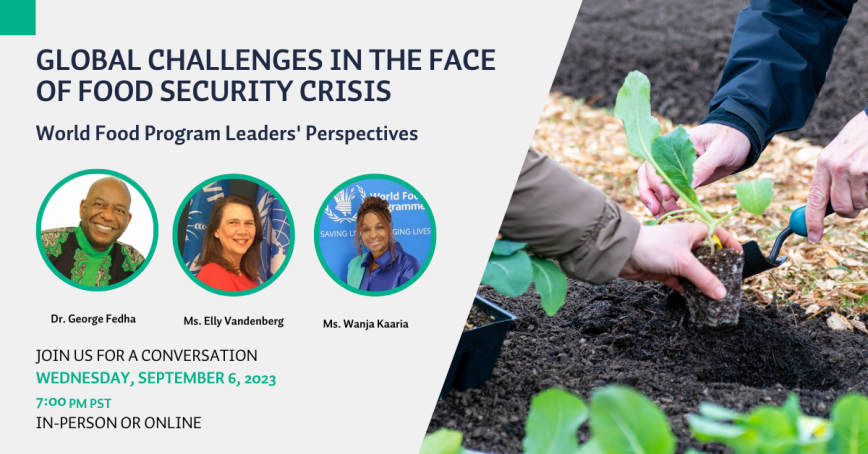 -
Timezone: PST
On-Campus event
In person
Royal Roads University
Dogwood Auditorium
2005 Sooke Road, Victoria BC V9B 5Y2
Canada
World Food Program Leaders' Perspectives
Join us Wednesday, September 6 for a free, open conversation among World Food Programme leaders discussing the challenges facing global food systems. Offered both online and in-person, this event delves into current global issues impacting communities and the planet's wellbeing. Engage with global leaders, academics, activists, and more to enhance understanding and collaboration towards solutions for complex food system challenges.
It's free and open to the public. Light refreshments served.

Panelists:
Dr. George Fedha, World Food Programme Country Director of Namibia and associate faculty in the Global Leadership program at Royal Roads University
Ms. Elly Vandenberg, Director, Global Office Canada, World Food Programme
Ms. Wanja Kaaria, World Food Programme Country Director and Representative to Cameroon
Facilitator: Philip Steenkamp, Royal Roads University President and Vice-Chancellor
Schedule: 
6:30 p.m. - 7:00 p.m.: Doors open and light refreshments
7:00 p.m.: Opening, Territorial Acknowledgement, and welcome remarks
7:10 p.m. – 7:40 p.m.: Moderated panel
7:40 p.m. – 8:10 p.m.: Dialogue
8:10 p.m. – 8:40 p.m.: Q&A
8:40 p.m. – 9:00 p.m.: Closing remarks and networking
Additional WFP directors and leaders will join in the conversation online during the dialogue portion of the event. 
Register to attend the event virtually instead.
Register