Featured
Share online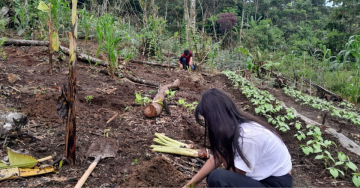 Photo credits: Humansforabundance.com
The School of Leadership Studies and MA in Global Leadership team wishes to express their deep gratitude to Chochi Iturralde, and Humans for Abundance, for her engagement as our MA in Global Leadership Cohort's Leadership Challenge™ sponsoring organization for 2023.
The purpose of the Leadership Challenge™ is to create a mutually beneficial learning experience for an international organization and graduate students in the first year of their Master of Arts in Global Leadership. To create this learning experience, some inquiry with the organizational sponsor is necessary and we are grateful to Chochi Iturralde, founder and CEO of the not-for-profit organization, Humans for Abundance, for her commitment of time and voluntary engagement in the activity: "The Intersection of Sustainable Forests and Sustainable Culture in Mushullakta".
Humans for Abundance (H4A) is both a social enterprise legally established in the USA and a non-profit legally established in Ecuador. The organization's ​approach is to grow economic resources rapidly and redistribute them in a different, more equitable way. It uses current technology to create a network for collaboration between humans from all over the world. Their goals are:
1. to support underrepresented people from the global south by giving recognition to their identities and ways of life, primarily by reawakening ancestral ways of living within their ecosystems. This is by amplifying their voices, acting as translators, and facilitating their connection with people from other parts of the world. Significantly, the strategy is moving power from the center to the margins instead of forcing the underrepresented to acculturate to the center. 
2. to provide concrete and impactful ways for people from the global north to address climate change and stop biodiversity loss. H4A observes western systems have pushed city-dwellers into a position where it is almost impossible to care for nature. Important is providing people who care about the climate and are looking for a way to restore vital ecosystems without having to leave their jobs, move to a different country, buy land, learn all the skills needed to help a habitat regain balance, or do all the intense work needed to restore a forest, river, or wetland back into life (see Humans for Abundance).  
Ecuador's Napo province (the upper Amazon basin) is home to just a small fraction of the country's population. Within the province of Napo is a small community of Kichwa people dedicated to the preservation of their life-giving forest. This community is Mushullakta. "There are 13 families that have committed to reforesting their lands by using assisted forest restoration and regenerative agriculture techniques" (Humans for Abundance, para. 2). Chochi Iturralde and H4A have been working with the people of Mushullakta towards their goals.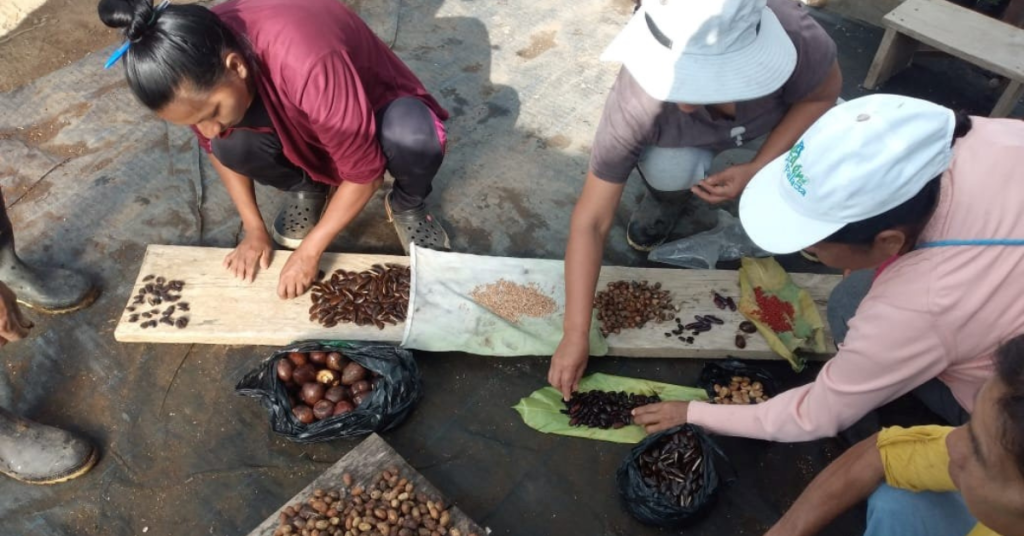 Photo credits: Humansforabundance.com
Environmental conflicts include the massive deforestation the region is undergoing. It has been estimated that 22% of the region's forest has now been lost with an additional area of equal size now degraded (Filho, King, and de Lima, 2020, p. 2). Both fire as well as the megaprojects associated with agriculture, cattle ranching, mining, logging, and even urban development are putting the area's forests under extreme pressure. As in other parts of the world in which colonization and its accompanying lust for natural resources have disrupted and degraded Indigenous ways of life, so too has this process impacted the people of the Amazon basin. Not only have the people lost their culture and way of life, they are also losing the forest itself, the Chochi and her organization, Humans for Abundance, feel that a solution to this complex cycle of challenges is to focus on restoring the forest to health and reclaiming the precious culture that is even now slipping away. The strategy H4A has chosen to address this challenge involves connecting people from anywhere in the world with the Indigenous people of Mushullakta through a pay-for-service model. However, the challenge facing these people with the degradation of the Amazon is a global and urgent issue that will affect the entire planet.
MA in Global Leadership students presented their ideas as teams to H4A and had the opportunity to engage and learn from Chochi Iturralde, representing the efforts of her team, and the families in the network. The Leadership Challenge™ is a cornerstone of the first residency of the Global Leadership programs and the Master of Arts in Leadership program. For more information or to inquire about becoming a potential sponsor, please contact us at leadership.admin@royalroads.ca.
Resources:
Filho, W., King, V. & de Lima, I. (2020). Overview of the Indigenous situation in the panamazonia region. In W. Filho, V. King & I. de Lima (Eds.), Indigenous Amazonia, regional development and territorial dynamics. (pp. 1-4). Springer.
Humans for Abundance. (2021). Mushullakta community. Retrieved from: https://www.humansforabundance.com/mushullakta