Leadership Thinking and Doing Series: A Beginning
Featured
Share online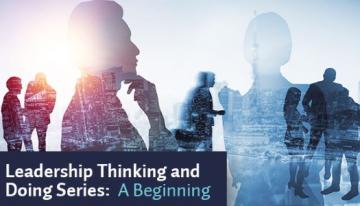 It is a troubling time and many are wondering what is going on and how to be a leader so as to contribute to a better world. It is not sufficient to just watch and worry.  It is not sufficient to judge and critique. It is not sufficient to pontificate personal feelings and reactions. It is not sufficient to preach narrow minded personal ideologies. It is not sufficient to jump into the fray to demand change – as the saying goes to "ready set and fire" without any thought as to what needs action and what can work.
To be effective as a leader, one needs to broaden one's thinking and knowledge base, to consider the perspectives of others, to rethink and reframe, to establish direction and purpose, design action plans, assess alternatives, take action, evaluate results and then loop back to repeat in cycles of continuous learning.  Leadership requires "thinking and doing" in integrated and iterative sequence. And most importantly leadership thinking and doing requires multiple viewpoints using processes of consultation, cooperation and collaboration.  As so aptly stated by John Donne in his 1624 devotional "No man is an island unto themselves", leaders too need to recognise they are not self-sufficient, that they need to work with and rely on others in a total system context.
This series will explore a variety of topics on how to think and do as an intentional, ethical, action-oriented and collaborative leader.
There are many exemplary examples of leaders who are thinkers and doers.  Martin Luther King (Black civil rights leader), Jacenda Ardern (40th Prime Minister of New Zealand), Malala Yousafzai (Pakistan education activist), Mahatma Gandhi (Indian activist and civil rights leader),  plus many more, come to mind.
What all these individuals have in common is a vision and a passion to make a difference.  They are all individuals who know themselves, seek out information and the perspective of others.  They are all individuals who think and rethink to understand what is going on, to see the bigger picture, to fully understand the issues from multiple perspectives and to find effective solutions.  They are all individuals who reach out to others, to build coalitions and partnerships and to take actions as a collaborative whole.
To be a leader who is a thinker and doer, does not require taking on large causes or even being an activist.  To be a thinker and doer does not require a large following and societal notoriety.  It is about you and me - in our immediate world, our communities and our workplace – taking intentional and conscious steps to build coalitions and relationships with others.  In community with others, it takes discipline and integrity to critically think and reframe from multiple perspectives, then to take actions, perhaps in small incremental ways, and finally to do more thinking about what is working.
In the next blog post, I will explore some tools you can use to enhance your thinking about the issues that face us in this current disruptive world.