The Alchemy of Transforming Organizations: Senior Leaders Speak on Building Trust and Enhancing Employee Engagement
Featured
Share online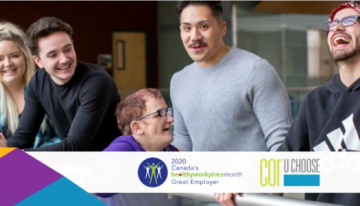 Across the globe there has been a declining trust in leadership. In 2017 Edelman identified a loss of trust in leaders across all sectors (business, NG0s, media, and government). Despite a high lack of faith in the system, Edelman (2019) noted that the relationship with local employers is still strong. Employees are turning to their organizations and expecting senior leaders to step up to be trustworthy and lead the way to make a difference. (See https://www.edelman.com/)
Creative Options Regina (COR) and its senior leaders have risen to that challenge. COR has been recognized as one of Canada's Healthiest Workplace (2019), one of Canada's Most Admired Corporate Cultures (2020), and named for the 4th consecutive year as one of Saskatchewan's Top Employers (2021). Furthermore, they have grown their organization from single digits to currently almost 300 people in the past 11 years!
The magic is our people and values
"The magic is our people and values", says CEO Michael Lavis. However, values are not just something that are put on the wall and forgotten. Values come alive in how they are lived and are foundational throughout the organization. This takes focus and commitment.
COO, Jim Temple, shares: "we are continually focused on our organizational culture and ensuring that our employees have come to COR for the right reasons and that they understand COR's mission, philosophy, culture and values."
Enhancing employee engagement and building trust at COR
Both Michael and Jim recognize the importance of lifelong learning and education. As a result, they came to Royal Roads and took the Values-based Leadership Graduate Certificate, and the Corporate Social Innovation Graduate Certificate. For their MA in Leadership Capstone projects, they put theory into practice, and engaged in real world organization inquiries to better serve the needs of their organization. Michael focussed on enhancing employee engagement through values alignment whereas Jim focussed on building trust. Michael shares: "Throughout my tenure at COR, I have grown to learn that to truly be a sustainable values-based organization, values need to evolve, elevate and enlighten. The work that we have been doing with values and matching individual purpose with organizational values has been a game changer with results."
Recognizing the power of harnessing values in action, and trust in particular, Jim explains, "My thought was that if we can explore trust, learn what it means to our employees and listen to their perspectives, insights and desires, that we can build healthy, trusting relationships where there is less conflict, more job satisfaction and COR becomes an even better place to work and live." The inquiry projects of Michael and Jim within COR yielded interesting findings and next steps for them as an organization.
Senior Leaders Speak
On March 4 2021 12-1pm PDT, a lively webinar will be held with Michael and Jim and Dr. Kathy Bishop, program head for the MA in Leadership - Executive Leadership to delve deeper into the alchemy of transforming organizations through enhancing employee engagement and building trust.
To come and hear their experiences and ask any question you may have, register here.
If you are a mid-level to senior organizational leader seeking to develop your character and capabilities through transformative learning and leadership education, check out our new MA in Leadership - Executive Leadership specialization starting April 2021. Application deadline: March 19, 2021.