The cost of doing research can be broken down into direct and indirect costs.
Direct costs can be directly attributable to a research project, such as salaries, supplies, travel and equipment. These direct costs are easily identified and included in a project's budget.
Indirect costs relate to a research project, but are often difficult to identify.
The federal government recognized these indirect costs and created a grant known as the Research Support Fund intended to cover the indirect costs attributable to Tri-Agency (SSHRC, NSERC, CIHR) funded research grants.
In January 2012, the federal government mandated that all institutions receiving research support funds (then known as the Indirect Costs Grant) disclose information publicly about the indirect costs of research and the Research Support Fund.
Definition of the indirect costs of research
Royal Roads University uses the RSF program's definition of indirect costs. They can which can include the following:
use, maintenance and upgrading of research building space, utilities and libraries
maintenance and upgrading of research equipment
academic research resources, such as the library and information technology services
university services that support research activity, such as accounting, human resources and payroll services
intellectual property management and commercialization
management and administration of research, finances, regulatory requirements and research compliance (research ethics, biohazards certification, animal care etc.)
Research Support Fund expenditures
The RSF allows the following five types of expenditures :
research facilities
research resources
management and administration of the institution's research enterprise
regulatory requirements and accreditation
intellectual property and knowledge mobilization
Our priorities
At RRU our first priority is to establish a base level of funding to support the work of Research Services and ensure compliance with Tri-Agency requirements.
That's why we have directed the bulk of the funds to the management and administration of our institution's research enterprise. This is followed by allocations to regulatory requirements and accreditation, intellectual property and knowledge mobilization, research resources and facilities.
RRU expenses
The types of expenses incurred by RRU in managing Tri-Agency funded research are predominantly administrative.
The RSF primarily supports grant development and post-award grant administration. Staff within the Office of Research Services serve as grants facilitators and post-award financial managers. In addition, they provide support for contract negotiation and implementation, intellectual property, and regulatory requirements.
Royal Roads researchers view the quality of the grant development process and the involvement of Research Services staff as directly related to the success of proposals. Support from Research Services contributes to faculty retention.
General benefits
Some of the general benefits of the RSF at Royal Roads:
financial support for research grants for researchers
grant facilitation services for researchers
professional development to ensure currency in matters pertaining to research grants, compliance and reporting
creation, development and maintenance of systems to track research grants
Specific impacts
Staff time devoted towards the development and management of Tri-Agency funded grants is not possible without the Research Support Fund. The RSF covers the cost of numerous staff members. 
The RSF continues to be used towards administration related to community/industry engagement including developing/linking research needs with the University and increased industry/business liaison.
The RSF is used towards implementing EDI objectives in our EDI Action Plan for the CRC program (e.g., training of research services staff; training for faculty).
The RSF is used to convey the importance and value of research to our communities (local, national, international) including through the Roads to Research seminar series; the Research In Action publication and video series; and the annual report on scholarly publications and research activities.
The RSF supports identification, preparation, and submission of external research grant applications (guidelines, eligibility, CV development, etc.) and ensuring momentum of the process through to grant submission.
The RSF continues to support the commercialization and knowledge transfer function of the Office of Research Services.
The RSF contributes to ongoing professional development of research administration personnel.
During the past several years, a portion of the funds have been used to support the acquisition of library holdings. These would not have been able to have been acquired without the fund.
RRU's Proposed Allocation for the Forthcoming Year (2022-2023)
The notional grant amount for the 2022-2023 fiscal year is $370,826.  Royal Roads expects to allocate the funds as follows:
Research facilities - $2,000 (0.5%)
Research resources - $27,000 (7.3%)
Management and administration, and RRU's research enterprise - $

341,826 

(92.2%)
Regulatory requirements - $0 (0%)
Intellectual property and knowledge mobilization - $0 (0%)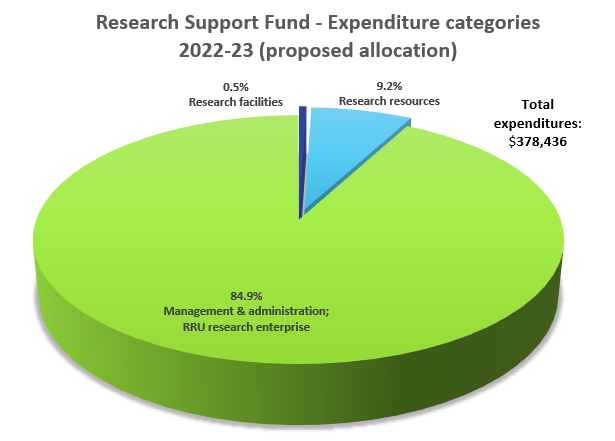 Royal Roads University Research Support Fund proposed allocation 2022-23