Addressing systemic issues through research
Research at Royal Roads University seeks to uncover and address systemic issues related to equity, diversity and inclusion that create barriers for members of equity-seeking groups.
One way that we do this is through the Canada Research Chairs Program. The program has taken action to increase representation from four under-represented groups: women, persons with disabilities, Indigenous peoples and members of visible minorities.
Find information about Canada Research Chairs Program, including accountability and transparency reporting.
Read our Equity, Diversity and Inclusion Action Plan.
Learn about the President's Steering Committee on EDI, the Anti-Racism Task Force, and other initiatives to support EDI in research and the university community.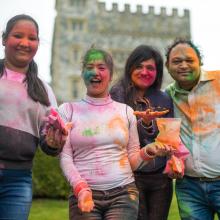 Equity, Diversity and Inclusion at Royal Roads University