Spring 2023 Convocation ceremonies celebrated
Topics
Share online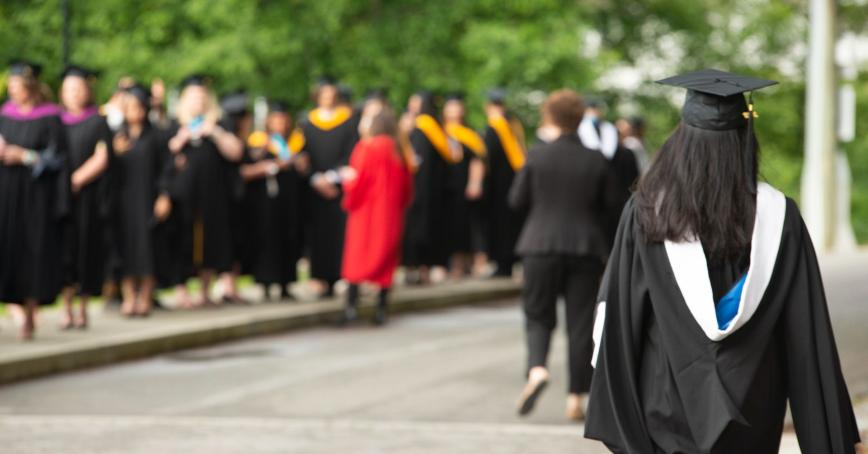 Almost 1,800 people will gather to celebrate with 557 graduates on campus at Royal Roads University on Friday, June 9 for the 52nd Convocation ceremonies, held in the Dogwood Auditorium. Graduates will be joined in their celebration by alumni, family members and honoured guests.
Four ceremonies will be held to confer degrees, certificates and diplomas in the Faculty of Management, the Faculty of Social and Applied Sciences and the College of Interdisciplinary Studies. 
"Convocation is such a wonderful example of the Royal Roads vision of inspiring people to transform the world. 

While we have much to be concerned about in terms of the great challenges we're facing in the world today, it gives me such hope to look out on a room full of people who are now better equipped to step into that world, and I can't wait to see what they do next." 

Philip Steenkamp, president and vice-chancellor
Royal Roads is also awarding two honorary degrees.
Lessons learned from leadership: Jody Thomas to receive honorary degree 
At the 9 a.m. ceremony, Royal Roads will confer an honorary Doctor of Laws degree on Jody Thomas, national security and intelligence advisor to the Prime Minister. In recent years, Thomas has been at the centre of some of Canada's most important domestic and international decisions, including Canada's security response to the war in Ukraine and the Canadian Armed Forces response to requests for assistance during the pandemic and natural disasters.
"Her colleagues say that her attention to the well-being of those around her shows through whatever she does. She leads with strength, compassion and conviction and is working to create positive change and redefine a culture. It is our pleasure to recognize Jody Thomas in this way," says Royal Roads University Chancellor Nelson Chan.
Read more about Jody Thomas. 
Creativity, collaboration and culture: Hayalthkin'geme Carey Newman to receive honorary degree
At the noon convocation ceremony, Royal Roads will confer an honorary Doctor of Laws on multidisciplinary Indigenous artist Carey Newman. The artist who created the Witness Blanket, and the All My Relations panels installed at the Dogwood Auditorium at Royal Roads, is also a skilled public speaker, filmmaker, scholar and master carver.
"Carey Newman leads collaborative projects and approaches his work and working relationships with integrity and gentleness. He is a wonderful example of Royal Roads' values of courage, creativity and caring, and we are so fortunate to be able to display some of his work here on campus," says Steenkamp.
Read more about Hayalthkin'geme Carey Newman.
Recognizing student award winners' extraordinary achievements 
Among the graduates receiving awards is Courtney Defriend, an alum of the Master of Arts in Leadership program and now a graduate of the Doctor of Social Sciences program. Defriend will be awarded the Governor General's Gold Medal for academic excellence. Defriend's dissertation on the role of Native Friendship Centres in urban communities is available online.
Master of Arts in Professional Communication graduate Ben Borne is celebrating his achievement alongside the opening of his new firm, Symmetry Public Relations, co-founded with Melody Lynch. Borne says there is much more work to be done on Indigenous engagement and communications. He is also a recipient of the Royal Roads Founders' Award for exemplifying qualities of leadership, commitment to sustainability, positive and proactive work in equity, diversity and inclusion and personal growth.
There are 19 other graduates who will also be honoured with the Royal Roads Founders' Award. There are 11 students receiving the Royal Roads Chancellor's Award, which recognizes the highest academic performance in each program. All award winners were invited to a private reception held on June 8.
Indigenous graduates also gathered on campus on June 8 to celebrate their achievements in a private ceremony with family, friends, Elders and Old Ones. 
The graduates from Spring 2023 are from Canada and 23 other countries. These graduates will join the network of Royal Roads alumni worldwide, bringing their number to 33,686. 
See the complete list of award winners and watch any of the four ceremonies online.