Creativity, collaboration and culture: Carey Newman's artistic approach
Topics
Share online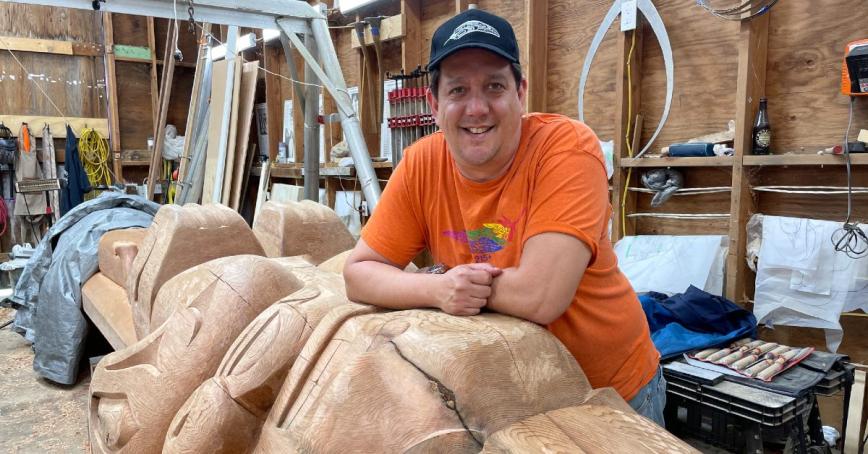 The finished work of art that everyone sees belies the artist's process during the creative stages. The display of the finished piece is but one small part of the artists' journey.
For two decades, Hayalthkin'geme Carey Newman has been inviting others along for his creation journey. The melding of his creativity, collaboration and culture generates artworks that invite the community to participate, engage and learn. His cultural background informs his work, originating from the Kukwakam, Gixsam, and Wawałaba'yi clans of the Kwakwaka'wakw on northern Vancouver Island, and Coast Salish from Xwchíyò:m (Cheam) of the Stó:lō S'olh Temexw (traditional territories) along the upper Fraser Valley on his father's side, and English, Irish, and Scottish Settlers on his mother's.
Newman was more of a solitary artist in his early career. Working on projects in the studio, he created a variety of pieces including jewelry and totems. It was a 2008 project that changed his way of looking at art and altered his approach going forward.
The Spirit Pole, commissioned for the 2008 North American Indigenous Games held in the Cowichan Valley, was a community-centered version of the traditional torch relay. The totem travelled to over 50 communities and more than 11,000 people participated in its carving.
"Up to that point, I'd been thinking of art as connected to my culture – masks for dancing…but also an aesthetic. What that experience demonstrated to me was the power of the process. When you open up the process and do it differently, it transforms the meaning of the work. The Spirit Pole, being touched by the hands of so many people in so many parts of the process, it carries their memory. It was after that, that I really started to think of making things together."
Drawing on lessons from his culture, Newman experienced a shift in thinking about objects, realizing items can carry memory and have forms of spirit or agency. After The Spirit Pole, he embarked on a series of projects with emerging artists and his studio space became a gathering place for creation.
Through his experiences of creative collaborations, Newman landed upon the idea of The Witness Blanket – a large-scale work of art, containing hundreds of items reclaimed from residential schools, alongside the voices of Survivors.
"[The Witness Blanket] showed me how the art itself can do things beyond the artist's ideas, imagination, expectations. I started with the idea, and it slowly built – this process of gathering objects and bringing team members together to help gather objects and stories – and partway through that process people began to ask, 'Is it going to go on tour?' 'Are we going to be able to see it?' 'Could we bring it back to them?" And so, the process led to a national tour where we tried to bring the blanket back to the communities it came from."
Newman has seen that momentum continue. The Witness Blanket was finished in 2014, although he's been working on the project in the conceptual sense since 2010. Thirteen years later, he is still working on activities connected to the project.
As he accepts his honorary Doctor of Laws, Newman reflects on his recent experience in his stewardship agreement for The Witness Blanket, which is now being taught in law schools as an example of different kinds of governance models.
"What we ended up doing in the writing of the stewardship agreement [with the Canadian Museum for Human Rights], where we share responsibility to care the blanket and projects around it, instead of negotiating price and treating it like a sale of property, we agreed that all the rights would be held by the blanket and the stories it carries, and instead of protecting our own rights, this enabled us to negotiate our responsibilities," explains Newman. "This led to an agreement that is based more in relationship than transaction."
They worked on the agreement for about a year, and when completed, they also enacted it through ceremony as the written contract didn't embody the Kwakwaka'wakw legal orders.
"We spoke our commitment to each other and to the blanket, to community, and we called witnesses who reflected back to us what they heard, and we acknowledged and paid them to carry the story forward. So, it lives in an oral tradition and in a written form."
For Newman, openness to different approaches and processes is like second nature. His experience making art out of wood has resulted in a natural flexibility; adapting to the material as it sometimes reveals hidden surprises – including one occasion where a pristine piece of cedar had a hidden knot that, once discovered, required Newman to adjust his design. 
He enlists this same open approach in his community engagement endeavors with artists of all ages. In a school-wide collaboration at Oaklands Elementary School, Newman worked with students from kindergarten to grade five on a Hearts and Hands Legacy Totem Pole project. The project, which began prior to, and served as a point of connection during the pandemic, was completed in the spring of 2021 and integrated Indigenous art and culture into the classroom. The children were involved in all aspects of the project, from choosing the wood and voting what animals would be on it, to carving with knives and chisels. 
"For them, Indigenous culture and art is not this 'other' thing. It was integrated into the curriculum. It's something that they could understand in a tangible form and see how it is connected to all the other things that they were learning," Newman says.
Connection is likely to play a big part in Newman's experience when he visits campus to accept his honorary degree this June at the Dogwood Auditorium where his work All my Relations resides. 
"There's a piece of me there already," Newman says of the venue. "And that whole process of thinking through what it would look like and building off Asma-na-hi's idea of All My Relations and how that informed the design of the stainless panels."*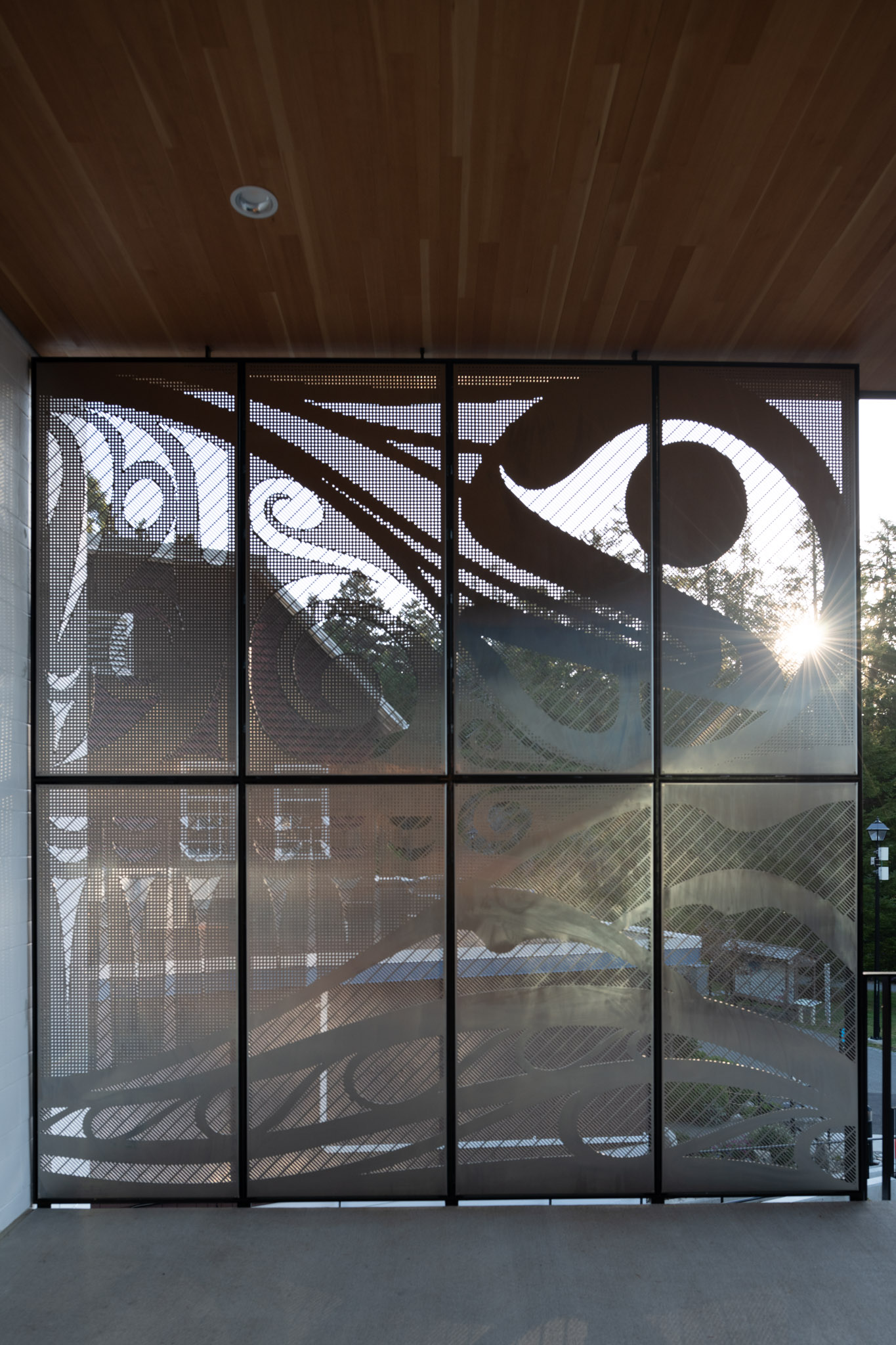 The work features laser-cut panels depicting the entire cycle of life: land, air, water and spirit world.
Newman's representation of All My Relations is complemented by ten carved benches, each created by a different artist, sharing their artistic interpretations of the same theme. Together, it creates a welcoming space where people gather, and enhances the feeling of togetherness in the space. Guests attending the convocation ceremonies will see All My Relations – both Newman's laser-cut panels and the carved benches at the venue.  
When Newman gathers with friends and loved ones to attend the ceremony, it will be an important acknowledgement for thinking differently about how knowledge is acquired and shared. 
"This recognition is another act of decolonization," Newman says. "And I know I'm not alone in people who have been given honorary degrees without a formal education. But, whenever it happens in those cases, where a person is being recognized for their contributions to society, to knowledge production through an academic institution, it reinforces the reality that we learn things in different places and that we're not limited by the metric of a degree."
*Asma-na-hi Antoine is the Director of Indigenous Engagement at Royal Roads.
Hayalthkin'geme Carey Newman will receive a Doctor of Laws, honoris causa, at the Spring 2023 Convocation ceremonies June 9, 2023. This is the university's highest honour awarded to people of merit who reflect Royal Roads University's vision and values, and have achieved a significant record of success and community service.