"You Belong to Everyone": Grad studies impact of Friendship Centres
Topics
Featured
Share online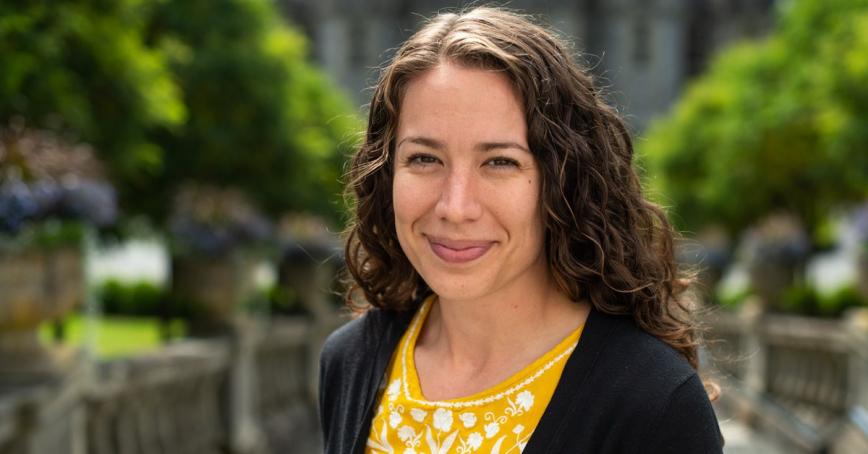 Courtney Defriend is familiar with the power of Friendship Centres. As a Coast Salish woman with mixed ancestry, she grew up off-reserve and accessed her culture at the local Friendship Centre in Nanaimo, BC. 
She refers to the Tillicum Lelum Aboriginal Friendship Centre as her home; where she started her journey of identity and empowerment and learned the foundational skills she now uses in her work as director of research at First Nations Health Authority. 
For the Doctor of Social Sciences graduate, her connection to TLAFC inspired her dissertation, titled "You belong to everyone": Urban First Nations access to health care. Her research follows the tradition of using storytelling as a form of knowledge exchange and explores the experiences of First Nations people attached to the TLAFC. 
Defriend's research earned her the prestigious Governor General's Gold Medal at Royal Roads' June 2023 convocation — presented to the student with the most outstanding graduate research. Her passion, personal connection and distinct research methods make her dissertation stand out. 
"Receiving the Governor General's Gold Medal for a project grounded in Indigenous methodologies, relationship and tradition affirms the efforts I apply in my work toward decolonizing research," says Defriend. "I hope this can inspire other Indigenous students to stand in their culture and identity and know that such conduct leads to success." 
"What I love about Friendship Centres is that their mandate is for all Indigenous peoples and their friends. It's that more collective perspective on Indigenous culture." 

Courtney Defriend, Doctor of Social Sciences graduate
As a recently registered status First Nations person, who was not eligible for status as a child, Defriend provides a unique perspective into the nuances of accessing services as an Indigenous person in her research. 
Eligibility for First Nations status in Canada is determined through the Indian Act by technicalities such as blood quantum — a measurement that's attached to a person's individual and group ancestry — and gender. Those who qualify as status First Nations people may access federally funded resources like education, housing and health care. 
Defriend says that navigating these systems as a non-status First Nations person can lead to dead ends, which is why Friendship Centres are critical. 
"What I love about Friendship Centres is that their mandate is for all Indigenous peoples and their friends," says Defriend. "It's that more collective perspective on Indigenous culture." 
Friendship Centres operate as non-profit agencies with an overarching goal of supporting Indigenous people who live in urban centres with a variety of health and social programs. 
"Friendship Centres are under-funded, non-profit, marginalized service providers, and yet that's where all my foundational teachings have come from and where I really learned about the differences and similarities across Indigenous cultures, because we have such different manifestations of culture," says Defriend. 
At her local Friendship Centre, Defriend says she learned everything from budgeting for community services, to organizing an honorarium budget for Elders, protocols and how to conduct herself around Elders, the variance in literacy levels and the social determinants of health for Indigenous peoples.
The TLAFC remains an important part of her life, as she often visits to connect, conduct workshops, provide consulting or participate in culture nights. Her daughter, who is nearly three years old, also participates in programs there. 
Her research, however, focuses on how culturally relevant health care can be made accessible for First Nations peoples living in urban centres, with Friendship Centres acting as a potential conduit for services. 
She used Indigenous research methods, such as connecting the research with her identity, using the transferring of stories as a form of qualitative research, involving the presence of Elders throughout to ensure the work was being done in a good way, and taking the cycle of the four seasons (one year) to reflect on the data she collected. 
"It was really important for me to uphold my own identity, journey and family," she says. "My grandmother was on my committee, and she was also one of the Elders that I interviewed. I really wanted to position my research as not being able to be separated from it, because there is that ongoing accountability that happens when I align myself with my teachings." 
Woven into her dissertation is the idea of accountability to her community, family, ancestors, and particularly, to "the next seven generations". She wanted to ensure her learnings would be available and accessible to everyone, including the children who will inherit our systems. She accomplishes this accessibility piece by including a picture book in her dissertation portfolio, which she composed and illustrated herself.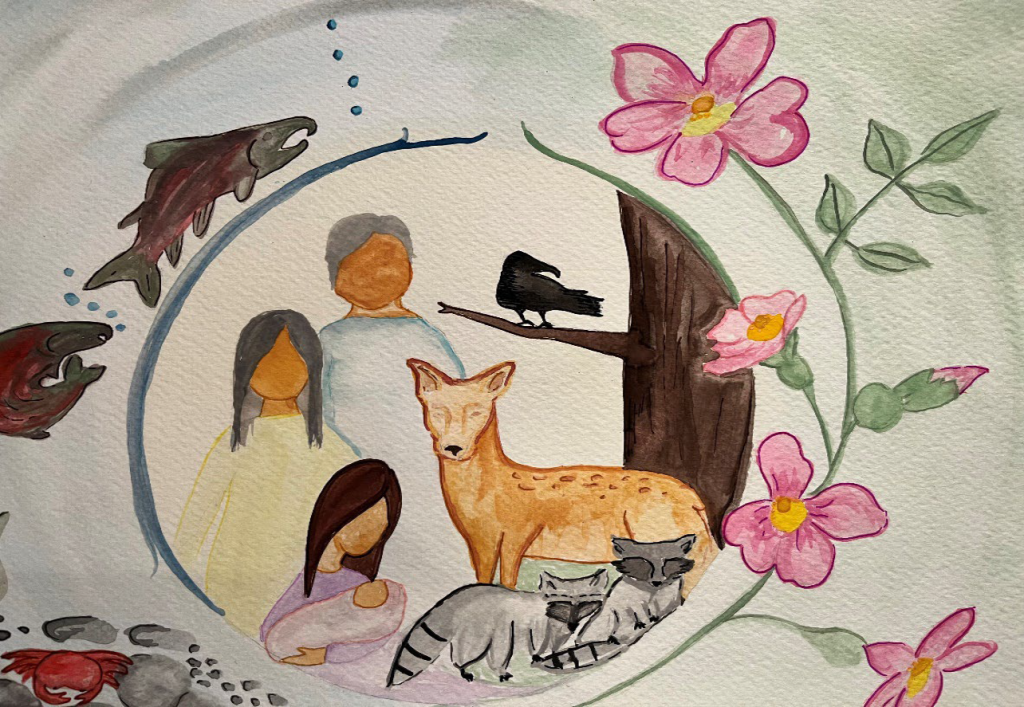 The final illustration in Defriend's picture book depicts her grandmother, mother, herself and her daughter, who was born during her education journey. The animals and plants illustrated were specifically referenced in an interview with her grandmother.
"Many of our service provision models now look at the continuum of care — [for example], we can't just start with harm reduction services, with substance misuse, we have to look at upstream for youth and moreover we have to look at success by six, and moreover we have to look at prenatal mental health, and so if we really get down to starting at the earliest possible program opportunity, it is around how do we start teaching these kids right from their ability to understand, that they belong," says Defriend. 
The crux of her findings, she says, can be summarized in the title "You belong to everyone." A teaching from her maternal grandmother, who learned it from her father before, the expression describes a sense of belonging to ancestors, community and land. 
"We don't have ownership over anything — we don't own our Nations, we don't own our people, we don't own our family, and as women, men don't own us, government doesn't own us and yet we all belong. So, it's about that relationality versus ownership," she says. 
The four pieces of her dissertation portfolio include: a journal manuscript, which determines the opportunities for change in the Indigenous healthcare system; an impact assessment, which provides a case study of what the change would look like in practice; the children's book, which explains her findings to a wider audience; and a synthesis paper that describes all elements of the portfolio.
Defriend hopes her research will add to a growing body of Indigenous scholarship and inspire other Indigenous students to stay true to their identity and culture in their work, despite the barriers that crop up when diverging from traditions of white, colonial academia. Her research methods coupled with the power of storytelling and imagery in her picture book will also pave the way for Indigenous children to access their culture and feel belonging wherever they reside. 
Courtney Defriend will cross the stage at the 2023 Spring Convocation ceremonies. She will be joined by her grandmother, who will perform her hooding ceremony — a tradition that provides a special recognition for masters and doctoral graduates.
---
We always want to hear stories about the people, programs and places that are the Royal Roads experience. Share yours via the RRU Story Exchange and it could be featured on our website and social media.