Meet the panelist: Elly Vandenberg on WFP's Canadian connection
Topics
Featured
Share online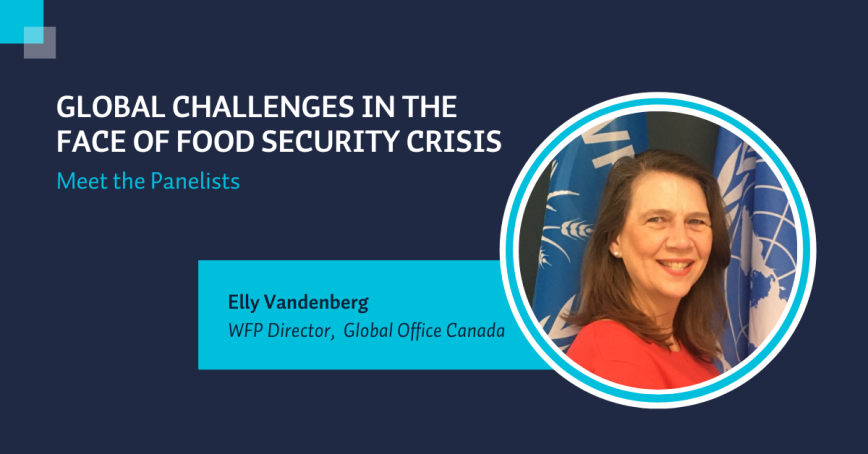 Meet Elly Vandenberg, director of the World Food Programme's Global Office in Canada. She's one of three World Food Programme Leaders speaking at the Sept. 6 event, Global Challenges in the Face of Food Security Crisis, happening both in person and online. We asked her about the critical need to balance short-term relief with long-term development. Here's what she said:
Q: As the director for World Food Programme's Canadian Global Office, can you highlight the role WFP plays in fighting and alleviating hunger?
Created by the United Nations 60 years ago, World Food Program is the world's largest humanitarian organization saving lives in emergencies and using food assistance to build a pathway to peace, stability and prosperity.  
Working at community, national and global levels we are today in the middle of the greatest and most complex food security crisis that we have ever faced. On any given day, WFP has 5,600 trucks, 30 ships and nearly 100 planes on the move, delivering with over 700 partners, food and other assistance in over 120 countries and territories. WFP is an emergency responder, working at scale in the most difficult environments. At the same time, we keep a sharp focus on sustainable development, providing governments with the support and skills to manage food security in the long term. Last year we met the needs of 160 million people.  
And Canada has played a key role with WFP right from the beginning. In fact, Canada was one of WFP's first donors. On September 1, 1962, when a major earthquake struck Iran, WFP sprang into action with financial support from the Canadian UN delegation, delivering emergency relief even before WFP had officially begun operations. 
Q: WFP seems to have a deeply embedded Canadian connection that not many people know about. Can you share what that is with us?
Indeed, Canadians have had a long history with WFP. Initial brainstorming about the creation of WFP occurred within the United Nations Food and Agriculture Organization (FAO) which was founded in Quebec City. Canadians were instrumental in piloting WFP as a multilateral project, developing policies and funding around the formal creation of WFP, designing the logo, and serving on the executive board. 
Canadian volunteers, staff, alumni, government officials and individual donors comment on how WFP reflects their values. Canadians believe that no one should go hungry. We want to respond to people made vulnerable by conflict, climate change, COVID and the rising cost of food. We believe in extending a helping hand to those caught up in situations not of their own making.
Q: How does WFP work to empower women and ensure their active participation in food security initiatives across different regions?
WFP envisions a world with zero hunger where everyone has equal opportunities, equal access to resources and an equal voice in the decisions that shape their lives, including as individuals within households, communities, and societies. 
We focus on enhanced and equitable participation; strengthened leadership and decision making; enhanced protection to ensure safety, dignity and meaningful access; and transformative action on social norms and structural barriers. Through this work, we aim to achieving equitable access to and control over food security and nutrition; address the root causes of gender inequalities that affect food security; and advance the economic empowerment of women and girls in food security.
For example, receiving food assistance through cash vouchers gives women choice, dignity and decision-making power. Encouraging girls to attend school through take home rations increases girl-child attendance. By engaging in these initiatives, WFP is able to provide women the capacity and autonomy to determine their own lives and contribute – equally with men – in shaping the lives of their families, communities and societies.
Q: Education and awareness can drive sustainable change. How does WFP engage in efforts to raise awareness about food security issues and promote long-term resilience?
Partnerships are at the heart of WFP's efforts towards zero hunger. We collaborate with members of parliament, civil society organizations, research institutions, and universities. To extend our reach we also leverage celebrity influencers such as The Weeknd and George Stroumboulopoulos.
These vital partnerships, along with our social media presence, help mobilize Canadian philanthropy and leverage national innovation and expertise to raise awareness about food security issues, catalyze better living conditions for those in conflict-affected areas and act as a driving force in efforts to prevent the use of hunger as a weapon of war and conflict.
Q: Balancing short-term relief with long-term development is critical. How does WFP approach this balance to ensure that food security interventions have lasting impacts on the communities it serves?
Inherently, people are often driven towards and benefit from the short-term relief before they can focus on long-term prospects for themselves, their families, and their communities. 
Where markets and financial systems are functioning, WFP provides assistance through cash-based transfers. Whether in the form of bank notes, vouchers, debit cards, e-money or mobile money, cash transfers allow people to make choices that improve their food security and nutrition and inject cash into the local economy. This is a way to balance both the humanitarian and development needs.
Through other initiatives such as school feeding, smallholder farmer support, disaster risk reduction – we focus on capacity strengthening and resilience building. For example, WFP's flagship microinsurance programme – protects around 360,000 farming and pastoralist families from the results of climate hazards that threaten their crops and livelihoods. Micro-insurance is a common practice in many developed countries, however, such "back up plans" have not been accessible to farmers in developing countries. This is a tool that allows farmers to avoid a second disaster (loss of home, land, etc.) and further crisis.
Join us Wednesday, September 6 for a free, open conversation among World Food Programme leaders discussing the challenges facing global food systems. Learn more and register now to attend online or in person on the Royal Roads campus.