Meet the keynote: Ledia Andrawes on design for social change
Topics
Featured
Share online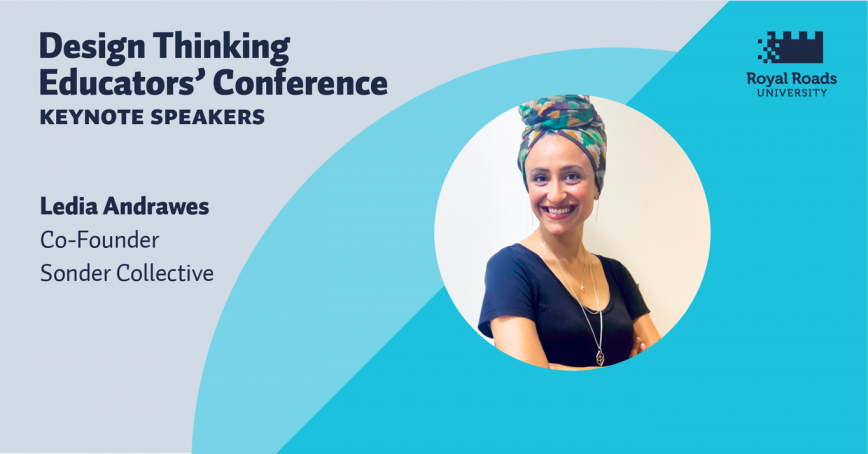 In advance of Royal Roads University's Design Thinking Educators' Conference on March 5 and 6, we're introducing some of the designers, leaders and speakers who will be presenting at the event. This year's theme, which asks how design thinking might act as a force for good, focuses on equity and power.
Ledia Andrawes is the co-founder of Sonder Collective, a research and innovation network. She is a designer, strategist, and anthropologist who loves to integrate rigour with heart to reimagine more equitable social futures. She is one of the event's four keynote speakers.
Tell me about your first "win" that made you confident you were doing the right thing?
It was when I switched from working with for-profit businesses and started applying design to global health projects. I was in Ghana working with an NGO on the co-design of a mobile phone application that provides decision support and learning opportunities for community health nurses in Ghana. Without asking for it, the technology director, public health manager and others dropped what they had to do as part of their actual jobs to join me along each step of the design process. Usually, I'd have to plead for people's time, whereas here, it felt we were truly invested together in what we were creating day-to-day. It was a very special team. Still years later, they will still say how this project was different in what it achieved compared to others. My experience with this team emboldened my convictions too.
What did you do at work yesterday?
I reviewed the interactivity and visual design of a card game that was developed in collaboration with 25 local peace activists and Humanity United. In the game, there are image cards that visualise metaphors about what is wrong in the international peacebuilding system, and alternatively, the change the peace activists aspire for. I particularly love the provocation cards that challenge assumptions and seek to create empathy between diverse stakeholders who would play the game. After iterating on it several times as a team, it was finally approved for printing.
How has the practice of design thinking changed over the last five years and where do we see it showing up?
In the last five years, there has been more focus on the understanding of design as an enabler of community-defined goals for social change, than just as an enabler of market-based goals for business.
How can we (or should we) advance the practice of design thinking now and into the future?
I see design for social change as holding a moral responsibility toward doing good, satisfying fundamental human needs, and protecting human rights. Now is the time we advance design based on the Design Justice Network's principles. The first principle says we should "use design to sustain, heal, and empower our communities, as well as to seek liberation from exploitative and oppressive systems." This is way overdue.
What are the biggest challenges to this advancement?
Along with the promise of design for 'doing good,' is the risk of it not rising to its full potential here. For years, people have persistently questioned me about design's impact. It is clear designers need to get better at documenting how design practices are creating value, what value is being created, and what are the enabling conditions for this value to be realised. But first, design for social change needs to break out beyond the value frameworks of business. The value of design, which has mainly been defined in commercial terms, needs to be reconceptualised for social change settings.
What misconceptions do people have about your work? Or about design in general?
The return on design is never guaranteed. It is not something formulaic as a result of sequenced discrete steps. There are so many terms that designers use to describe their practices (eg. service, design, co-design, social design, human-centred design, design thinking, etc). There is also a promoted diversity of interpretations of design practices. This means that the combination of different designer identities, practices and choices — as well as the increasingly wicked nature of design problems — makes it difficult to ascertain whether A action + B action = C result. This unpredictability can cause quite some discomfort for people who prefer to be in control of situations and outcomes.
What piece of advice would you give someone grappling with how to best foster design thinking in the classroom or their workplace?
My advice would be to seek out courageous, yet humble leadership that are willing to take risks and attempt the un-proven. Build in enough time and resources to do deeply situated and contextually sensitive work. And offer flexible and safe spaces to test, 'fail', and pivot, iteratively on the pathway toward success. Although these things are not the domains of design, the potential for the value of design to be realised is deeply influenced by these other factors.
The first Royal Roads Design Thinking Educators' Conference runs 8:30 a.m. to 5:30 p.m. Sunday, March 6, 2022. There will also be a pre-conference plenary event the day before from 4:30 to 6 p.m. The conference will include keynote addresses, networking opportunities and participant-led sessions. Register now.
Read full interview transcripts with conference keynote speakers George Aye, Doreen Arrowmaker and Tania Anaissie.