Meet the keynote: George Aye talks power and privilege
Topics
Share online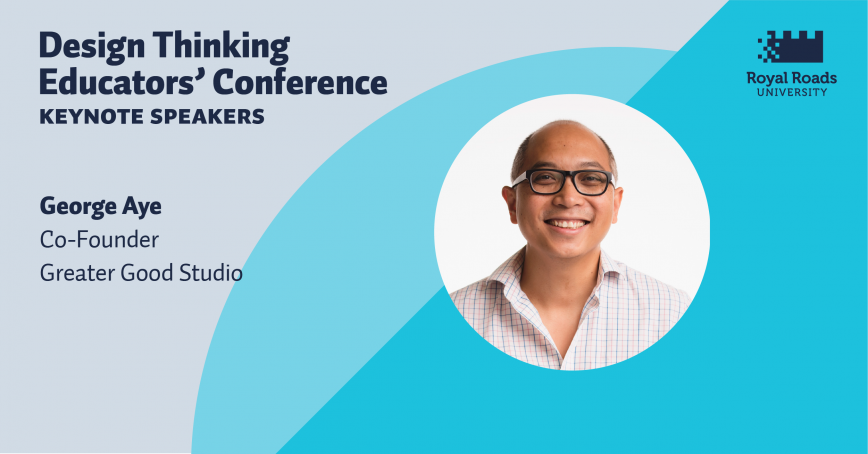 In advance of Royal Roads University's  Design Thinking Educators' Conference on March 5 and 6, we're introducing some of the designers, leaders and speakers who will be presenting at the event. This year's theme, which asks how design thinking might act as a force for good, focuses on equity and power.
George Aye is the co-founder of Greater Good Studio, a social enterprise focused on human-centred design to advance societal equity. He is one of the event's four keynote speakers.
Tell me about your first "win" that made you confident you were doing the right thing?
Hiring our first team members was a really significant matter for us. It was like 'wow, somebody really believes in this.' The staff we've hired believe there's something here to be done. Our studio is exclusively focused on the social sector, and until we hired our first team members, I didn't know if anyone else cared. Historically, they haven't always. It's just so satisfactory to find people who do.
What did you do at work yesterday?
I'm working on the issue of violence, youth, and gang membership with a client in Colorado. I'm trying to wrap my head around what this is about. I'm mindful of not re-creating racist norms or perpetrating problematic narratives around how to tackle a complex social issue like that. I'm trying to be very conscious of what my biases are, my team members' biases.
How has the practice of Design Thinking changed over the last five years and where do we see it showing up?
We see significant growth in the number of people using the term who haven't been trained in design thinking. The number of organizations using this language has exploded. It's surprising and really encouraging for the work we and others are doing. I think it has become more familiar across the landscape for a couple of reasons. Design studios like IDEO have huge brand recognition and then concurrently, large foundations like the Gates Foundation are recognizing the need for that kind of language in their proposals and in their work, so it's causing non-profits to use it as well.
What are the biggest challenges in your work?
One of the biggest challenges of design thinking is showing impact in the social sector. It's not equivalent to selling widgets or increasing visitors to a website. Our challenge is finding better ways of measuring the work that we do.
The other challenge is checking any twinges of saviourship that can come along with this work. In many cases, designers are not coming from the same socioeconomic background as the people that we're serving. So how do you objectively look at the situation and see people are real human beings as opposed to someone to feel sorry for, which is still a very strong narrative within the social sector.
Tell me about the ways designers like you are making a real difference in the world?
One of the projects we're currently working on is a local initiative to reduce traffic fatalities, so it's about facilitating conversations with community members and understanding what those current needs are. We're at the point now where we're making actual street-level interventions – a pedestrian island here, a traffic light there, and the hope is there will be a reduction in deaths.
What misconceptions do people have about your work? Or about design in general?
I had a few misconceptions myself before I started this work which included: 'this can't be work you do all day, every day. It's only something you do as work with a social sector client, or something you do in between other work or something you do as a hackathon on the weekend.'  I think those powerful stories around when and how you do that work is very problematic because all those social issues can't wait for you to not be busy or wait for you to be free on the weekend.
What piece of advice would you give someone grappling with how to best foster design thinking in the classroom or their workplace?
I think it's important to be mindful of one's identity, power and privilege. Designers, in some cases, can help broaden the way people see the world, and in some cases, can exacerbate the situation. It's so important to integrate conversations on power, identify and privilege and to understand how that lens shows up across everything they do.
The first Royal Roads Design Thinking Educators' Conference runs 8:30 a.m. to 5:30 p.m. Sunday, March 6, 2022. There will also be a pre-conference plenary event the day before from 4:30 to 6 p.m. The conference will include keynote addresses, networking opportunities and participant-led sessions. Register now.
Read full interview transcripts with conference keynote speakers Ledia Andrawes, Doreen Arrowmaker and Tania Anaissie.