Meet the keynote: Tania Anaissie on the future of design
Topics
Featured
Share online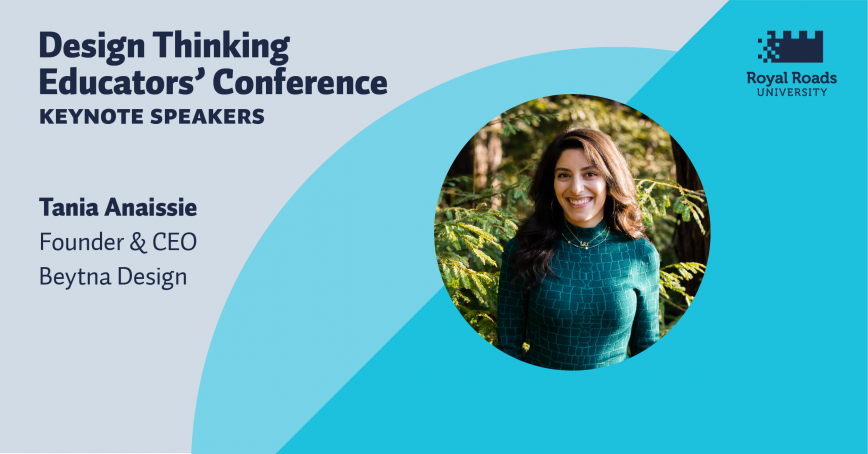 In advance of Royal Roads University's  Design Thinking Educators' Conference on March 5 and 6, we're introducing some of the designers, leaders and speakers who will be presenting at the event. This year's theme, which asks how design thinking might act as a force for good, focuses on equity and power.
Tania Anaissie is a founding creator of Liberatory Design, a human-centered design practice that incorporates complexity theory and equity practice to drive innovation towards liberation. She is one of the event's four keynote speakers.
Tell me about your first "win" that made you confident you were doing the right thing?
Very early on when we were co-creating what would become Liberatory Design, my conviction to do this work was bolstered by meeting others in the field who had similar questions and concerns about how design thinking was being practiced. Some folks in our group had been design thinking practitioners for decades, and others had come to the field more recently, but there was agreement amongst all that design both had immense potential for change and was creating a lot of harm as it was widely being practiced and taught. Many of us, myself included, had been the sole questioners in our jobs, schools, communities, so to find each other and learn from each others' experiments was deeply powerful.
What did you do at work yesterday?
My team and I refined content for an upcoming workshop we're leading about the history of academia and "excellence" in the U.S. We're working with a higher education partner who wants to align their workplace practices to their anti-racism goals. We will be training them in Liberatory Design to translate their values into action on selected projects, and we love to start with the historical context. A core element of Liberatory Design is slowing down to notice and reflect, and we feel we can't redesign systems for justice until we first understand what has created this inequitable current state. Then we met with the partner and got excited discussing the attendees and their goals. Our internal team also had a delightful dose of tangential conversations about the news, movies, and our weekend plans (we've started working in person from time to time and it's lovely.)
How has the practice of Design Thinking changed over the last five years and where do we see it showing up?
I've been so excited to see how what was once considered a niche or controversial view — needing to align design thinking to equity and justice values — has now become a tidal wave. The number of organizations, convenings, jobs, and networks that have emerged on this topic, also known as equity design, design justice, restorative design, equity-centered community design or equityXdesign, has skyrocketed. A few years ago I shared my critiques of design thinking and the vision we were building for Liberatory Design at a design conference, and maybe only 30 people came to engage in the dialogue, but today, there are entire conferences with thousands of attendees on the topic, and organizations across the world are leading in the movement.
How can we (or should we) advance the practice of design thinking now and into the future?
Co-design is the future of our field in my opinion. The role of the designer will shift to be a facilitator and co-creator instead of an "expert" and we will work alongside communities tackling complex challenges of inequity – if and when we are invited in. We have been shifting our practice solely to these kinds of projects, working with youth experiencing homelessness, families receiving social benefits, and youth in the child welfare system, and the creativity and insight these design partners bring to the work has elevated the design practice itself to a totally new level.
What are the biggest challenges to this advancement?
Taking the time to build the relationships and trust necessary for co-design can often lead teams who feel urgency to deliver outcomes quickly to opt out. There are also pressures (think design portfolios) to demonstrate how sole designers drove a project's success and to demonstrate that we are the experts. I do think there are some important reasons not to engage in co-design, like where trust has eroded or risk of harm is likely, but in many cases, it's looked over because it's seen as slower. Co-design expert K.A. McKercher says something like if you don't have time to build trust or relationships, you don't have time to co-design.
What inspires you about equity-rooted design?
I'm so inspired by the innovation happening in our field right now. I see thought leaders and doers like K.A. McKercher, Rachael Dietkus, Dr. Lesley-Ann Noel, DR. Sasha Costanza-Chock, and so many more putting out exciting new tools, ideas, and case studies all the time. The Design Justice zines have co-design case studies, and the conference and Twitter-spheres in this field are divine if you're looking for examples of equity-rooted design.
What misconceptions do people have about your work? Or about design in general?
Early on I would get reactions to Liberatory Design like, "I can see that being helpful for a project about poverty or where power dynamics are an issue." I believe challenges of inequity and power imbalances can apply to every project. And when it comes to design overall, I think now that design has become more well-known, a misconception exists that it can solve everything or that a team of designers can create a great idea and hand it off to others to successfully execute, when we find that it's not the case.
What piece of advice would you give someone grappling with how to best foster design thinking in the classroom or their workplace?
Look for ways to slowly excite others about re-awakening their creativity. Design thinking can be perceived as a threat to one's skill set, job, way of working, but when it's introduced slowly and in confidence-building ways, you can become an ally and advocate for your colleagues, building a community of folks who deeply believe in centering human needs. I'd also say a common mistake we see partners make is to try to implement the whole process at once. You can apply aspects of it, a brainstorm here, some interviews here, to start building a culture of innovation without starting with jargon and frameworks. We always find there's a group of early allies who will love this way of working, welcome them and build your community.
The first Royal Roads Design Thinking Educators' Conference runs 8:30 a.m. to 5:30 p.m. Sunday, March 6, 2022. There will also be a pre-conference plenary event the day before from 4:30 to 6 p.m. The conference will include keynote addresses, networking opportunities and participant-led sessions. Register now.
Read full interview transcripts with conference keynote speakers George Aye, Ledia Andrawes and Doreen Arrowmaker.