Meet the keynote: Doreen Arrowmaker on challenging the status quo
Topics
Featured
Share online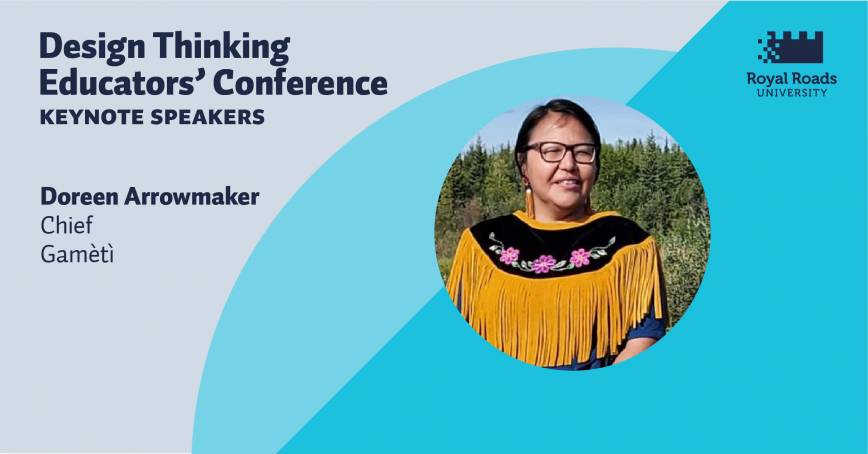 In advance of Royal Roads University's March 5 and 6 Design Thinking Educators' Conference, we're introducing some of the designers, leaders and speakers who will be presenting at the event. This year's theme, which asks how design thinking might act as a force for good, focuses on equity and power.
Doreen Arrowmaker is the first female chief of Gamètì, Northwest Territories. She is a graduate of Royal Roads' Master of Global Management program and holds a post-graduate diploma in innovation and design thinking from the Massachusetts Institute of Technology. She is one of the event's four keynote speakers.
Tell me about the how design thinking fits in to your role as Chief of Gamètì?
I'm trying to adopt the process of design thinking into my job because I really like innovation. It teaches you to think outside the box. Here in the North, we're dealing with a really challenging housing crisis. I don't think free housing is going to be a sustainable solution – a solution has to include training as well. I want to start a pilot program with some donated trailers we've received that teaches people the practical skills they need for housing maintenance as well – plumbing skills, electrical skills as well as the importance of budgeting.
Can you tell me about when you knew design thinking would be a valuable tool to help you in your line of work?
I was first introduced to design thinking during my Master of Global Management at Royal Roads. It was the creative aspect of it that really appealed to me. I just really see it as an antidote to the status quo. You often hear, 'this is how we've always done things' when approaching problems and I just think we need to explore new ways of doing things.
So, you like to shake things up?
I don't like shaking things up, but I do have a critical eye and I always question why things are done in one way or another. I don't like to sit idly and accept the status quo. I'm always looking for more efficient ways of doing things. That's the thing with design thinking, I can now look at a situation and analyze it from every angle. It really helps people shift their thinking.
It sounds like you see a lot of opportunity with design thinking. Do you see any challenges as well?
There's a great deal of opportunity with design thinking. You can do so much with it and we can solve a lot of the societal problems we face. But the challenge is there aren't a whole lot of design thinkers taking the formal training needed. There's also a lot of complacency out there and those are the people who are difficult to reach with design thinking, because it's so radical.
My job has historically been held by men. We've never had a woman chief in the history of our people. Sometimes women get overlooked and sometimes patriarchal systems don't know how to handle women in these roles and it creates a lot of challenges. It feels like being a round peg trying to squeeze through a square hole and changing people's perception is work in itself. It's not easy to question the system. I can see eyes roll when I do, but these are legitimate questions and I need to ask them.
The first Royal Roads Design Thinking Educators' Conference runs 8:30 a.m. to 5:30 p.m. Sunday, March 6, 2022. There will also be a pre-conference plenary event the day before from 4:30 to 6 p.m. The conference will include keynote addresses, networking opportunities and participant-led sessions. Register now.
Read full interview transcripts with conference keynote speakers George Aye, Ledia Andrawes, and Tania Anaissie.