International Ed Talks 2022
Topics
Featured
Share online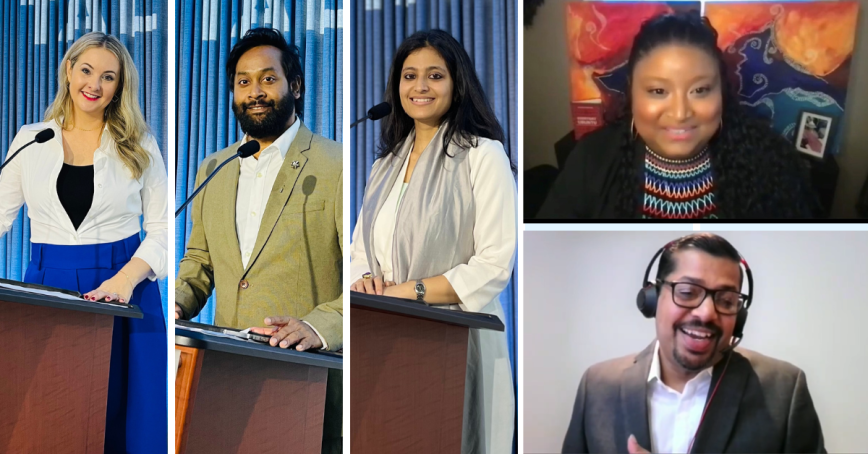 In celebration of International Education Week 2022 (November 14-18) Royal Roads students delivered five thought-provoking presentations about the power of international education.
With topics ranging from the power of storytelling to stories of childhood bullying to personal reflections about the power of losing yourself, International ED Talks speakers reflected on what international education meant to them. Here's what they said.
Anna Mullens: The power of storytelling
A grade two creative storytelling competition not only won Anna Mullens a gold medal, but it also saved her life.
The Master of Arts in Professional Communication student recollects her experience as a seven-year-old writer, and how what she learned that day helped her find her find her way out of a 10-year-long depression following a terrifying car accident.
"I wouldn't be able to articulate it for quite a number of years, but what I discovered that day, was the difference between an experience and a story. Because an experience is what is occurring … but a story is what we make it mean."
Watch her talk about the moment she became a storyteller and read a feature story about how Mullens has built her life around storytelling.
Neha Pande: With education we shall overcome
Childhood bullying sent a young Neha Pande searching for relief. She found it in books.
Inspired by reading stories of people overcoming challenges, the Master of Arts in Intercultural and International Communication student says she learned to better understand how to overcome her own. And her schooling has played a role in helping her do that.
"Education has given me the ability to find out what I'm capable of," she says.
Nazmul Chowdhury: My inflection point
Master of Business Administration in Executive Management student Nazmul Chowdhury was living the good life. As an executive vice-president for one of the largest banks in Bangladesh, he made a handsome salary, lived in a big apartment with his family and enjoyed annual vacations.
But something was missing – purpose.
Bored with the long commute and daily grind of a joyless job in a busy city, it was time for something new.
"I realized, we are all conditioned to work, pay the mortgage and live a normal life. But I think we owe it to ourselves to make our lives as extraordinary as possible."
Find out why he says losing yourself is the key to finding out who you really are.
Ragavan Paranchothy: Flying through turbulence: A pilot's view of my life
Ragavan Paranchothy has had a turbulent life.
As a child, the Master of Business Administration in Executive Management student remembers many nights falling asleep to the sounds of gunfire in his native Sri Lanka. He recollects the years of family separation – long before texting and cell phones. And he remembers the time his dream of becoming a pilot came crashing down.
"Each journey had its share of turbulence," he says. "But I am richer for the experiences."