Topics
Featured
Share online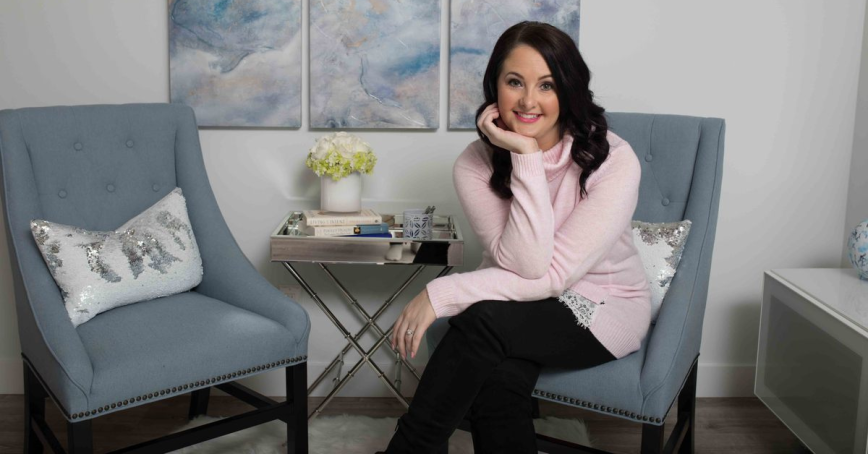 Anna Mullens has always loved telling stories.
As a young child, she won a creative storytelling contest. As a young adult, she earned a Bachelor of Arts in English Language and Literature.
Now — after a career in banking, of all things, and recovery from a devastating car crash — she has built a life around storytelling.
A public speaking coach, creator of The Unapologetically Her Show, Host of the Unapologetic Stories Podcast and chief communications officer for The Self Publishing Agency, Mullens is also a student in the Master of Arts in Professional Communication (MAPC) program at Royal Roads University, where she was a speaker at this year's International ED Talks.
And all of that comes down to stories. 
Her own story is a succession of pivots that, like a series of right turns, have brought her back to where she started.
In her early twenties, she'd just graduated from the University of Victoria with her Bachlor of Arts when her mother was diagnosed with cancer, so she moved home to Kamloops, BC and took a safe, steady job in banking to be close. That turned into a 10-year career climbing the corporate ladder that ended when she was in a serious car accident and subsequently had to deal with PTSD, anxiety and depression. On her healing journey, she attended a retreat at the Chopra Center in California and that moment changed the course of her life, she says.
"What I learned is that I was always looking for 'What am I going to do next?'" says the Langley, BC resident. "And really, the pivot point was remembering who I was before all the loss of identity and roles, and figuring out that I always was just a kid who loved words and sentences and stories. And being able to tell those stories and being able to share them, I found, was incredibly healing for me."
If sharing her story was healing for her, she reasoned, it would be for others, so she started The Unapologetically Her Show, a public event featuring women speaking about their challenges, their pain — and their pivots — to help others break free from trauma and move forward with their lives. 
Why "unapologetic"?
"It was linked to being so deeply ashamed saying, 'I'm a person living with depression or I'm a person living with pain,'" Mullens explains. "All these labels and diagnoses, they haunted me for a long time because I judged myself for not being able to somehow overcome a catastrophic injury.
"I think the word 'unapologetic' was really me stepping out and saying, 'I'm no longer sorry for letting myself down… or not being able to be who I was. I am who I am now and my story matters.'"
And she extended the message and the use of storytelling as a way of sharing, teaching and learning by launching the Unapologetic Stories Podcast, which includes episode titles ranging from "How to Build a Successful Brand" to "How to Resurrect Your Life after Familial Sex Trafficking" to "How to Navigate Social Media Fatigue."
Her goal with the podcast is both simple and complex: "I hope [listeners] feel less alone. I hope that they see themselves in many stories and aspects of other people's stories. Ultimately, I think storytelling helps everyone feel slightly braver."
The podcast has been on hiatus, however, while she completes her Royal Roads Master of Arts in Professional Communication while being mom to two young daughters, running her own communications consulting business and teaching others to tell their stories.
Her lesson to her girls, her clients and those who watch the International ED Talks is that we are all storytellers, and that the difference between an experience and a story is an experience is what happens while a story is what we make it mean.
---
We always want to hear stories about the people, programs and places that are the Royal Roads experience. Share yours via the RRU Story Exchange and it could be featured on our web site and social media.