International Ed Talks 2020
Topics
Featured
Share online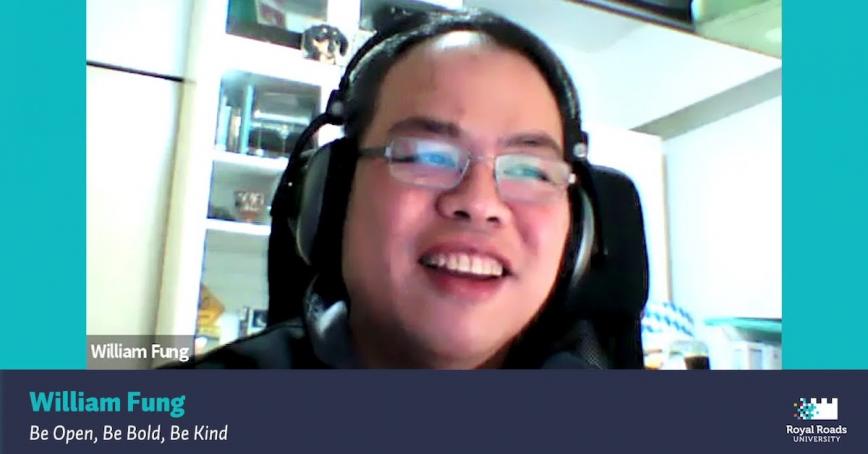 In celebration of International Education Week 2020 (November 16-20) Royal Roads students, alumni and staff sparked conversations about the power of international education in seven thought-provoking presentations.
With topics ranging from collective action, to diversity and inclusion to powerful personal reflections about our personal biases, our annual International ED Talks speakers reflected on what international education meant to them. Here's what they said.
April Killins: Indigeneity and dissent
When you believe in something, do you show up for it? If not, why? Master of Arts in Global Leadership student April Killins shares how a trip to Ecuador during Indigenous-led political demonstrations taught her about the power of collective action.
Killins asks, "what would happen if we all showed up for the things we believed in?"
Find out how she came to see her to her own personal bias and realize her role and responsibilities as an Indigenous ally.
William Fung: Be open, be bold, be kind
Travelling abroad can be scary and isolating but it can also connect you with new people and possibilities. It's all a matter of perspective says Doctor of Business Administration candidate, William Fung.
"If you allow yourself to be open-minded, you might be surprised by the things that may not agree with you initially..."
Find out how a German beer, cocoa leaf tea and fried insects opened him up to his bolder, kinder self.
Sophia Palahicky: Racism not racists
Sophia Palahicky knows your story. Why? It's not so different from her own.
"You seek acceptance in this world. You want to be loved. You want to give love," says Palahicky, Centre for Teaching and Educational Technologies associate director.
In a world with so much that divides us, Palahicky reminds us we're united by our common story – our love story.
Anandbhushanlal Mewalal: Forward thinking
For most people, getting served a pink slip is likely met with anger, disappointment and feelings of failure. It was quite the opposite for Master of Global Management student Anandbhushanlal Mewalal.
"Losing my job ended up being the best thing that could happen to me," he says.
Khusbuben Thakor: What does education mean to you?
Society wanted her to marry. She wanted an education.
Master of Global Management student Khusbuben Thakor shares her story of breaking free from family expectations in India and charting her own course for her future.
"It was my opportunity to break free from the cocoon and become the woman that I aspired to be. Participating in a class of intelligent and diverse students gave me encouragement that my opinion is being heard and people from foreign countries are interested in what I have to say."
Find out what her international education not only taught her, but also what it taught her family back home.
Simon Kardynal: Seeing beyond what can be seen
While our social bubbles are necessarily small at the moment, Master of Arts in Leadership student Simon Kardynal says there's value in growing the pool of people around us (safely of course).
He explains how surrounding himself with new people and opinions at Royal Roads helped him "clear the fog" of what he couldn't see around him.
"I was being forced to see beyond what I could see… I knew I needed to make this lifestyle a permanent part of who I am."
Find out how Kardynal's Royal Roads experience pushed him beyond his comfort zone to find new people and perspectives he never knew were missing.
Everline Abokagriess: Interconnectedness: The future of diversity and inclusion
Can you imagine a world where there's no poverty gap? Where no one's voice is silenced? Where we all truly work in service of others?
Everline Abokagriess can. And if we come together, that image can be a reality, she says.
"As we do our best to accept others for who they are, we must also have a uniform and level playing field for all."
Find out how why she says doing good for others is good for us all