Governor General Gold Medalist: Kiana Alexander-Hill
Topics
Featured
Share online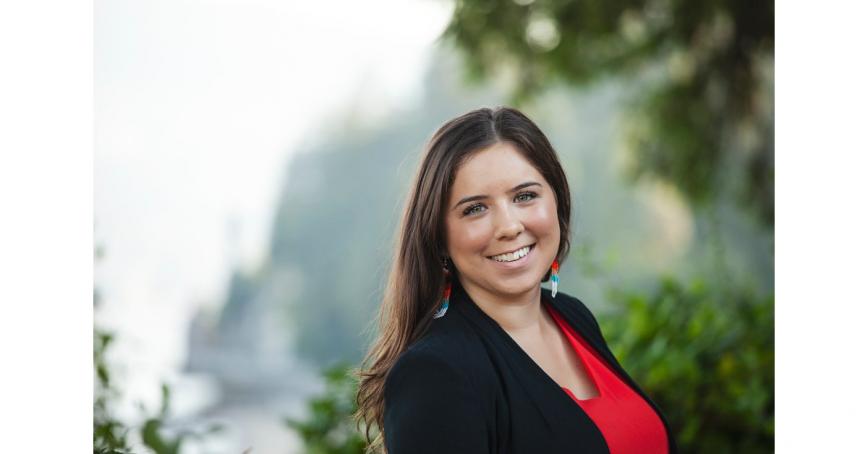 Kiana Alexander-Hill, a Master of Arts in Leadership graduate and Métis Iskwew storyteller and scholar, is this year's Governor General's Gold Medal recipient.
The gold medal recognizes the graduate student with the most outstanding thesis or graduate project of the year and will be awarded at Royal Roads University's Virtual Convocation ceremony Nov. 6.
Alexander-Hill was selected for her thesis, A Journey to kiscâyâwin ᑭᐢᒑᔮᐃᐧᐣ: Belonging within us, around us and between us: A co-created exploration into cultivating collective belonging for young people. Her research creatively explores the meaning of belonging for young people, and its role in igniting action in their communities today and for generations to come.
"I learned from young people that belonging is rooted in connection to self, to place, to land and to freedom," she says.
Most importantly, she says she learned about our deep responsibility to cultivate collective belonging for young leaders.
"How can we support young people in reclaiming their roles as storytellers, leaders, knowledge holders, and changemakers for current and future generations?" she says.
Amid immediate global challenges, Alexander-Hill's thesis outlines calls to action for policy makers, changemakers, and adult-allies including creating space for young people to connect with each other, the land and community.
Alexander-Hill, a mixed-heritage Métis woman, integrated her own experience growing up in an urban centre—often disconnected from her roots—into her work.
"I intentionally choose to privilege my Indigenous worldview, teachings and ways of being. I do this as an act of reclamation to nation building for a connected, thriving, and alive future," she says.
The important Indigenous perspectives of deep connection to a place and people is evident throughout her thesis that sees young leaders as integral to our collective future.
"I believe with every cell in my body that tomorrow will be better for young people. That each day we will lose fewer young people to suicide. That each day the youngest and fastest growing demographic across this country will feel like they belong, I am hopeful that we are learning; we are trying to co-create a new future."
Her work is the epitome of the university's values of caring and courage, says Assist. Prof. Cheryl Heykoop who supervised Alexander-Hill's research.
"She committed to engaging in the research process in a way that nurtured a sense of belonging for her participants, and she was courageous in how she challenged a more traditional thesis structure to reflect her Indigenous ways of knowing, being, and relating," Heykoop says. "Her research significantly contributes to reconciliation between Indigenous and non-Indigenous peoples and between young people and adult allies more broadly."
Learn more about Alexander-Hill and her work alongside her mother and mentor, Teara Fraser, founder and director of Iskwew Air, Canada's first Indigenous woman-owned airline.