Featured
Share online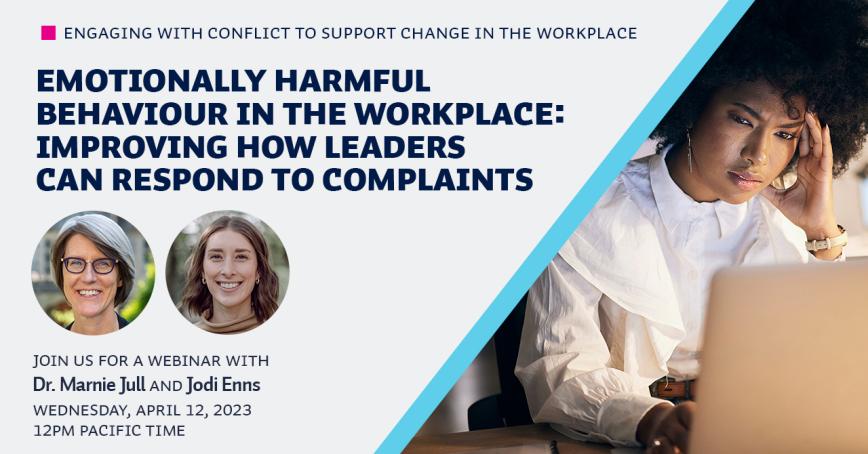 -
Timezone: PDT
Webinar
Online
Often, we avoid addressing critical issues at work because conflict is uncomfortable. It may seem like avoiding difficult issues will relieve discomfort, but it will only magnify a problem and create an unmanageable conflict. Conflicts worth having don't have an easy answer or quick fix. Engaging with conflict has the potential to shift a workplace to be more aligned with the values and behaviors we need to thrive. 
Join us for this interactive webinar series on "Engaging with Conflict to Support Change in the Workplace" hosted by Dr. Marnie Jull. We will explore different dimensions of workplace conflict: emotionally harmful behaviour, the dilemmas of diversity, and leveraging change when you're feeling stuck. 
In this first episode, we welcome Jodi Enns to discuss how leaders can improve their responses to complaints about one of their team member's emotionally harmful behaviours. 
Jodi has recently completed her thesis for her Masters in Conflict Analysis and Management program through Royal Roads University. In her research, Jodi utilized the insight approach as a method of discovery and a lens of analysis to explore leadership decision-making amidst complaints of emotional harm. Jodi finds herself exploring the intersection of leadership, faith, and conflict, and is currently teaching Conflict Management at Columbia Bible College in Abbotsford.
Date:  Wednesday, April 12th, 2023 
Time:  12:00 PM - 1:00 PM PDT 
Can't attend? No problem. Register to receive a link to the webinar recording. 
If you have any questions, contact an enrolment advisor or at 1.877.778.6227. 
Register