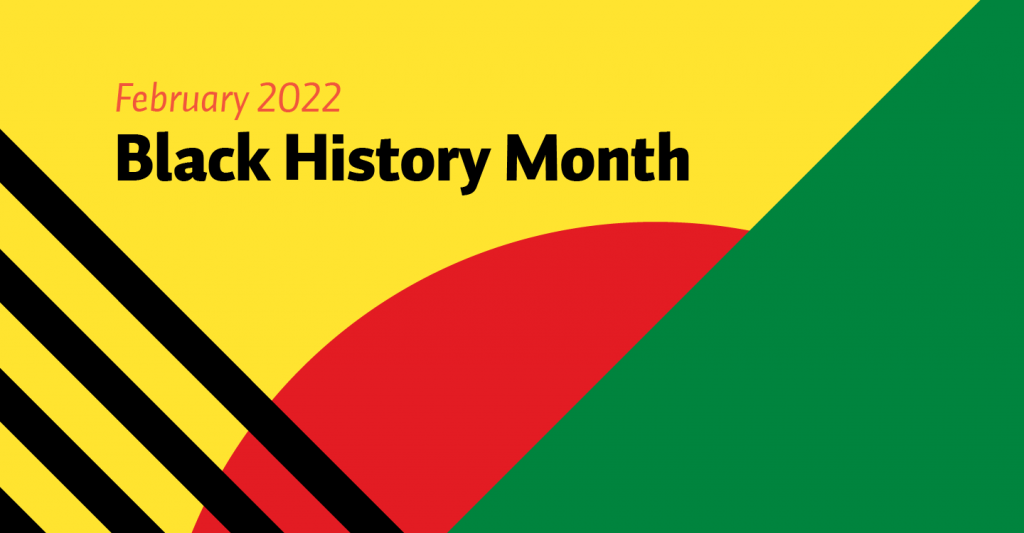 Royal Roads University celebrates the legacy, achievements and experiences of Black Canadians in our university community and beyond.
With thanks to everyone who contributed their time and voices to this page, in particular the Black scholars, learners, workers, researchers and activists at Royal Roads.
Black History Month Events
Feb. 4: Addressing anti-Black racism in the workplace - Fireside chat | Canadian Centre for Diversity and Inclusion
RRU's partnership with the CCDI allows faculty, staff and students to access all CCDI webinars for free. Contact them and let them know you work or study with a CCDI employer partner during the registration process.
Feb. 7: Algorithms of Oppression: How Search Engines Reinforce Racism Dr. Safiya Noble | University of Calgary
Dr. Safiya Umoja Noble discusses the impact of marginalization and misrepresentation in commercial information platforms like Google search and the power struggles over representation on the web.
Feb. 7: Writing Across Nations  Literature, Home, Diaspora with Cheluchi Onyemelukwe-Onobia | University of Calgary
2021 Scotiabank Giller Prize finalist and author of The Son of the House Amatoritsero Ede presents. 
Feb. 10: Black History Month Community Night | Royal Roads University Student Services
Featuring short films, discussions, trivia and prizes. Contact Student Services for more information or to get involved.
Feb. 11: Roundtable on the topic of Black Lives Matter in the workplace | Canadian Centre for Diversity and Inclusion
RRU's partnership with the CCDI allows faculty, staff and students to access all CCDI webinars for free. Contact them and let them know you work or study with a CCDI employer partner during the registration process.
February 14: Guest speaker Sandy Hudson | Royal Roads University
A special event for our Royal Roads community to gather and celebrate Black History Month. Sandy Hudson is the founder of the Black Lives Matter movement in Canada and a passionate activist for social and racial justice. Check your RRU email for the invitation.
Feb. 16: Being a Hope Amid Crises with Dr. Cornel West | CCPA-BC & BC Black History Awareness Society
Dr. West is an American philosopher, political activist, social critic and public intellectual. This is a free event.
Feb. 17: Queer Teachings from Black Lives Matter | Pride at Work Canada
RRU's partnership with Pride at Work Canada allows faculty and staff to access this webinar for free. Contact them and let them know you work for a partner school.
Feb. 17: Understanding Anti-Black Racism and Black Wellness with Cynthia Okafor | University of Calgary
Online, participatory session to critically examine the impact of anti-Black racism on black health and wellness and how to disrupt the systemic barriers that continue to create inequities among Black Canadians.
Feb. 22: Building an Anti-Racist University: Actions for Achieving Black Equity and Inclusion | Royal Roads University
A remarkable roster of panelists unpack how anti-Black racism and discrimination show up in our academic communities in Canada and shed light on the progress post-secondary institutions have made and actions they can take to reduce systemic barriers further and make campuses more equitable and inclusive for Black students, staff and faculty.
Feb.24: A Refusal to Hate: Writing and Black Wellness with Dr. Uchechukwu Peter Umezurike | University of Calgary
In this talk, Dr. Umezurike highlights the role creative writing played in helping him deal with instances of anti-Blackness and microaggressions on campus as a graduate student and the relationship between writing and wellness. 
Voices
Black students, alumni, staff and faculty at Royal Roads talk about what Black History Month means to them.
Cultural and educational resources
Curated by Assist. Prof. Athena Madan, Assoc. Faculty Olaolu Adeleye and other RRU community members, the spirit of this list is Pan-African, with a focus on resources published or relevant to events in the last year. It also prioritizes content from the RRU Library.
Personal essay & memoir
Out of the Sun: On Race and Storytelling by Esi Edugyan (2022, Canada)
The CBC Massey Lectures & Anansi Press. Two-time Scotiabank Giller Prize winner, internationally bestselling author, and RRU Changemaker Speaker Esi Edugyan discusses the myriad varieties of Black experience in global culture and history, and why centralizing experience on the margins is important.
The Skin We're In: A Year of Black Resistance and Power by Desmond Cole (2020, Canada)
Winner of the 2020 Toronto Book Award and nominated for the 2021 Shaughnessy Cohen Prize for Political Writing. In this book, activist and former Toronto Star journalist Desmond Cole examines with close-up and brutal honesty how Canada is not immune to the police brutality and anti-Black racism that is thought to uniquely characterize American society. 
Whites: On Race and Other Falsehoods by Otegha Uwagba (2020, UK)
Winner of the 2020 Guardian Book of the Year. What does true allyship actually look like – and is it even possible? In this powerful and timely personal essay, best-selling author Otegha Uwagba reflects on racism, whiteness, and the mental labour required of Black people to navigate the two. 
Between the world and me by Ta-Nehisi Coates (2015, USA)
A letter from a father to his son about how to grow up navigating being Black given centuries of violence against Black bodies. Available at the RRU Library.
Home and Exile by Chinua Achebe (2001, Nigeria)
Powerful and deeply personal, these three essays by the great Nigerian author articulate his mission: to rescue African culture from the narratives written by Europeans, to confront the persistence of colonial views of Africa, and share stories of the African experience as written and told by Africans.
You Are Your Best Thing: Vulnerability, Shame Resilience, and the Black Experience edited by Tarana Burke and Brené Brown (2022, USA)
Anthology edited by women who founded #metoo. "How do you take the armour off in a country where you're not physically or emotionally safe?" A collection of essays by Black writers, organizers, artists, academics, and cultural figures about navigating Black humanity in the aftermath of George Floyd and Breonna Taylor.
Music
"Hymn to Freedom" by Oscar Peterson and Oliver Jones (2004, Canada)
Canada's very own Montréalais Oscar Peterson's "Hymn to Freedom" became an anthem of the US civil rights movement during the 1960s. This is Oscar Peterson and Oliver Jones' last public appearance, playing at the Montreal Jazz Festival in 2004. Peterson died in 2007.
"Tutu" by Miles Davis (1986, USA)
Winner of the 1986 Best Jazz Instrumental Performance, Soloist Grammy Award. Miles Davis released the album Tutu in 1986, dedicated to Archbishop Desmond Tutu after being inspired by his humanitarianism and activism against the Apartheid regime.
Podcasts
How to spark change within our unequal education system (2021, Canada)
From the Conversation's "Don't Call Me Resilient" series. Carl James, professor of education at York University and Kulsoom Anwer, a high school teacher who works out of one of Toronto's poorest neighbourhoods, discuss the inequalities and injustices in the public education system that have been exacerbated by COVID19 – and the way forward. 
Black health matters (2021, Canada)
From the Conversation's "Don't Call Me Resilient" series. Roberta Timothy, assistant professor at the Dalla Lana School of Public Health at the University of Toronto, talk about her global health research project, Black Health Matters, and why racial justice is a public health matter.
Pedagogical resources
Calendar of Racial Justice (USA)
Designed by the Equal Justice Initiative, this website pays a daily tribute to events and people that are critically important in engaging truthfully about racial injustice underpinning American history but not well known to the American public.
Interview with bell hooks: Cultural Criticism & Transformation (1997, USA)
In tribute to bell hooks who passed away on December 15, 2021: bell hooks was one of the leading American interdisciplinary thinkers about the function of race and gender in today's culture. In this interview, hooks discusses her work and identities in the contexts of American patriarchal history, capitalism, and white supremacy. Interview excerpt part 1 and part 2. Transcript. Titles by bell hooks at the RRU Library. 
News broadcast
NPR 'Fresh Air' remembers Archbishop Desmond Tutu (2021, USA, about South Africa)
In tribute to Archbishop Desmond Tutu who passed away on December 26, 2021: Desmond Tutu was an indefatigable Anti-Apartheid activist and defender of peace and human rights worldwide. In this broadcast, NPR re-airs interviews with Tutu (from 1984 and 1999) about his work and philosophy that grounded his approach chairing the South African Truth and Reconciliation Committee.
Archbishop Desmond Tutu on Apartheid, War, Palestine, Guantánamo, Climate Crisis & More (2021, USA, about South Africa)
In tribute to Archbishop Desmond Tutu who passed away on December 26, 2021. Desmond Tutu was an indefatigable Anti-Apartheid activist and defender of peace and human rights worldwide. In this broadcast, Democracy Now! re-airs interviews and speeches throughout Tutu's life and advocacy about a number of global and contentious issues, ranging from South African Apartheid to the present day.
Historical Fiction
Africville by Jeffrey Colvin (2019, Canada)
The story of Africville, the settlement for Nova Scotia slaves who built Halifax in 1749, and which became a close-knit and prosperous community until Halifax demolished it in 1960s in what many felt was an act of racism.
Political science
White evangelical racism: The politics of morality in America by Anthea Butler (2021, USA)
A 2021 Choice Outstanding Academic Title. Dr. Anthea Butler, a professor of religion at the University of Pennsylvania, discusses how evangelical racism has, since America's foundation, divided the electorate for the purposes of propelling benefits of whiteness.
Children's lit
Unspeakable: The Tulsa Race Massacre (2021, USA)
Winner of the 2022 Coretta Scott King Book Awards for Author and Illustrator and a 2022 Caldecott Honor Book. Written by Carole Boston Weatherford and illustrated by Floyd Cooper, a sensitive introduction for young readers (grades 3-6) about the devastation of the 1921 Tulsa Race Massacre, one of the worst incidents of racial violence in American history.
13 Exceptional Kid Lit Books to Read for Black History Month (2022, USA)
Booklist by the Anti-Defamation League. Recommended books include picture books, chapter books and graphic novels. Each book comes with two discussion guides: one for educators and one for families.
Film
The Boy Who Harnessed the Wind (2019, UK, about Malawi)
(Available on Netflix) Winner of the NAACP Image Award for Outstanding Directing in a Motion Picture. Directed by Chiwetel Ejiofor, based on the true story of 13-year-old William Kamkwamba's quest to builds a wind turbine to save his Malawian village from famine. 
Two Distant Strangers (2021, USA)
(Available on Netflix) 2021 Oscar Winner, Best Live Action Short Film. In this Oscar-winning short film, a man trying to get home to his dog becomes stuck in a time loop that forces him to relive a deadly run-in with a cop.
National Film Board of Canada playlist celebrating Black History Month
A collection of 30 films by Black filmmakers, creators and allies that portray the multi-layered lives of Canada's diverse Black communities.
Open Educational Resources
Book Club Facilitation Guide: How to Be an Antiracist by Olaolu Adeleye (2021, Canada)
The BCcampus free digital resource by Royal Roads associate faculty member Olaolu Adeleye aims to help facilitators lead discussions about anti-racism through book clubs. "The guide will help educators shift to a place of reflection: moving from rebuttal and debate to understanding and appreciation," Adeleye says.
Poetry
Celebrating Black Canadian Poets by 49th shelf (Canada)
A handful of collections by Black Canadian poets writing in English curated by Kerry Clare for 49th Shelf.