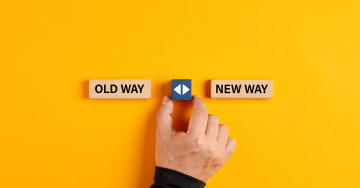 Understanding Toxic Handling and Working to Make it Obsolete
I recently came across an article in the Harvard Business Review titled, the Toxic handler: Organizational hero—and casualty. Published in 1999, its relevance today persists in the face of pandemic burnout and the newly dubbed trend of "quiet quitting."
In this article, Peter Frost and Sandra Robinson describe results from their study of "toxic handling"—a way of approaching leadership, especially middle management.
Toxic Handlers as Shock Absorbers
Leaders who play the role of toxic handlers serve as shock absorbers between different areas of an organization. They listen to frustrations from their team members and sometimes become a closer (or safer) target for misdirected anger or resentment toward organizational policies and practices. They endeavour to advocate for their team by translating concerns into messages that can be heard by upper management. They also endeavour to translate bad news coming top-down into more palatable messages or even opportunities. I say "endeavour" here because toxic handling could be understood as a practice as it is difficult for leaders to get it right every time.
Toxic handlers sometimes serve as a buffer enabling their team to test out innovations that could be held back by bureaucracy. They move pieces of the puzzle around behind the scenes to allow people to get on with their good work, often unbeknownst to the benefactors of their efforts.
What does Toxicity Look Like?
Toxicity in the workplace can be understood as people operating from a place of fear, greed, jealously, anger, arrogance, shame, or a range of other difficult and dysregulated emotions. Toxicity can manifest in severe forms as bullying, harassment, racism, sexism, ableism, homophobia, transphobia, or a range of other oppressive behaviours; overt sabotage or other undermining actions; narcissism; harmful communications; gossip, exclusion, and favouritism; interpersonal conflict or escalated misunderstandings; dysfunctional processes, policies, or relationships; unrealistic expectations, chronic time pressures, and untenable workloads; or simply bad energy or bad moods.
The authors suggest that, "Toxic handlers voluntarily shoulder the sadness and the anger that are endemic to organizational life... for organizations have always generated distress, just as they have always generated feelings of joy and fulfillment" (para. 5). As the article's title suggests, this approach to leadership can take its toll on leaders if they cannot find ways to transform toxic energy, maintain their own health and well-being, and—ultimately—shift organizational dynamics.
Transforming Organizations
Of course, individual efforts alone cannot shift the toxic culture of whole organizations. Transformation must also take place at the systemic, structural, and cultural organizational levels. The authors comment that senior leaders can recognize and value the role toxic handlers play and—perhaps more importantly—take steps to make it unnecessary. For example, senior leaders can support healthier workplaces by holding people accountable for bullying, harassment, and other overtly toxic behaviours; seeking consensual agreements for work conditions and setting realistic workload expectations; modelling effective work-life integration and calm, clear, true, fair, relevant, and kind communications; and creating opportunities to genuinely manage stress in the workplace (i.e., not through superficial lip service). Finally, they can create opportunities for public grieving through ritualized and organizationally endorsed expressions of sadness, anger, grief, and—in some cases—private relief from organizational change, or by hiring consultants to hear and communicate concerns from junior members of the organization and shoulder more of the burden of organizational frustration.
Promoting Healthy Workplaces
Organizational culture change has long been a topic of interest for Leadership scholars (e.g., Frost, 1985; Schein & Schein, 2017). In this sense, striving for healthy workplaces is not new. However, as the COVID-19 pandemic stretches on and people in organizations are facing lowered morale, illness, staffing shortages, backlog, employee turnover, disengagement, and burnout—not to mention long overdue calls for greater decolonization, equity, diversity, justice, and inclusion—the need to create thriving organizations with healthy organizational cultures is exceptionally strong at this moment in time.
If you are an organizational leader, what might you do to support your colleagues and create a healthier, more sustainable workplace? If you recognize yourself as a toxic handler, how do you care for yourself? What might you do to transform toxicity into opportunity?
Author's Note
This post was adapted from my speaking notes from an October 6, 2022 virtual panel presentation at the International Leadership Association's annual global conference. See reference to Rowe et al. (2022) below.
References
Frost, P. J. (1985). Organizational culture. Sage.
Frost, P. J. & Robinson, S. L. (1999). The toxic handler: Organizational hero—and casualty. Harvard Business Review (July-August). https://hbr.org/1999/07/the-toxic-handler-organizational-hero-and-casualty
Rowe, W., Agger-Gupta, N., Bishop, K., Etmanski, C., Krause, W., & Pozzobon, T. (2022, October 6). Forces advancing leadership wisdom: A call for courage, values and vision. Virtual panel presentation at the 24th Annual Virtual Global Conference of the International Leadership Association. (Online), October 6–16, 2022.
Schein, E. H., & Schein, P. A. (2017). Organizational culture and leadership (5th ed.). John Wiley and Sons. https://ebookcentral.proquest.com/lib/royalroads-ebooks/detail.action?docID=4766585